Musée de la Visitation Exhibit 2015
Musée de la Visitation Exhibit 2015
Are you on the lookout for summer or fall travel destinations? If Ecclesiastical Vestments, featuring fabulous examples of Ecclesiastical Embroidery are on your travel itinerary, a stop in France at the Musée de la Visitation Exhibit in 2015 might need to be included in your travel plans. The Museum of the Visitation features stunning works of art produced, collected, and saved over many Centuries by the Order of the Visitation.
A small sampling of the Ecclesiastical Art on display at the museum is available in the museum's Photo Gallery. The artworks include many ornamental branches of church art such as statues, silver, textiles, and silks. For those who love Ecclesiastical Embroidery worked in gold and silk threads, this collection is sure to please.
Take a close look at the photo below.  Notice the rays of gold emanating from Christ in the clouds? Any guesses as to what type of thread or technique was used to stitch the rays coming from the clouds?
The stitching technique of the rays coming from the clouds is still not quite visible in the close-up photo.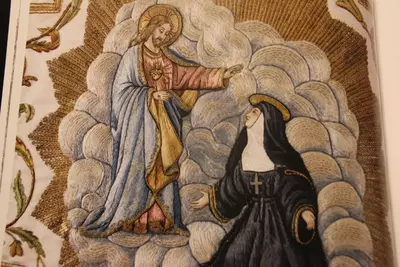 The rays of glory are very even and uniform.  To see which technique the Embroiderer used requires a closer look.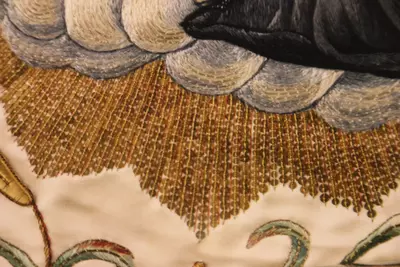 Would one have guessed that tiny spangles were used to create the rays of glory? This is an interesting technique, but can one even begin to imagine the hours it took to stitch every tiny spangle in place? This Ecclesiastical embroidery also uses wonderful techniques of silk shading in the garments of Christ and the Nun.  The stitching used for the clouds creates a sense of movement.  One can almost see and visualize the rolling of the mass of clouds.
The 2015 – Nous, Visitandines de Moulins or 4 Centuries The Visitation in Moulins runs from 02 May – 24 December 2015. So have you booked your plane ticket yet?

Solo Dei Gloria
Be sure to visit our online store front Ecclesiastical Sewing where you may shop for Liturgical Fabrics, altar linen fabrics, church vestment-making patterns, liturgical machine embroidery designs,  church vestment trims and notions and so much more. You may also find us on  Ecclesiastical Sewing on Facebook, Twitter, and Pinterest. Sign up for our mailing list at the bottom of the page on our online store front and receive a free copy of our Small Linens Booklet as our way of saying thank you for following along.