The First Pattern to go with Silk Dupioni: 5 inch stole
The First Pattern to go with Silk Dupioni: 5-inch stole
As we talked about in the last post, there are two sizes of the pre-cut stole: The First Pattern to go with Silk Dupioni: 5-inch stole kits which include–face fabric, canvas, and lining–for making your own stole, but only one stole kit–Silk Dupioni–comes in both sizes online.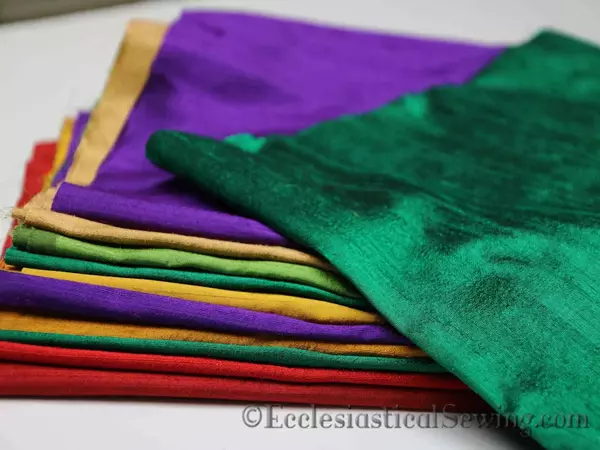 The liturgical fabric kits come in size "A" straight from the website. Size "B" must be custom-ordered in the liturgical fabrics.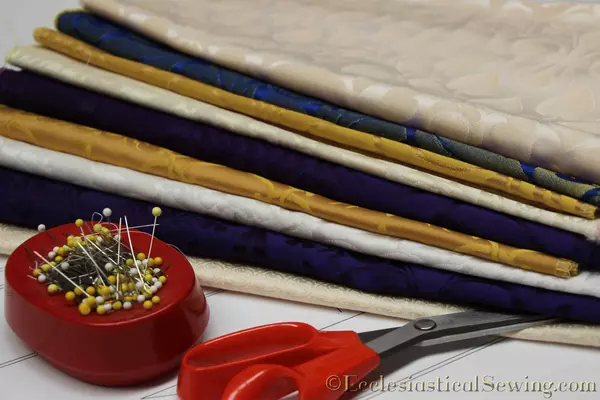 Our 5" clergy stole pattern is one of the patterns that work with size "B" kits–this one will only work with Silk Dupioni stole kits.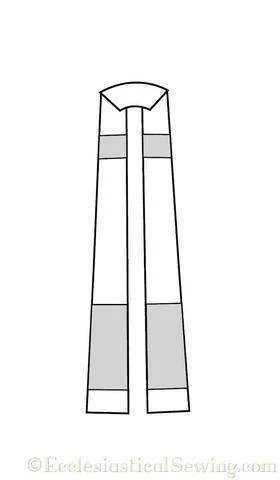 Tailored Fit for Varied Body Builds
Why would you order a pattern that only works with one type of material? Well for starters, the 5-inch stole is often necessary on certain body builds. The extra half an inch width helps when a bit broader vestment is needed. Also, Silk Dupioni can come in well-nigh any shade of any color. And the price point is very reasonable.
Each of our stole patterns has the option for different lengths of hem, which is perfect for sewing for different heights. There are separate pieces in the pattern for face fabric, canvas interfacing, and lining. And finally, all of our church vestment patterns have been created by a professional pattern maker! At Ecclesiastical Sewing, we are dedicated to providing the highest quality products. To that end, we of course hired a professional to create all of our patterns.
Do not despair! Most if not all of those brocades COULD be made into size "B" stoles– V-neck stoles, Deacon stoles, Tapered stoles, and 5" stoles. Each pattern design of the brocade is different and so must be cut according to that specific pattern repeat. If you want any of the brocades in size "B" stoles, all you have to do is contact us! Carrie will be more than happy to talk to you and get you exactly the right amount as a custom order
Ecclesiastical Sewing Vestments Making
So when you consider sewing a stole, we have stole kits and patterns readily available for you to start your project! We want you to make beautiful vestments and paraments. To that end, we are committed to providing church vestment fabrics, braids, metallic trims, orphrey bands, crosses, fringe, tassels, and embroidery designs for your purchase, but the advice, encouragement, and helpful knowledge is something we will give you; all you must do is ask. Once you have the stole pattern, you can buy as many stole kits and trims as you need to make as many stoles as you need. Thank you for reading and learning more about clergy stole-making and pastoral stole kits. #StoleKitFrenzy
~Nihil Sine Deo~