Thank you! And Another Pattern or Two or Three!
We are truly humbled by the outpouring of volunteers willing to take a few moments to share the sewing patterns for making isolation gowns. It is a true testament of love and caring for our neighbor in need.
For those who missed our blog post last week
we offered a free Isolation gown pattern that can be made at home and provided to hospitals in need of supplies. Ecclesiastical Sewing is working with Wheelhouse Marketing and PR in Fort Worth, TX were isolation gowns and masks are in short supply and desperately needed. We received a call last week from Julie and DeeDee of Wheelhouse who told us of the serious need for supplies in Texas. Their company has risen to the call and they are busy sewing masks, too!
Unisex Isolation Gown_Bib_Arm Gaiter_M-L-XL-2XL_2020-03-28 WM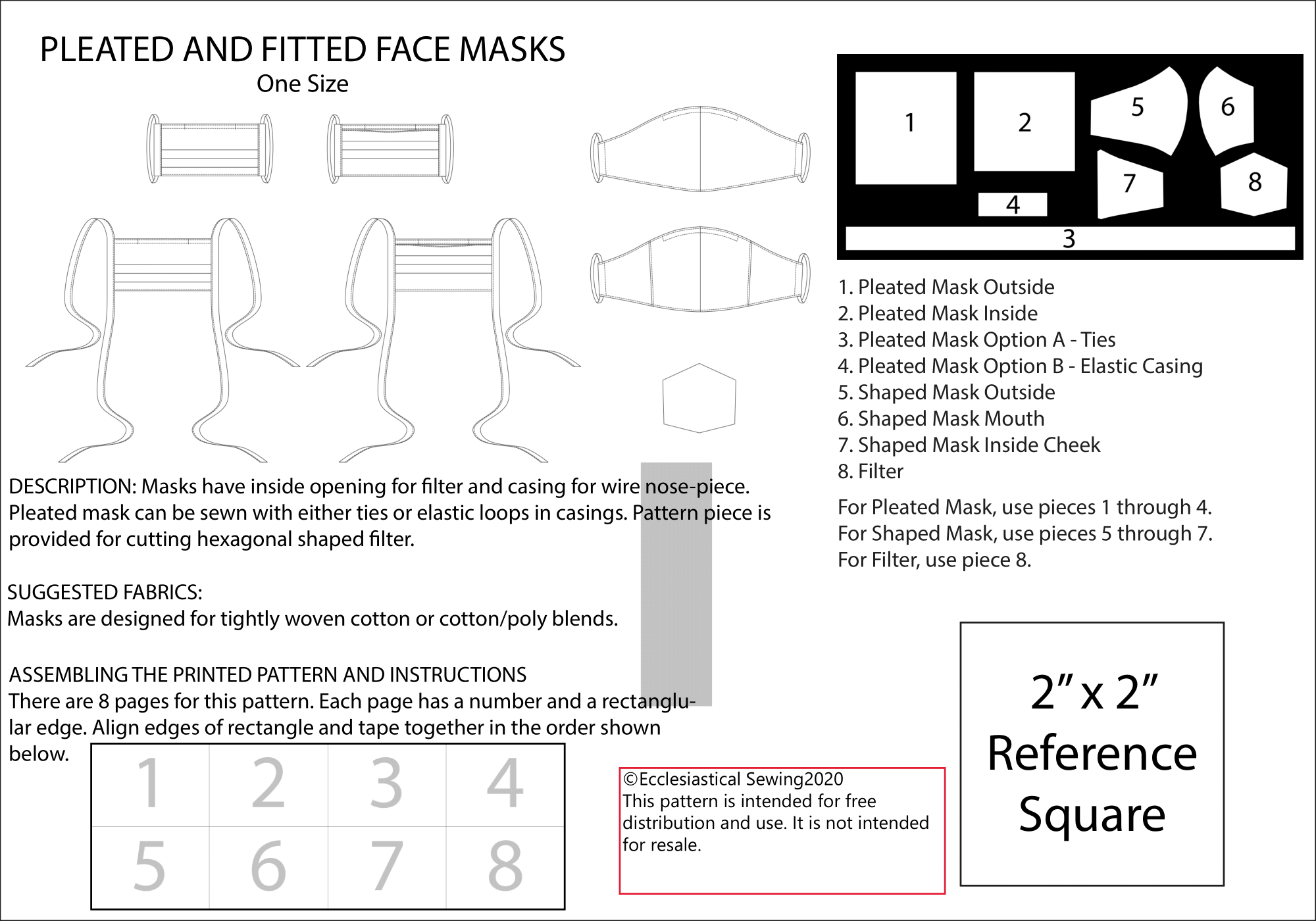 Along with the isolation gown pattern, we are so blessed to be working with our talented pattern maker, Kimberly at Apparel Patterns. Kimberly has created a series of mask patterns in the attached pdf. The pattern is a true pattern for faces masks in a variety of styles. The hospitals are stating they prefer the masks with twill tape, but at this point, they will take whatever is available. Please be sure to follow the directions with regards to what is required.
Pleated and Shaped Face Masks_2020-03-29 WM Ecclesiastical Sewing
Tips for making Isolation masks and gowns:
When making either the masks or gowns, PLEASE use new fabrics and materials. DO NOT USE ITEMS SUCH AS OLD SHEETS, etc. The hospitals need items made from new fabrics that have not been used. Old clothing and sheets will have bacteria embedded in the fibers and could cause more harm to than help.
Please make the items as quickly as time allows. The need is now – for the next 2 to 4 weeks and perhaps a bit longer before the supply chain catches up.
You may ship items to Wheelhouse Marketing and PR in TX and they will coordinate with various Hospitals in the area such as Children's, Baylor, and others in the Fort Worth area as well as smaller hospitals in outlying areas.
Wheelhouse Marketing and PR
100 Market Street
Fort Worth, Texas 76107
Check with hospitals in your location to see if there is a need.
Hospitals in Wyoming have stated a need and there is a church group coordinating the efforts in that community.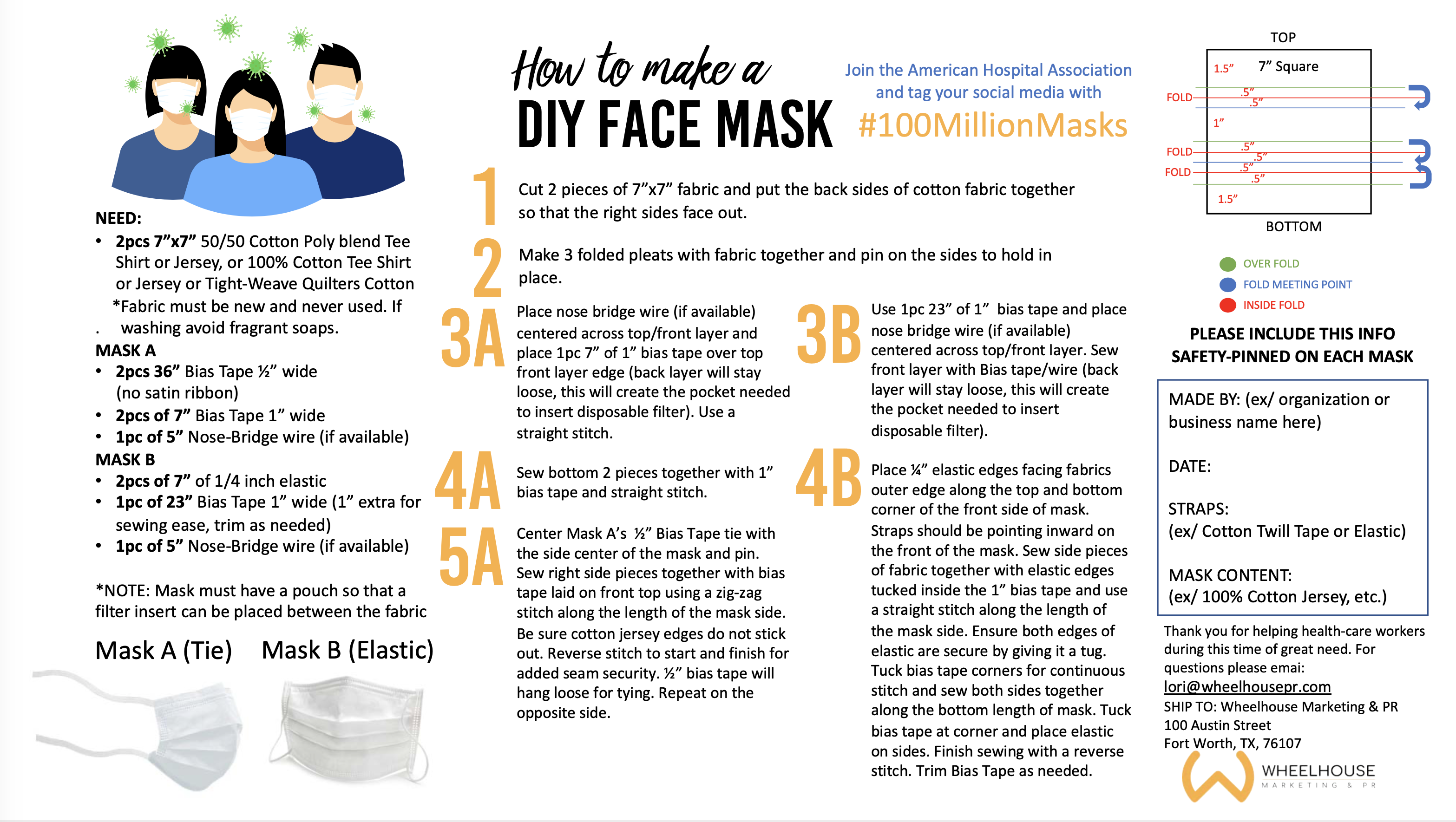 PLEASE SHARE THESE PATTERNS with other medical communities, quilting groups, FB groups, church groups, pastors, priests, church parishes and websites, email lists, or where ever you think the pattern may be of help. The pattern has been made available for free to help our communities at home and abroad. And please, remember that the pattern has been provided for free. It may not be used for any other commercial use.
Thank you once again for your help and care of your neighbors in this time of need. May everyone stay safe and well.
Soli Deo Gloria
Unisex Isolation Gown_Bib_Arm Gaiter_M-L-XL-2XL_2020-03-28 WM
Pleated and Shaped Face Masks_2020-03-29 WM