Evesham Red/Gold and Gold/Gold
Evesham Red/Gold and Gold/Gold
It has been quite some time since there was a new project on Ecclesiastical Sewing with all of the preparation for the launch. There are several projects in the works, such as Evesham Red/Gold and Gold/Gold fabric but they will be slow in coming.
Metallic Liturgical Brocade
One project that needs to be completed at some point in time is the making of a chasuble and stole.  This project has a few specifics that are important to the wearer.  And so the best place to start is fabric.  The fabric being considered for this project is a metallic liturgical brocade.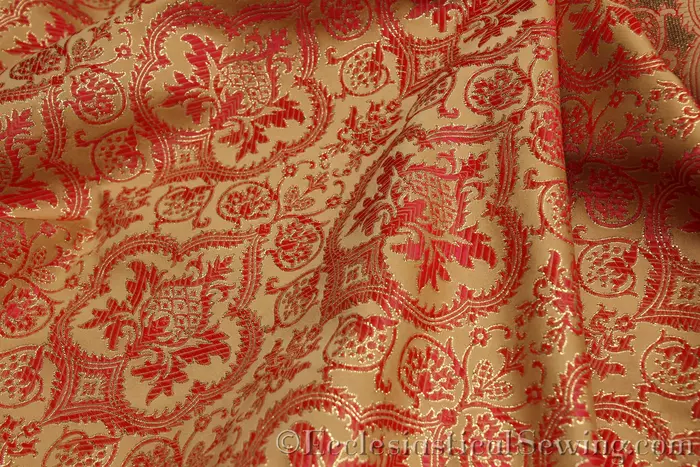 The fabric pattern is the red/gold version of Evesham, and it is a favorite of mine!  Certain liturgical fabrics, if well designed, have patterns that repeat at just that fight size and are positioned perfectly to make them a joy to cut and sew. Evesham Brocade has a Pinecone and Ogee motif worked in alternating positions.  The pattern is the right size for use on smaller vestments and altarpieces and also works well for larger vestments such as a chasuble.
Evesham
Evesham is a metallic brocade, which is difficult to capture in photos. There is a tiny glimmer of metallic threads that outline the ogee motif. As much as I like the Red and gold color combination of Evesham, I think I need to look a little further. Evesham has a nice assortment of colors.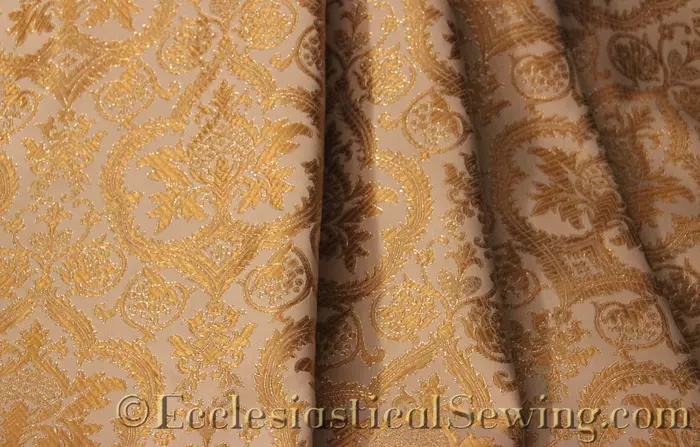 This photo does a better job of capturing Evesham's glimmering metallic threads. This is the lovely white gold version of Evesham that is so very lovely in soft candlelight.  The white gold is a lovely choice for Christmas and Easter Celebrations.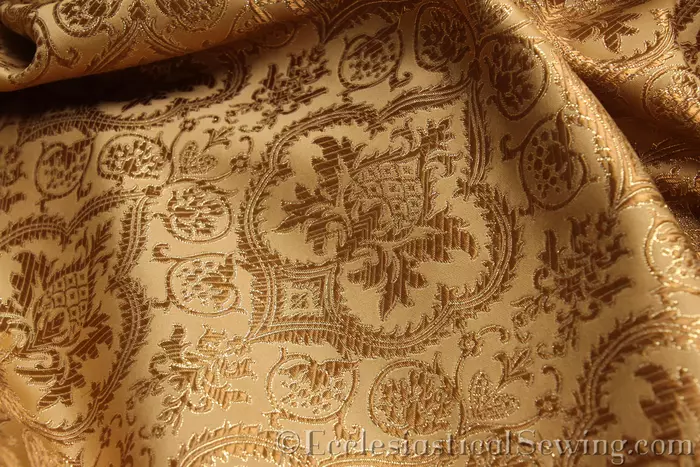 One other version of Evesham has my attention at the moment and that is the gold gold color.  Except for the white/gold Evesham, all of the other colors start with this deep, rich gold background color. Then, the actual pattern is woven in the colors of gold, blue, green, red, and violet. Gold has been a favorite for a long, and it is time to work it into a project.
And so there is the end of the first step in the chasuble: the selection of the base fabric. Next up is to decide on the design details of the chasuble and any accent fabrics.
Solo Dei Gloria
Be sure to visit our online store front Ecclesiastical Sewing where you may shop for Liturgical Fabrics, altar linen fabrics, church vestment-making patterns, liturgical machine embroidery designs,  church vestment trims and notions and so much more. You may also find us on  Ecclesiastical Sewing on Facebook, Twitter, and Pinterest. Sign up for our mailing list at the bottom of the page on our online store front and receive a free copy of our Small Linens Booklet as our way of saying thank you for following along.
Crown of Glory: Ecclesiastical Church Embroidery Design Part 1
Best White Liturgical Fabrics for Easter and Festival Seasons of the Church Year
Save