Fair Linens: Part 1 Measurements
Fair Linens: Part 1 Measurements
Fair Linens Measurement – what a lovely title for an article used in the church. But do we really know what is behind that title? What makes a Linen "Fair"? Fair certainly refers to a "clean" white linen. But if we look back in time to the days of Moses and the instructions given for the making of the Tabernacle and all of the Priests' Garments, the word "Fair" comes to mean so much more.  Fair can mean "to a high standard" when used as an adverb. The fair can also mean beautiful or attractive. Let's see what an expert says. In her book, Altar Guilds, Lucy Mackrille describes Fair Linens this way:
Fair does not mean only clean, but refers also to the quality of the cloth………..a "Fair Linen Cloth" does not mean only a plain, clean linen cloth, but one that has been made beautiful for its special purpose, for God to see and approve….."
Making a Fair Linen
The making of an Altar Fair linen is without a doubt a large undertaking.  There are a thousand questions you may have before you even begin to contemplate the making of this church linen. You may be asking "How far down the sides should a Fair Linen hang?" "How wide should the hems be?" "Should there be embroidery on a Fair Linen?"  "Where should the embroidery be placed?" "Are there specific requirements for embroidered Fair Linens?" "What type of linen should be used in a Fair Linen?" and the list goes on. Let's try to take a moment at Ecclesiastical Sewing and break things down into manageable pieces to understand how to go about making an Altar Fair Linen.
Know your Altar Measurements
Before one begins the task of making an Altar Fair Linen, it is good to get the dimensions of the altar. Three measurements will be needed, and possibly a fourth measurement.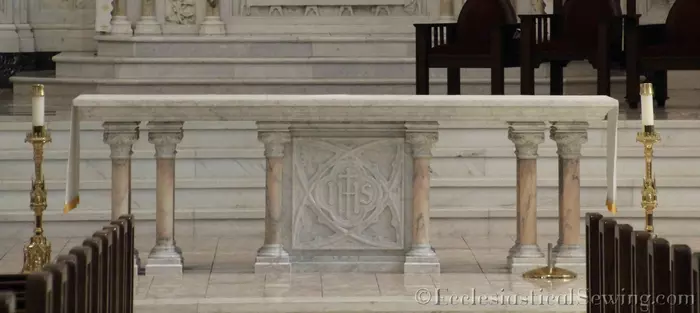 The altar height: measure from the top edge of the altar to the floor.
Measure the width of the altar from the front to the back.
Measure the length of the altar from one side to the opposite side.
Optional: measure the hang from the top edge down the side of the Fair Linen to match the length of an altar hanging.
Determining the Fair Linen Side Drop
Now that you have the altar measurements, we can weed our way through the next phase. So the first question that is usually on everyone's mind is, "How long should the sides of the Fair Linen extend down?" This is where things get interesting. You will note there is no one simple, right, or wrong answer to this question. The answers vary widely by source.
Let's start with the  Embroiderer's Guild¹ which recommends Fair Linens should hang between 20 to 30 " on each side, or 2 to 3″ from the floor. When the Fair Linen extends this much on the ends, a deeper hem of 2 to 3″ is also helpful. The side hems may be 1 to 2″ finished hem.
Lucy Mackrille² recommends the use of 18″ as the amount allowed for the hanging on each end of the Fair Linen, again with a wider 2 to 3″ hem. A  Fair Linen that is made with a longer (to the floor) fall may have issues with ripples or waves as it hangs over time.
Still confused? Let's break things down further into three guidelines that may aid in determining the side hang or drop on a Fair Linen: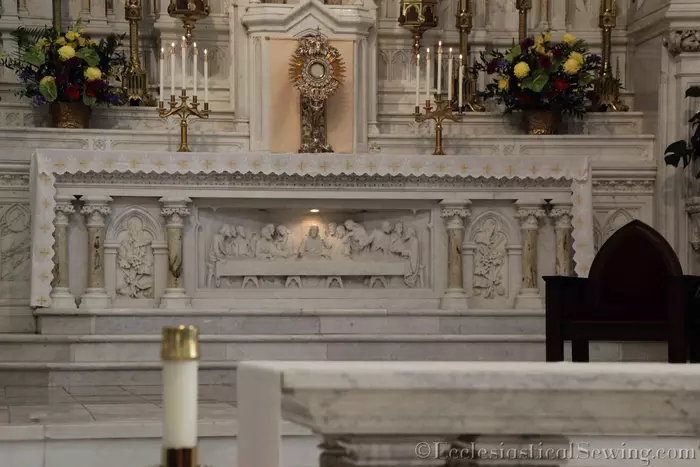 The linen can hang between 12 to 13″ on each side.
The linen can match the length of an altar hanging or antependium.
The linen can match the length of a frontal (which usually hangs to the floor). If a floor-length Fair Linen is desired, it is a good idea to have the finished length be at least a minimum of 1 to 2″ shorter than the actual length as linen tends to "hang out" over time.
The above photo features a Fair Linen that hangs to the ground or base of the high altar. This Fair Linen also graces the altar with a small amount of overhang along the front edge.
Fair Linen Mesurement of Hems
There are no "absolutes" when it comes to selecting a hem width for Fair Linens.  The standard answer is to use a 1 to 2-inch hem on the sides and a 2 to 3″ hem for the ends. In good Lutheran fashion, the next question would be: "What does this mean?"
If the desired finished (long) side hem is 1 inch, add 1 ½" to each side or a total of 3″ to the finished width measurement.
For a 2″ finished (long)side hem, add 2 ½" to each side or a total of 5″ to the finished width measurement. This formula also works for a 2″ end hem.
For a 3″ finished end hem, add 3 ½" for each end or a total of 7″ to the finished length.
Types of Hems
Fair Linens are hand hemmed with a simple slip stitch³  worked in tiny even stitches or an overhand stitch³ The quality of the hand hemming is determined by the number of stitches made per inch of length, as well as the evenness of the stitching. To aid in obtaining even, tiny stitches, use a single strand of fine cotton thread such as YLI Heirloom Thread or a similar fine thread. Regular machine sewing thread will also work, but it does not create the same fine even little stitches that the fine or Heirloom thread makes. I also prefer to use a size 10 or 11 crewel needle when hand hemming fine Altar Linens. Many other threads and needles will produce excellent finished results. This list reflects the items that I have found to work well for my needs over the years. They are listed as suggestions or starting points for those who may not be familiar with where or how to start hemming and making altar linens.
Fair linens may also be worked with a hemstitched.  Hemstitching is a lovely and very special finish for fine linens, but it does take a bit of practice and work. It is always best to practice hemstitching on smaller linens first.
Fair Linens should never have a machine-sewn hem. (Of course, machine-sewn hems do exist on Fair Linens, as well as other small altar linens. While these machine-made hems work, understand that they are not considered to be a "high quality" finish for Altar Linens).
Solo Dei Gloria
Be sure to visit our online store front Ecclesiastical Sewing where you may shop for Liturgical Fabrics, altar linen fabrics, church vestment-making patterns, liturgical machine embroidery designs,  church vestment trims and notions and so much more. You may also find us on  Ecclesiastical Sewing on Facebook, Twitter, and Pinterest. Sign up for our mailing list at the bottom of the page on our online store front and receive a free copy of our Small Linens Booklet as our way of saying thank you for following along.
References:
¹Harris, K. (undated) Church Needlework I Altar Linen. London: The Embroiderer's Guild.
²Mackrille, L.V. (undated) A Handbook for Altar Guilds.  Washington, D.C.  The Cathedral Studio.
³Reader's Digest. (1978) Complete Guide to Sewing. New York, Montreal. The Reader's Digest Association.
Save
Save