Sewing Tips – Top 10 Scissors for all Occasions
Sewing Tips – Top 10 Scissors for All Occasions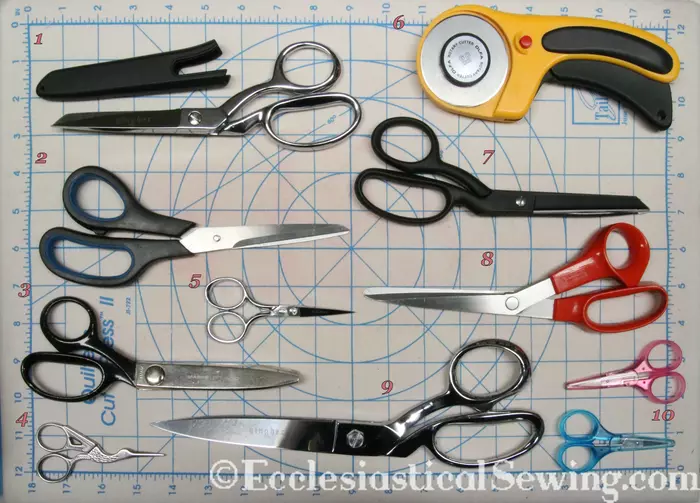 Sewing Tips – Top 10 Scissors for All Occasions: When it comes to sewing tools, my motto for the Ecclesiastical Sewing workroom as well as my own studio is less is better. I love sewing and could have a workroom of tools and implements. But when one has too many good things, that just means there is more to keep track of, put away, try to find when needed, and more to keep organized.
Trying to keep track of things, keep them organized, and put things away takes valuable time.
I have noticed in sewing courses that I have taken that people often try to bring their entire collection of sewing notions. They spend hours of valuable class time trying to be organized, knocking things over, trying to find that exact little tool, and they never complete their projects on time.
So, my strategy in the workroom and in classes is to simplify. Only have around and out what is needed and used.
Ecclesiastical Sewing Workroom
So here is my rundown on the most used top 10 scissors in our Ecclesiastical Sewing workroom.
Gingher Dressmaker scissors. These are by far my favorite go-to scissors. They are wonderful! They have a precise knife edge that cuts neat, clean, and accurate.  I get fussy about having patterns cut accurately and using a Gingher ScScissorakes it easier to be an accurate cutter.
Paper scissors. These are exactly what they claim to be. Utility scissors for cutting paper or anything else that is not fabric. I never use my Ginghers for cutting paper. And if my workroom crew is using Ginghers to cut paper, they are handed paper scissors in a hurry!
Pinking shears. These are a scissor with a saw-tooth blade that cuts a pinked edge on fabric. This may be used as a seam finish on certain fabrics. These are not used very often in the workroom as the serger is the preferred method for finishing seams. This is an item that could almost be eliminated  – almost!
The infamous stork scissors. These were included as part of a class kit years ago. They are fun to have in my embroidery box, but they are not a favorite. This little stork will cut a single strand or two of floss. But the edges are not "knife sharp" and the tips are not precise. There are probably better pairs of stork scissors on the market. These are a take it or leave it scissors.
These are wonderful little 4-inch embroidery scissors by Marks. I have owned these for 35 or more years. They are still razor sharp and the tips still cut precisely to the end. These little gems are used for hand embroidery and placed in their original pouch when not in use. The scissors are made strong enough to cut dense embroidery. The tips are sharp and will cut edges and corners in cutwork cleanly. These are a favorite!
6 Rotary cutter – this is not really scissors, but we use the rotary cutter so often in the workroom that it has become indispensable. Yes, we can not live without our cutter – the large-size cutter to boot!
Featherweight Gingers. This was a purchase made when budgets were too tight and limited to the purchase of all-metal Gingher scissors. This dual-material version was the less expensive option. The blades are sharp and the tips are clean. These are nice, but if I had to purchase them again, I would save for the all-metal version of the scissors.
Fiskar scissors. These are old friends who have been part of my sewing for 35 or more years. I have owned several pairs of Fiskar orange left-handed scissors. They have cut everything that comes their way. They still maintain a nice edge. The points stare ill cut neatly. They have been sharpened over the years, and still work well. These are nice scissors if the budget will not allow for a Gingher.
The large Gingher was purchased just as we were opening our workroom. I thought that these would be needed and used more often than they are. These are more along the lines of a tailor's scissors.  With the longer blade, one can make longer cuts on the fabric which minimizes the saw-tooth edge that often comes when cutting tithings. I must remember to use these more often. They are great scissors.
Pink and blue! These little gems are my constant companions when attending needlework classes for hand embroidery. The blades are sharp with tidy precise tips. They cut a clean edge. They can handle moderate things, but nothing overly heavy. The small size with the protective cover makes these perfect scissors for travel.
Two scissors are not yet a part of my collection but I hope to add them someday. One is applique scissors with a blade that looks like a stork bill. The other is straight-edge scissors that are about 6 inches long. These are wants and not needs and so they remain on that elusive "someday" list.
Practical Guide
So there you have our 10-minute run down on our top scissors. Now there are many great scissors out there on the market. This is by no means a comprehensive list. These are just the favorites that we have found to be useful over the years.
When it comes to selecting scissors, take some time to examine them carefully. If possible, try cutting with them or at least opening and closing them a few times. The mechanism should operate smoothly without sticking or feeling loose and sloppy. The blades should come together in a smooth motion.  Be sure to read any information on the packaging about recommended care and sharpening instructions. And once you find a pair that feels good in your hand, enjoy and take good care of your investment.
Do you have a favorite pair of scissors, and if so, what makes them special? Have your say.
Soli Deo Gloria