Introducing my new website Ecclesiastical Sewing
Introducing my new website Ecclesiastical Sewing
Thanks for stopping by and welcome to Ecclesiastical Sewing! This is just an introductory post so I'll keep it short and sweet. I am introducing my new website Ecclesiastical Sewing.
I decided to start an online store because I love using my degree in costume design for designing, sewing, and creating Church Linens, church vestments, and ecclesiastical embroidery projects for hand and Liturgical machine embroidery.  Now that my children are almost grown, I no longer sew for them. I spend my time exploring Couture and custom sewing techniques that can be used in sewing and embroidering Church Vestments.
Ecclesiastical Journey
My plan is to write and share posts about Ecclesiastical Sewing projects and Ecclesiastical Embroidery Designs that are in the works, along with information on how to create your own Church Vestment Projects. Some projects will be simple construction of basic vestment pieces, and some will be more complex projects involving surface embroidery with silk floss and goldwork threads.  I'll share work that is done by hand (which is labor intensive) as well as techniques that lend themselves to machine sewing.  There are some big projects, such as altar frontals. Other projects include smaller vestment pieces, such as pastoral stoles and chalice veils.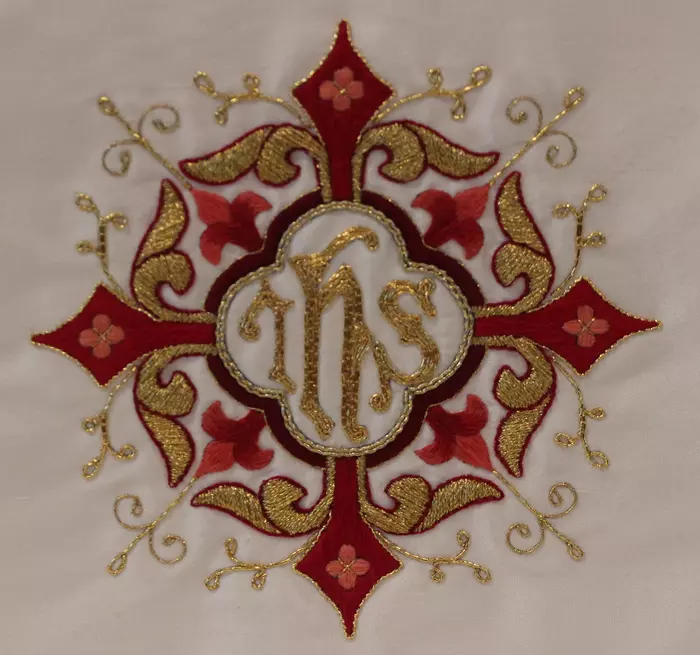 Church vestment-making is an art form that has a unique place in history, and so I hope you enjoy the journey we are about to undertake. That is all for now! If you would like to be kept updated with my posts and learn more about this beautiful, ancient art form, please "Like" this post or subscribe to my blog.
Soli Deo Gloria
Be sure to visit our online store front Ecclesiastical Sewing where you may shop for
church vestment-making patterns, '
liturgical machine embroidery designs,
church vestment trims and notions,
and artwork prints by Edward Riojas and so much more. You may also find us on  Ecclesiastical Sewing on Facebook, Twitter, and Pinterest. Sign up for our mailing list at the bottom of the page on our online store front and receive a free copy of our Small Linens Booklet as our way of saying thank you for following along.
A Journey Through the History of Church Banners
Books from Musée de la Visitation
The First of The Special July Posts
The Second of The Special July Posts
The Fourth Special July Post
Save
Save
Save
Save
Save
Save
Save
Save