Technical Difficulties and Framing Dilemmas
Technical Difficulties and Framing Dilemmas
Technical Difficulties and Framing Dilemmas: I love framing up a new Ecclesiastical embroidery project. That initial thrill of starting something new, wondering how it will turn out, the vision of a stunning piece that …………… well, on and on wanders the mind.
So this evening, I was anticipating that thrill, thinking if things went well I could get the framing done, the pounce powder out, maybe get the tracing done, then I could start those first stitches.  It was an optimistic vision for an evening's work, especially after getting errands run, and the usual list of tasks and chores completed following a full day at the office.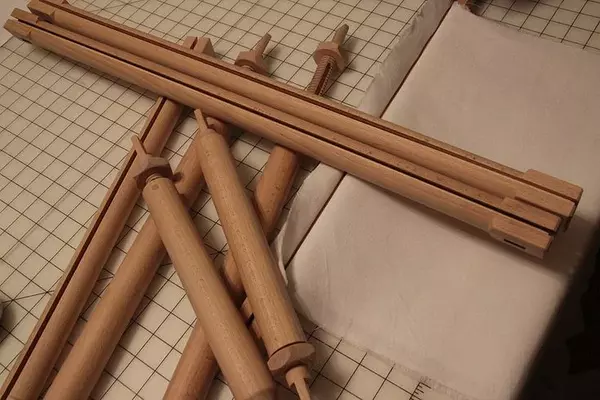 The frames were there, in the drawer where they were placed so carefully just a few days before.  In case I forgot to mention it, my Millennium Frames from Needle Needs http://www.needleneeds.co.uk/store/needlework-stands-frames/17-millenium-frame.html in the UK arrived last week.  It has been well nigh impossible to wait for a time to get the projects framed up and to start stitching.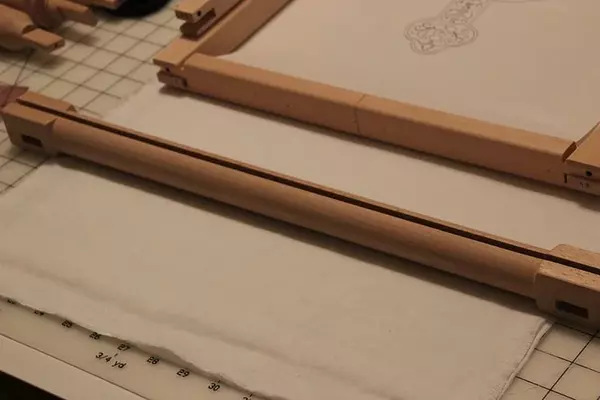 I sorted through my linens and had one piece of Alabaster Angel that was the correct size already pre-shrunk, ironed,  and ready to use.  My first intention is to use the new frames for Needle Needs.  So, out flat on the table goes the linen with the backing fabric.  I purchased the 16″ bars and 24″ bars.  The 24″ bars are too wide, the 16″ bars are too narrow, and there is nothing in between that will be just right.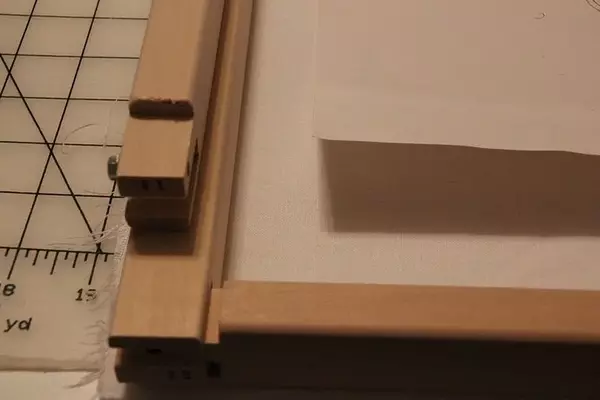 Ok, this is fine. Let's just try the Evertite Frames. I have 3 projects framed up already. What is one more on this frame?  They work great.  To get the correct size frame, I had to select one set of 15″ bars and one set of 22″ bars.  They should work well together, right?  Well, it is always good to learn valuable lessons, and I did.  The 15″ bars are narrower than the 22″ bars.  No big deal. Putting the frames together was nothing short of a real challenge. While the narrower and the wider width bars did not go together very easily the very first time, after a little careful encouragement (using a hammer would have taken care of things quickly – but don't do that; one does not want to damage the frames), they went together.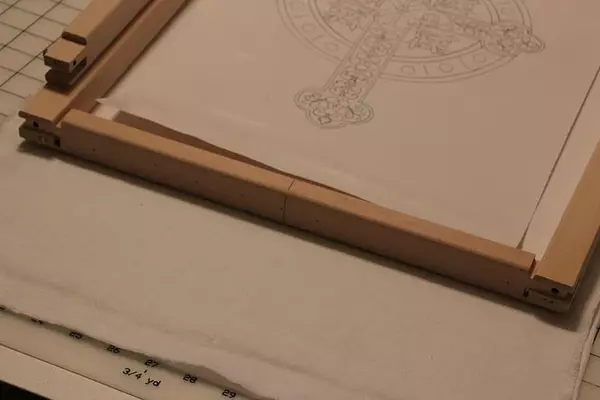 Then there was one of those disappointing moments.  The frame was too wide for the fabric.  There was only about 1/4″ to 3/8 " of fabric to wrap over the length.  Not enough.  Would a 1″ smaller width bar work? Nope. There would not be enough room inside the frame to work.
The story for tonight ends with nothing framed up. It's back to the drawing board.  I either have to pre-shrink a different piece of linen, or cut the width down so it will work with the 16″ bars from the Millennium Frame.  Time to sleep on it and start again another day.
At the end of the evening, I still love framing up a new project! Live and learn is the motto of the evening.
Solo Dei Gloria
Be sure to visit our online store front Ecclesiastical Sewing where you may shop for Liturgical Fabrics, altar linen fabrics, church vestment-making patterns, liturgical machine embroidery designs,  church vestment trims and notions and so much more. You may also find us on  Ecclesiastical Sewing on Facebook, Twitter, and Pinterest. Sign up for our mailing list at the bottom of the page on our online store front and receive a free copy of our Small Linens Booklet as our way of saying thank you for following along.
All in a Day's Work
Framing Steps
Framing Steps Part 2 Advent
Hand Embroidery Design Framed Up
Thoughts of Lent