Ecclesiastical Pattern Cataloging
Ecclesiastical Pattern Cataloging
A few months ago, several posts were shared regarding some vintage Ecclesiastical Hand Embroidery Patterns.  The hope at the time was to discover some hidden source of rare and beautiful Ecclesiastical Embroidery patterns – an illusive pot of gold as it were.  But does one ever find a pot of gold? Do rare treasures really exist?
As the months of searching have dragged on with nothing turning up, there were many times when it would have been easy to give up the quest. At some point one has to face the fact that much of the art form of Ecclesiastical Embroidery Designs has been lost, never to be found again.  But doggedly (or foolishly) determined, I would promise myself to make only one more search on rare book sites or at some obscure website. Then it would be time to move on to projects. One thing leads to another when searching the World Wide Web and sometimes a gem is unearthed.  After months and years of searching, I am pleased to say progress has been made. I have been able to locate a few treasures here and there. But what value lies in treasures if they are hidden away and not shared?
Vintage Collection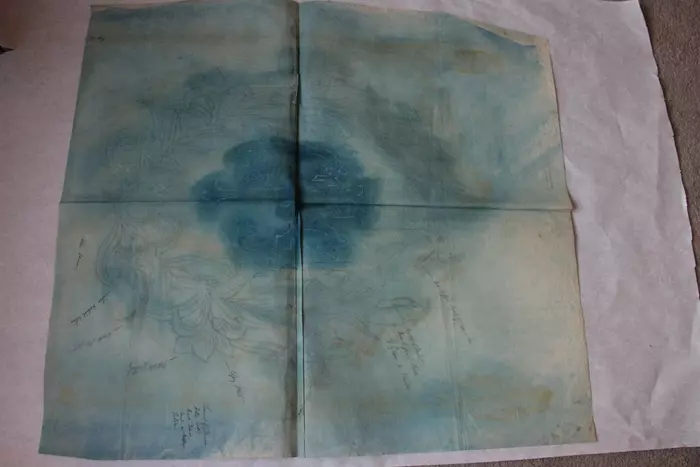 One of the treasures unearthed is a collection of vintage Ecclesiastical Embroidery Designs, Drawings, and Patterns. The collection dates from the 1870s, and includes a wide variety of items, both in terms of content and quality, as well as size. I am slowly in the process of identifying the designs in the collection, but that will take months. So, rather than wait for the entire collection of Ecclesiastical Hand Embroidery Patterns to be cataloged, I thought it might be nice to share a few designs now for your enjoyment.
Although difficult to see, the image above is a vintage Ecclesiastical Embroidery pattern, complete with traces of pounce powder. The pattern is heavily stained from a blue ink used in the process of transferring the design from paper to fabric. The process, known as "prick and pounce" involves marking the design lines of the embroidery with tiny needle holes. Once the entire design is marked with tiny holes on the design lines, it is placed on the fabric, and the design is transferred using a powder in a process called pouncing. Now, there is a bit more to the design transfer process, but that description provides an understanding of the process that caused the stains that are so visible on the pattern above.
This was a working pattern. If you click on the photo above and look more closely at the larger view, you will notice there are all sorts of handwritten notes on the design transfer. These were meant to provide instructions about thread colors, stitching, and other information about the project. There might even be notes as to the church or person who commissioned the work on some designs.
IHS and Lilies Design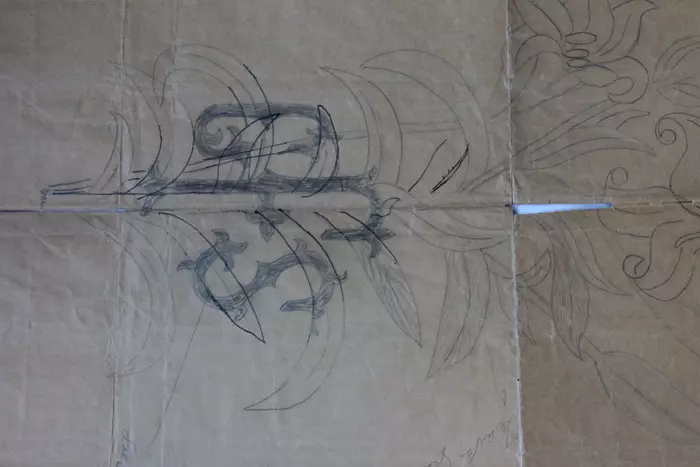 There were quite a few lily designs in the collection that were very nice. The designs are intended for bigger pieces, such as altar frontals, banners, and reredos. This piece was meant for a banner. The central initials are GFS. This design is one of several variations for use on the lily banner.
Lattice Design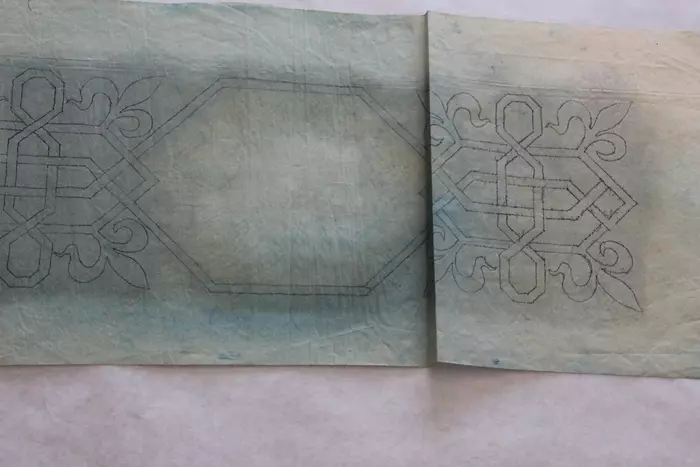 Another interesting Ecclesiastical Embroidery Pattern is this lattice border. It is a long piece and has a lattice design on both ends, surrounding a central hexagonal shape. The corners of the lattice have an elaborate Fleur de lis symbol.  The width of the piece and the placement of a faint floral motif sketch in the center suggest this might have been intended for a super frontal.  The piece is too long for orphrey bands on a frontal, and the direction of the floral motif is not correct for use on a chasuble.  Still, this is an interesting design that might be useful for artisans making vestments today.
Archangel Michael Design


Ecclesiastical Embroidery Design of Archangel MichaelThis final piece is a painted design depicting the Archangel Michael kneeling in prayer. Note the armor he wears, with shield and sword nearby within ready reach. Quis ut Deus?  " Who is like God?" is written on the orphrey of the angel's cape. This is an unusual piece, painted on a thin paper similar to tracing vellum, which is then mounted on a thin piece of fabric. The piece is large and perhaps intended to be for use on a banner. This very detailed illustration was worked by someone with skill. There are several other angels in the collection that were most likely worked by the same artist or design house.  It would be interesting to know if anyone has seen this design made up into a final vestment piece.
Challenges
One of the challenges with pursuing the art of Ecclesiastical Hand Embroidery is finding suitable designs.  The available resources are limited. That is why I am so glad to have stumbled across a few treasures. These vintage treasures are being sorted through and organized. But it is a slow and delicate process.  Many of the Vintage hand embroidery designs and patterns are over 125 years old. Some are too fragile to handle. The beauty of the collection is in the variety of sizes and designs that are available.  As the sorting process continues, a few of the designs and patterns might crop up here and there to share with others interested in Ecclesiastical Hand Embroidery,  that is, if there seems to be any interest in making the designs available?
Solo Dei Gloria
Be sure to visit our online store front Ecclesiastical Sewing where you may shop for Liturgical Fabrics, altar linen fabrics, church vestment-making patterns, liturgical machine embroidery designs,  church vestment trims and notions and so much more. You may also find us on  Ecclesiastical Sewing on Facebook, Twitter, and Pinterest. Sign up for our mailing list at the bottom of the page on our online store front and receive a free copy of our Small Linens Booklet as our way of saying thank you for following along.