A Fun Experiment with Machine Embroidery
A Fun Experiment with Machine Embroidery
A Fun Experiment with Machine Embroidery: I am amazed at the wide variety of possibilities available to enhance Ecclesiastical Sewing. My all-time favorite method of embellishment for Ecclesiastical Sewing is of course hand embroidery with silk threads and goldwork. It is a centuries-old process used to embellish church vestments and altar hangings.  Back in December and January, I shared links about Elizabeth and Watts and Co and the lovely embroideries at  Liverpool Cathedral.   For those who have access to museums,  to view historic collections, looking at designs from the past can be wonderful sources of inspiration. So much can be learned from viewing these historic Ecclesiastical Embroidery pieces. We can learn and see variations in stitch selection, and techniques. Sometimes seeing the placement of stitches and how the stitch direction was done can serve as a learning tool. How did the artist tackle stitching an unusual shape or design – All of these things help build our skills and knowledge base.
Having an understanding of the historical nature of Ecclesiastical Hand Embroidery can also help one with modern methods of embroidery.  I have a confession to make.  It is Lent after all. I have been a bit of an embroidery purist, doggedly sticking to hand embroidery when it comes to Ecclesiastical sewing. Sadly, that will never completely change.
Motif Cross with Palm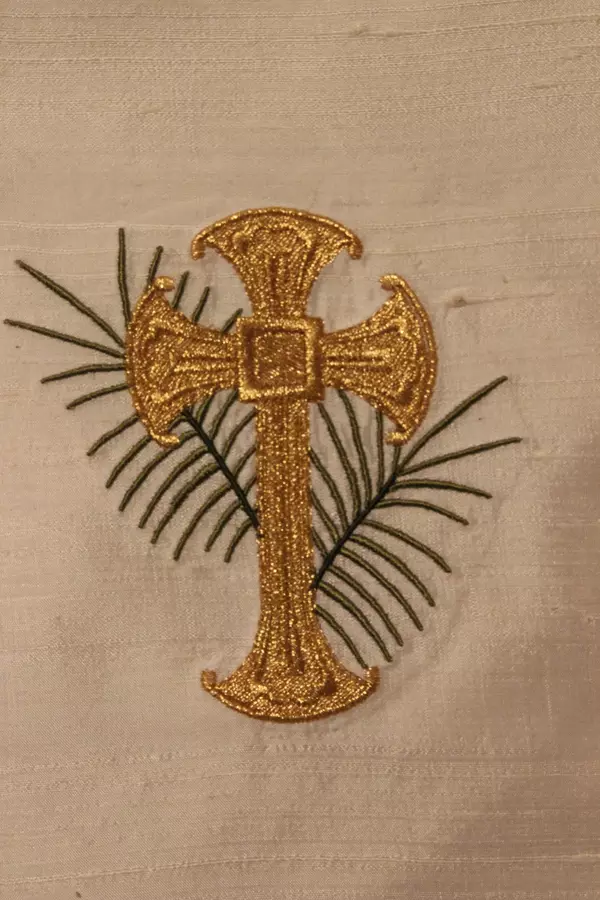 But not everyone has the inclination to launch into the Ecclesiastical Embroidery techniques of old. Time might be limited, and appropriate alternatives need to be available.  Many out there might be interested in making a stole or chasuble, but they have neither time nor skill to hand embroidered motifs. They desire embellishment of some sort, but what other options are available?
Palm and Cross Design on Silk Dupioni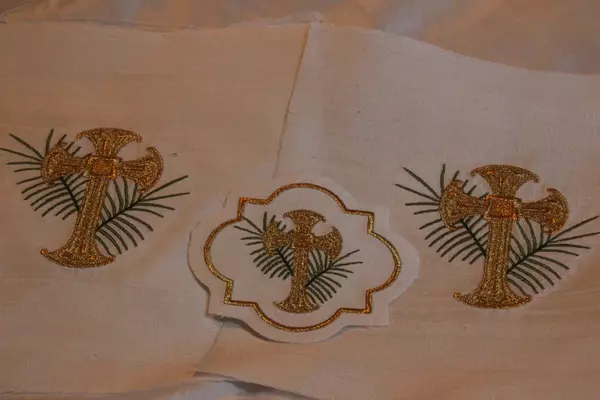 Blending the Traditional Embroidery to Modern Design
How can one blend the old techniques of Ecclesiastical Embroidery with the new?   The prevalence of machines capable of doing digitized embroidery has grown over the past 20 or more years.  The results available today can be nothing sort of astounding. The tie between the techniques of old and new machine embroidery is a process called digitizing. I'm not an expert on how digitizing is done, but in looking at finished pieces of machine embroidery, if there is a nice variety of stitches to help enhance the design and create light and shadow, that is a nice feature. Some machine embroidery designs are nothing more than fill stitches, which become boring to look at.  Having a well-digitized Ecclesiastical Embroidery piece can be a lovely addition to Ecclesiastical Sewing.
Sometimes, using modern techniques to complete an Ecclesiastical Vestment set can be a lifesaver.  The designs can often be modified in size to fit specific needs. The colors can often be selected to suit a particular occasion or color scheme.  Selecting someone who is well versed in the Ecclesiastical Arts, as well as fluent with modern machine embroidery can be a delightful way to expand design possibilities for enhancing Ecclesiastical Vestments. Please be sure to include your Pastor or Priest in the decision-making process when selecting machine embroidery designs.
The above designs were stitched by a friend who is an expert in Ecclesiastical Machine Embroidery.  I was very pleased with the results of these pieces. The digitizing is wonderful! There is a wide variety of stitches, making the pieces look very nice. Thank you, Sue! So what is the plan for these pieces?  Time will tell.  Perhaps another surprise is in the works? But it all hinges on a package arriving from the UK.  Time is ticking……
Solo Dei Gloria
Be sure to visit our online store front Ecclesiastical Sewing where you may shop for Liturgical Fabrics, altar linen fabrics, church vestment-making patterns, liturgical machine embroidery designs,  church vestment trims, notions and so much more. You may also find us on  Ecclesiastical Sewing on Facebook, Twitter, and Pinterest. Sign up for our mailing list at the bottom of the page on our online store front and receive a free copy of our Small Linens Booklet as our way of saying thank you for following along.
Religious Lutheran Machine Embroidery Designs for Church Vestments