Machine Embroidery for Pastoral Stoles
Machine Embroidery for Pastoral Stoles
Things are going to become a bit wild over the next three weeks. The Ecclesiastical Sewing workroom is receiving a major overhaul in preparation for the launching of the new website. Much of my workspace has been cleared, and my fabrics have been safely wrapped and moved out of harm's way. The bookshelf has been cleared and the volumes are stored for the next 4 to 6 weeks.  I will continue to work around the construction to keep a few projects underway, including the major altar frontal project that must be completed before a wedding scheduled for January 2, 2016.
Even as the Ecclesiastical Sewing Workspace is being cleared, there are several pastoral stoles nearing completion. This next stole that we shall look at this evening features machine applique motifs that were completed last spring.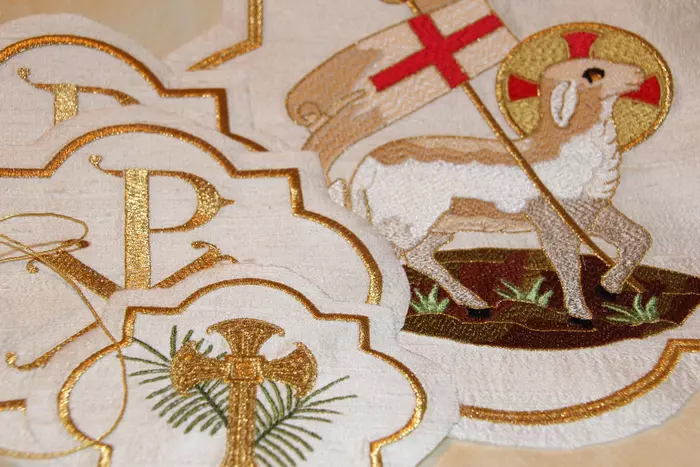 When these motifs were prepared, there were several extra pieces made for future projects, and they are now being put to use.
This motif is a palm and metallic gold cross machine embroidered on a patch of white silk dupioni.  At the time when the piece was made, time was tight, and rather than shipping stoles lengths back and forth, I had the embroidered stitch the designs on a piece of fabric in a size that could create a patch or a variation of an embroidered orphrey for use on a pastoral stole.
To fit in the embroidery hoops, the silk piece is much larger than is needed and must be cut to size. This is easily done by finding the center of the cross,  and then lines are marked on both sides for the width of the stole.
This is also a nice time to try out different selections of Ecclesiastical Trims to see which one will work with the design, fabric, and budget.
The Gold St. Benet trim has been selected for use on this project. Several other choices would have worked just as well, but I do not have enough yardage on hand for this clerical stole.
Following the same steps as were used to apply galloon trim to orphrey bands,  the two machine-embroidered appliques have been completed and are ready to be applied to a stole – almost. There is one small adjustment that must be made first. Notice that on the lower left corner, the galloon is ready to head south?  Although it is not terribly noticeable, the stitching will be removed for about 2 to 3 inches to straighten the gallon out.
Next, the applique is positioned on the stole and stitched in place.
The applique easily wraps to the back side and falls into place. The lining is all that remains to be completed. I have used this alternate method of adding machine-embroidered appliques to clerical stoles for quite some time.  It has several advantages that make it useful.
The first is that the person who does the embroidery often has the colors of silk on hand. When appropriate, stitching the machine embroidery design on the silk rather than on the fabric can save time when lead times are short. If there is an error or if there are technical issues while the design is stitched, this method can save an expensive fabric from ruin.
Another advantage offered using this method is the variety of additional design options this method affords. The silk would add a nice contrast to an otherwise busy brocade or brocatelle.  This method also allows the testing of several designs before making a final decision on which to use (provided multiple samples were created).  The designs can also be placed in the correct position while trying the garment on the wearer. There are also some disadvantages to using this method as it requires some way of finishing the ends of the applique which can increase the cost of the stole.  Still, it is a useful design trick when making a stole.
Photos of the finished stoles will be available shortly, provided I can still get to and find my camera in all of the construction mess. Wish me luck!
Solo Dei Gloria
Be sure to visit our online store front Ecclesiastical Sewing where you may shop for Liturgical Fabrics, altar linen fabrics, church vestment-making patterns, liturgical machine embroidery designs,  church vestment trims and notions and so much more. You may also find us on  Ecclesiastical Sewing on Facebook, Twitter, and Pinterest. Sign up for our mailing list at the bottom of the page on our online store front and receive a free copy of our Small Linens Booklet as our way of saying thank you for following along.