Making a Chalice Veil Part II: Good Friday Chalice Veil
Making a Chalice Veil Part II: Good Friday Chalice Veil
We all know how it is when we have a burning desire to get to a project. We get other projects completed and out of the way and then the fun begins. At Ecclesiastical Sewing, we have recently completed a new pattern for making a chalice veil. We have made a few "test" and sample items to ensure everything works well with the pattern. It has worked well, even for one of our sample makers who are new to sewing church vestments. It seems like with each new pattern, everyone else gets a trial run at the patterns, and I am the last person on the list to work with a new pattern. Finally, it was my turn to try out the new chalice veil pattern, and my selected project is the Good Friday Chalice Veil which is designed to complement our  Saint Augustine black vestments for Good Friday.
Silk Dupioni used for Chalice Veil
Like the stole in the same collection, the Saint Augustine Chalice Veil uses Silk Dupioni as the base fabric. For many churches, black vestments are the color used for Good Friday. Black Silk Dupioni is a great option for this set as the fabric has a natural sheen and a rich depth of color. Silk Dupioni is a great fabric when one is just learning the art of church vestment making, or when a rich fabric is desired but budgets need to be considered. A Silk Dupioni fabric looks rich, especially when combined with embroidery or orphrey bands in a contrasting or complimentary liturgical brocade or metallic brocatelle fabric. When I create collections, I like to use strong contrasts. Church vestments are usually seen from a distance, and so combining a solid fabric with a patterned orphrey allows the vestment to be visible from more than the first few rows of church pews.
As the Chalice veil project was started, the Silk Dupioni was taken out, carefully cut, and prepared, and my camera was ready to record the journey of the Good Friday chalice veil creation. The camera settings were checked, as well as the lighting. The first few shots were checked, and everything looked great. Next, there were a lot of clicks followed by more clicks!
Great progress was being made in both terms of photography and vestment making. Finally, the chalice veil was complete, and it was time to edit and watermark photos to be used for a write-up about making a Chalice veil and to share information and tips with readers. When the SD card was removed from the camera, the evening's photos were mysteriously absent. Panic set in. What could have happened? The SD card was checked in Paintshop Pro only to reveal there were no photos from the evening's work. There were no photos of laying out the project or planning orphrey placement. No tailor-basting photos, or anything related to all of the work that was done.  I was checking out a new setting for taking workroom photos while sewing and something went wrong.
Since the evening got too late to start over again with another chalice veil,  the project step-by-step photos have been put on hold. The only photos I have to offer for the evening's work are photos of the completed Chalice veil.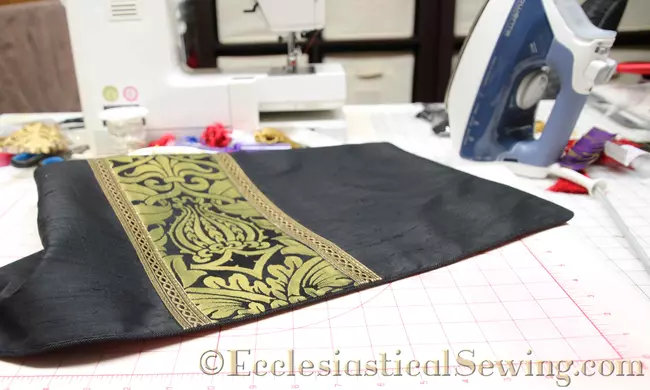 The finished Chalice veil is designed to match the Saint Augustine Good Friday pastor stole.  This chalice veil has a center orphrey band and it is lined with a deep martyr red satin.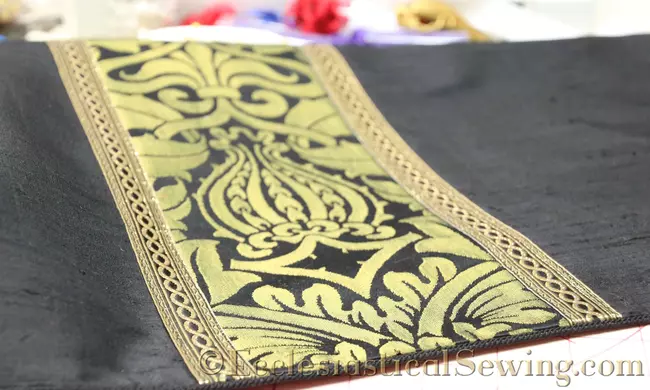 The orphrey has been carefully placed to be centered on the design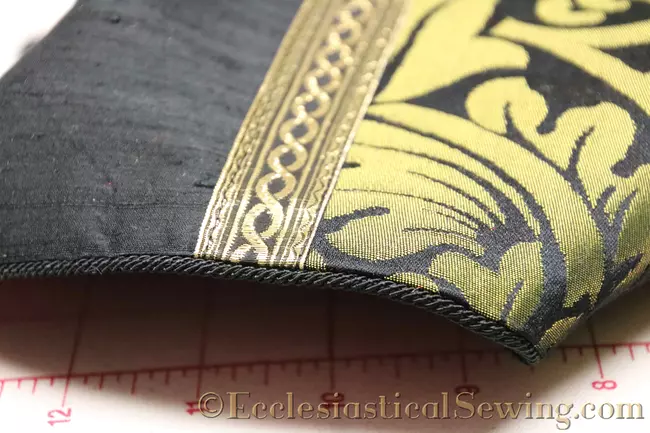 The chalice veil has a nice tailored look with the narrow black cord at the lower edge. This cord helps hold the chalice veil in position as it covers the chalice on the altar. The new chalice veil should be live on the Ecclesiastical Sewing website in a few short days.  We only need a day off with sunshine to get photos ready for the website. We are very excited about our line of church vestments beginning with the new pastor or priest stoles, and the chalice veils that are now available at Ecclesiastical Sewing.com. We look forward to offering completed Mass Sets for the Collections as time allows.
Our line of church vestments is hand-made, one vestment at a time to a high standard of workmanship. We are proud of the dedication and devotion our seamstresses in Minnesota and Ohio put into each garment and we continually strive to improve our skills and workmanship. We know church vestments are first intended for use in the House of the Lord to his Glory, and thus they should be well made, and second, that it is an investment of time and church resources. That is why we design and create church vestments that should remain long after we are gone.
Solo Dei Gloria
Be sure to visit our online store front Ecclesiastical Sewing where you may shop for Liturgical Fabrics, altar linen fabrics, church vestment-making patterns, liturgical machine embroidery designs,  church vestment trims and notions and so much more. You may also find us on  Ecclesiastical Sewing on Facebook, Twitter, and Pinterest. Sign up for our mailing list at the bottom of the page on our online store front and receive a free copy of our Small Linens Booklet as our way of saying thank you for following along.
Save
Save
Save
Save
Save
Save