Vintage Baptismal Cloth
Vintage Baptismal Cloth
This evening I would like to share photos of a simple Vintage Baptismal Cloth. The Church Linen item is a Baptismal Towel or  Baptismal Cloth.
This little treasure of Vintage Church Linen was found in the bottom of a dresser drawer. I heard a dreaded sound as it was pulled from the drawer, and noticed the tiny tear at the hemline. I was instantly fascinated by the fabric. It is so fine and smooth.  If it is linen, it is a very fine linen. But the fabric has more of a hand and feel of beautiful cotton, such as high-quality Swiss Cotton.  However, I am not an expert on determining fiber content.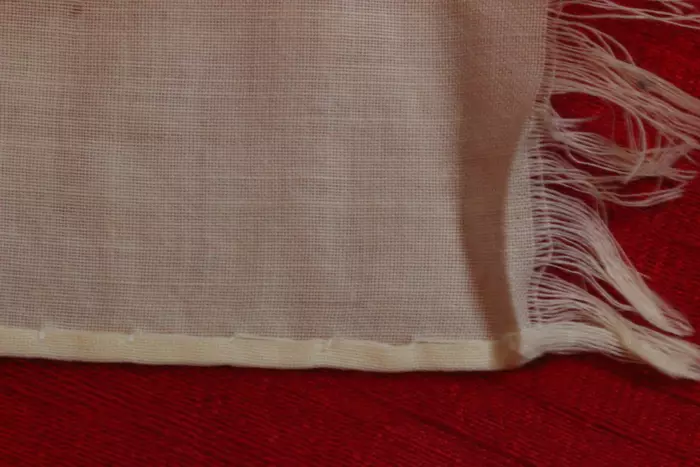 My sister and I stood for a few moments wondering which of the four siblings this might belong to. This was a keepsake that had been stored away for years in my mother's drawer. We noticed the simple fringed finish on one end of the towel. And then, we noticed the beautiful, even stitching on a very narrow and even hem. One can only imagine the pains undertaken to turn up such a narrow hem. And, one certainly notices how even and straight the hems are.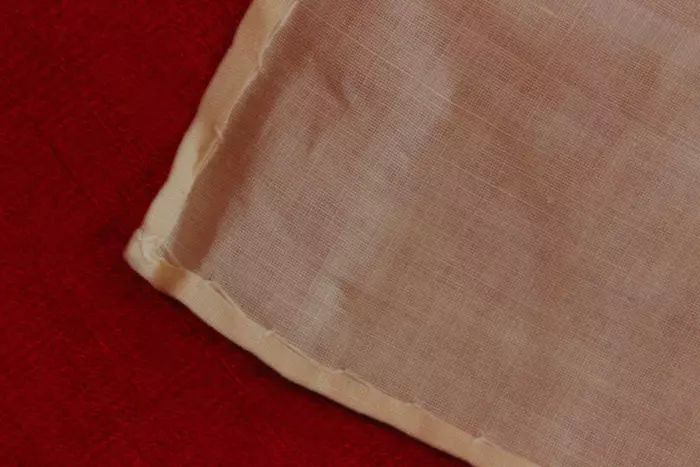 This Baptismal Towel, which is a simple Church Linen intended as a commemoration of Baptism, has been well executed. The workmanship is lovely. It is difficult to tell whether this Baptismal Towel was made by ladies of the Church, or whether it was a purchased item from a Vestment House.  So the question remained? Who's Baptismal Towel was this?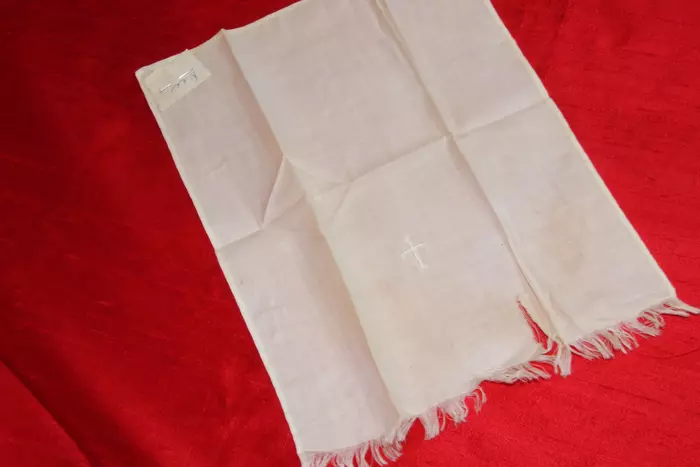 Thankfully, the issue was solved in a moment. There was a tiny piece of paper pinned to the edge of the Baptismal Towel with a name.  And it is mine!  This was the towel used for my Baptism.  It is a remembrance of the Gift I was given on the Day of my Baptism, and I am forever grateful for my parents who gave me the Gift of Holy Baptism at a very young age.
The Significance of Baptism Cloth
So what can be learned from this delicate Baptismal Cloth dating from ages past?  Baptismal Towels or Baptismal Napkins may be as simple or elaborate as one desires to make them.  The size of this Baptismal Cloth is approximately 19″ x 21″ as the finished size. The embroidery may be a very simple hand-embroidered cross. The hems should be narrow.  Now, there may be more specific instructions available in some older Church Vestment Books, and I know I have read something.  But these photos are a fine example of how a finished Baptismal Towel might look.  What a nice gift for new parents if the ladies of the church had hand-made Baptismal Towels to commemorate the Day of Holy Baptism for infants as well as adults.
Now that I know this is my Baptismal Towel, I have been asking myself if I should go through the steps to remove the stains, and clean and preserve the Baptismal Towel. For now, I will not. I will leave it in the condition it is in, with the Waters of Holy Baptism still staining the fibers.  I will leave the tag pinned to the hem with my mother's handwriting noting the Baptismal Towel is mine. I will take it out on occasion, and refold it in a different direction, and again remember the Gift I was given in Baptism.
Solo Dei Gloria
Be sure to visit our online store front Ecclesiastical Sewing where you may shop for Liturgical Fabrics, altar linen fabrics, church vestment-making patterns, liturgical machine embroidery designs,  church vestment trims and notions and so much more. You may also find us on  Ecclesiastical Sewing on Facebook, Twitter, and Pinterest. Sign up for our mailing list at the bottom of the page on our online store front and receive a free copy of our Small Linens Booklet to thank you for following along.