Church Linen Hand Embroidery Design for Purificator
Church Linen Hand Embroidery Design for Purificator
Church Linen Hand Embroidery Design for Purificator: As the weather turns colder, it brings thoughts of a cozy fireplace, soft music, and something relaxing while away in the afternoon. In the Ecclesiastical Sewing workroom, that usually means some type of handwork. Handwork can take on many forms. It can be the finishing stitches to current projects such as this collection of pastoral stoles awaiting tassels, fringe, and crosses.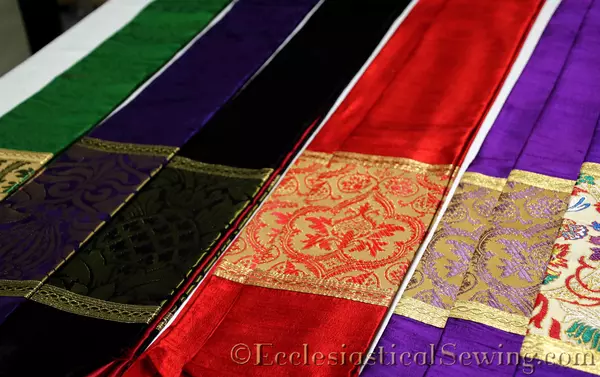 Handwork can be in the form of finishing work on vestments, hand embroidery, hand hemming, or stitching altar linens. I enjoy the hand work more as each year passes. Something is calming in doing handwork. It is a way to slow down the passage of time when working on a skill to a level of accomplishment. With quiet hours of handwork, there comes time for thinking and contemplation. Handwork teaches patience in this world where everything else happens in an instant.
I know many in the church look at photos such as those above and say, "Yes, I would love to serve my church in this type of ministry, but I wouldn't know where to begin."  There is a desire for many to use their hands to create works of beauty for their churches, yet the skills and knowledge to sew altar linens and church vestments have been lost. My greatest desire here at Ecclesiastical Sewing is to encourage, support, and provide information to those who would like to use their skills to provide the church vestments and church linens required for worship in the Lord's House. And, I know some of you will be saying, "Yes, I would love to do this, but I do not sew." Fear not. If you have a burning desire to serve in this way, the rest is all in the details and can be learned.
I can hear some of you saying, "Yeah, but I have never picked up a needle or it has been years since I have done anything with needle and thread."  We can all come up with thousands of reasons for NOT doing a thing. The first step to doing something is to put those excuses aside and start with a reason to do things. (There are countless examples from scriptures to look to if you doubt). My first step is always DESIRE! Desire to provide a gift in a small measure of thanks for the many gifts I have been given. And so, I encourage those who desire to work with their hands to make altar linens, or stoles, or whatever it may be to start with your desire, and just begin. It never hurts to dedicate that desire in a little prayer, too, that your gift may be pleasing in the sight of the Lord.
Pre-cut Purificators
So, let us begin with a desire to use our hands and skills to create something of beauty. How and where does one start?  Let's begin with a small item of church linens. It could be either a purificator or a keep-sake baptismal towel.  To make this easy, we offer pre-cut purificators and keepsake baptismal towels that can be used as a beginner's project to introduce hand embroidery and the making of church linens.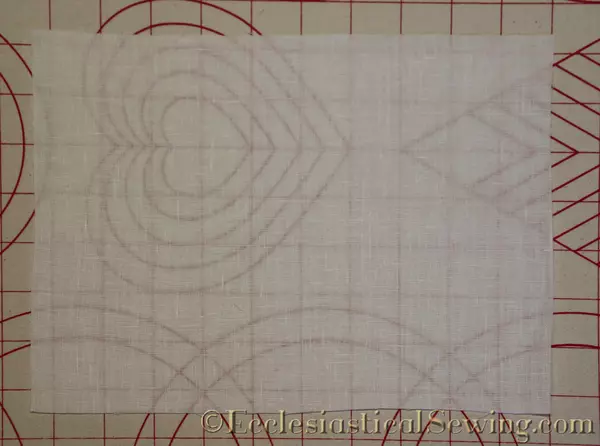 The Concept of Pre-cut Purificators
This is a pre-cut keep sake baptismal towel that is intended to be given to the parents of a newly baptized infant. For an older child or an adult, one might select to embroider a purificator or lavabo-sized linen. This towel is small so that one gets used to the concepts of turning up linen hems and mitering corners without having to stitch long hems at the beginning. Getting an item completed builds confidence to tackle larger projects. This is all done one step at a time. And for those who want to take the plunge and dive in at the deep end with a large project, please forge ahead following these concepts on larger scale items. The concepts are the same, regardless of the church linen item being made. There will be slight differences in hem widths, but the rest is basically the same.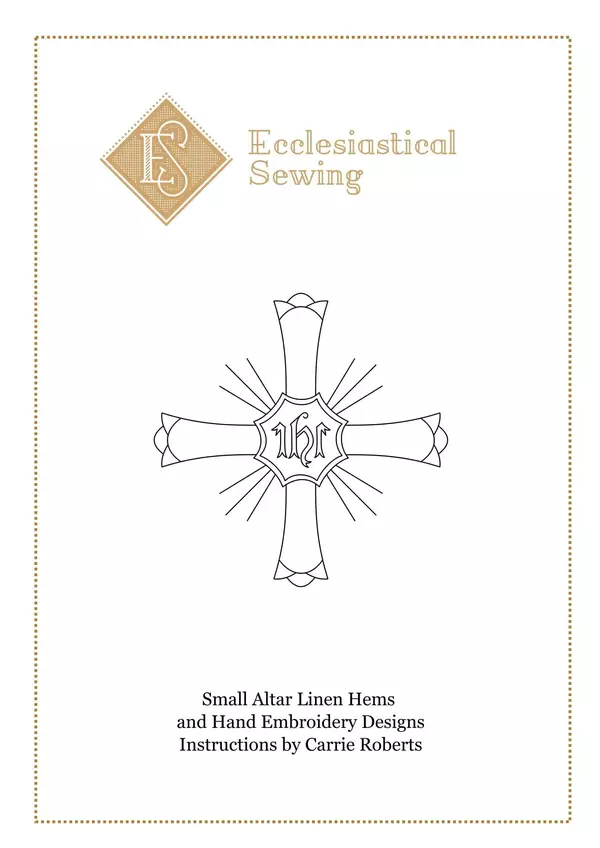 Ecclesiastical Sewing has a Small Altar Linen Hems and Hand Embroidery Designs booklet available as our way of saying "Thank you" for signing up for our email list. The booklet details many of the tips and instructions needed for hemming small altar linens. The email sign-up is at the bottom of the page HERE.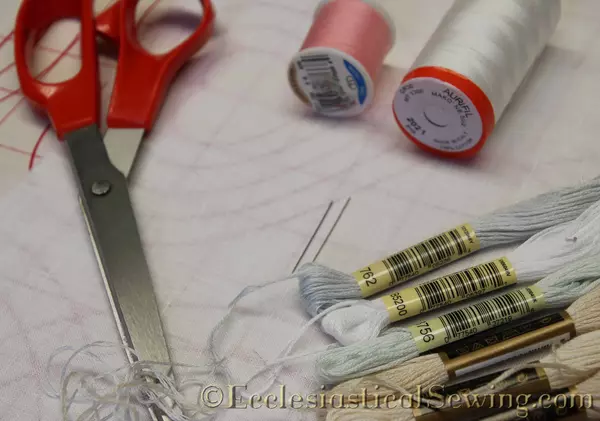 A few basic sewing supplies are needed: scissors, thread in a contrasting color for basting, fine white hand-sewing thread, needles (size 10 or 12), and embroidery floss in white, ivory, pale grey, or pale blue. A small ruler and pencil are also helpful.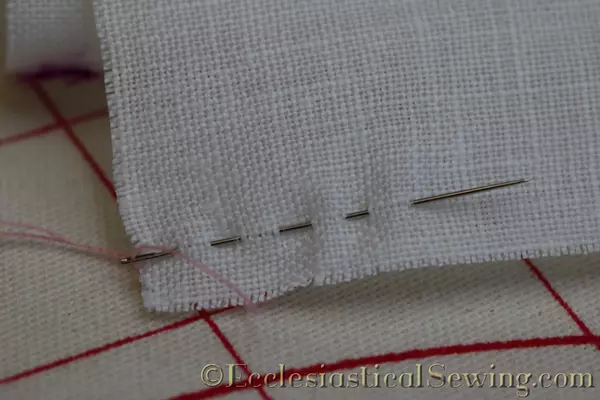 The pre-cut linens are cut to the correct size. Even though we have prepared the linens, it is always best to check that the edges are straight and pull a thread of two if needed. Be sure to trim any uneven edges. When making altar linens or sewing church vestments, I always like to take the additional step of basting. Basting serves to hold layers together or to mark an edge or hemline when all other making methods fail or leave a mark. The above photo shows the hems being basted before folding up the edges.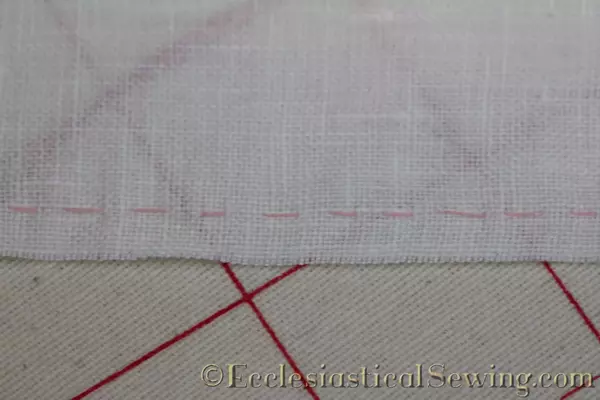 The first row of basting is in place. Continue basting around all of the edges.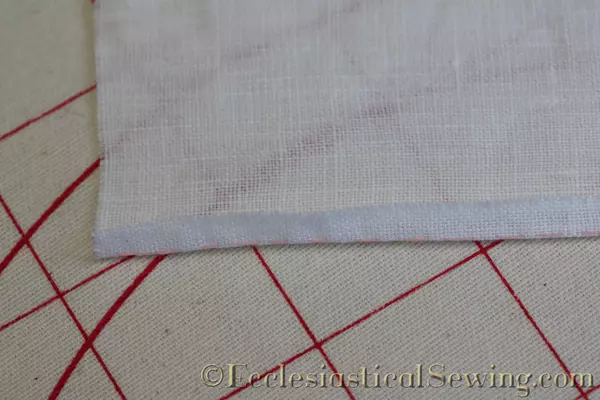 Next, fold the hem along the basting line. At this point, it is right to overlap the linen corners.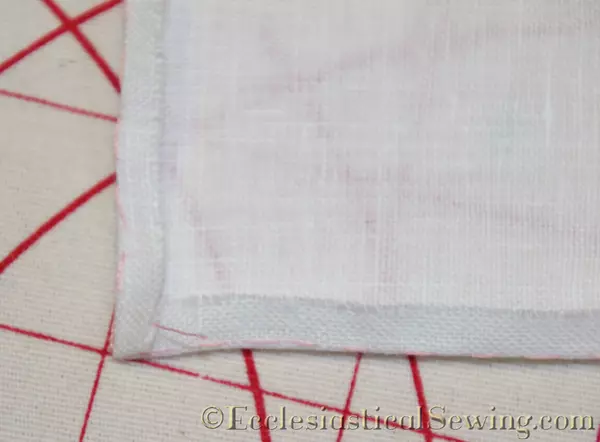 Here you can see that one is folded over the other.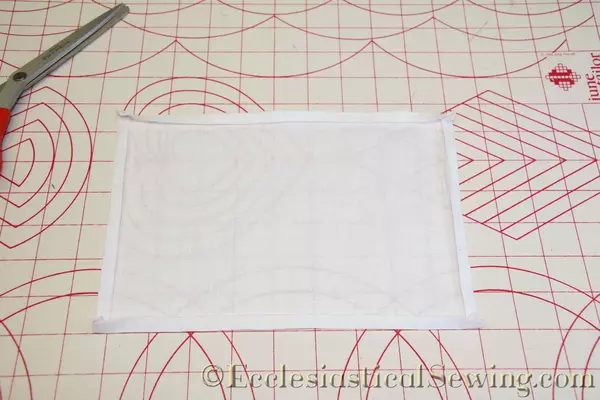 Fold the hems up one more time. The width is about 3/8″.  By following the rest of the instructions in our Small Altar Linen Hems and Hand Embroidery Designs, you should have enough information to complete the hemming of small altar linens.
Making altar linens for your worship community is a gift that is used every Sunday, and in many cases, every day. Well-made linens that are well cared for may last for many years. I hope you will consider providing the gift of creating beautiful hand-made linens for your church.
Solo Dei Gloria
Be sure to visit our online store front Ecclesiastical Sewing where you may shop for Liturgical Fabrics, altar linen fabrics, church vestment-making patterns, liturgical machine embroidery designs,  church vestment trims and notions and so much more. You may also find us on  Ecclesiastical Sewing on Facebook, Twitter, and Pinterest. Sign up for our mailing list at the bottom of the page on our online store front and receive a free copy of our Small Linens Booklet as our way of saying thank you for following along.
Save
Save
Save