Trial Run at Marking for Whitework
Trial Run at Marking for Whitework
Trial Run at Marking for Whitework: A few weeks back, I posted about a special Sunday at church and some concerns with the Sacristy.  The problem that was happening was that small linens such as Purificators were taken home to be laundered.  They depart the Sacristy in a ziplock bag, get forgotten, and when finally remembered, disaster has struck.  The wine stains have mildewed and the Purificators are never returned.  There is an effort afoot, I hope, to start soaking and laundering the small linens at church to avoid this disaster.  As the altar guild works out those details, the challenge has arisen to stitch some lovely white workpieces such as Purificators, palls, corporals, and Fairlinens for use during the service of Holy Communion.
Pre-cut Purificators Linen
I purchased some pre-cut Purificator linen pieces. Before I dive into those, I need to test and find a method to transfer the hand embroidery design to the linen.  I did a design about a year ago, and the embroidery turned out well.  However, the problem was the use of a regular pencil to transfer the design.  When everything was finished, the linen was soaked in Oxiclean and every other imaginable cleaning solution I could think of.  But, the white threads picked up a grey tinge as they were worked in and out of the fabric over the pencil lines.  It was not going to wash out. It was so disappointing!  I had checked numerous online sources and all of the whitework books in my collection, and none offered a great suggestion on how to transfer embroidery patterns to white fabric. This could not be repeated, and so I refused to give up!
This summer, while traveling on vacation, I came across a few transfer products that might be worth at least a try.

The first is blue quilt pounce powder.  This was in a wonderful quilt shop located in downtown Great Falls, MT.  I was familiar with a white quilt pounce powder which was available through a local quilt shop about an hour from my home, in St. Cloud, MN. (If you are ever in the area, be sure to stop at Grubers Quilt shop in St. Cloud. It is a nice store).  Having used the white pounce powder and liking the results of that on mid-tone to darker fabrics, the blue was a reasonable purchase to try on lighter fabrics and for whitework on linens.
Various Pencil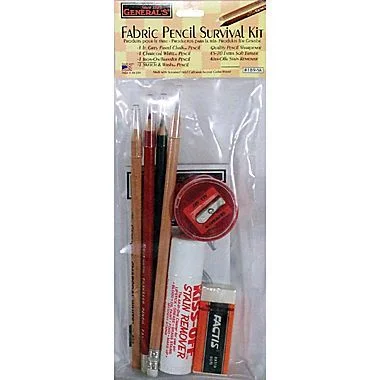 The next item was actually a collection of various pencils from General Artist Supplies.  It is their Fabric Pencil Survival Kit.  The collection included a gray pastel pencil which really caught my attention. Other items may come in handy, but the gray was the main reason for the purchase.  It is pale enough, yet I wondered if it would work on whitework?  I hope it will wash out without discoloring the embroidery floss. Testing will tell.
There are a few other techniques that I will share in time after they have been put through a vigorous workout. One includes the use of spray starch and the other, much labor in hand stitching through tissue paper.
Now that the new marking tools are out and ready, it is time to give them a try.  I'll be sure to let you know how they work.  If you have any suggestions based on what has worked for you when transferring white work embroidery patterns, please be sure to leave a comment.  For now, thanks for following along, and happy stitching!
Solo Dei Gloria
Be sure to visit our online store front Ecclesiastical Sewing where you may shop for Liturgical Fabrics, altar linen fabrics, church vestment-making patterns, liturgical machine embroidery designs,  church vestment trims and notions and so much more. You may also find us on  Ecclesiastical Sewing on Facebook, Twitter, and Pinterest. Sign up for our mailing list at the bottom of the page on our online store front and receive a free copy of our Small Linens Booklet as our way of saying thank you for following along.