Pentecost Chasuble O'Fallon Missouri
Pentecost Chasuble O'Fallon Missouri
As we celebrate Pentecost today, I want to take a short moment to share photos of a lovely Pentecost chasuble.  While we have all seen the lovely examples of a dove on Pentecost Chasuble, this one was made even more lovely by the special Sister who shared a morning with me, showing me the vestment collection at the monastery of the Sisters of the Most Precious Blood in O'Fallon, Missouri.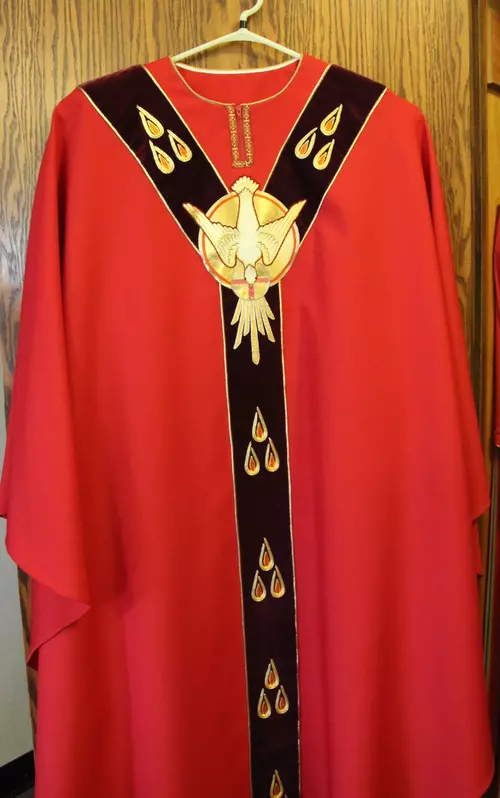 Traditional Design
I can not begin to tell of the wonderful morning which extended into an afternoon, that I recently spent viewing Ecclesiastical Embroidery and Vestments at the Monastery at O'Fallon. The vestment collection currently in use at the Monastery is large, and very special, as all of the pieces were made by the Sisters. This chasuble has the traditional Orphrey Design, with a Descending Dove which is a traditional Christian Symbol representing the Gift of the Holy Spirit given to the disciples 5o days after Easter.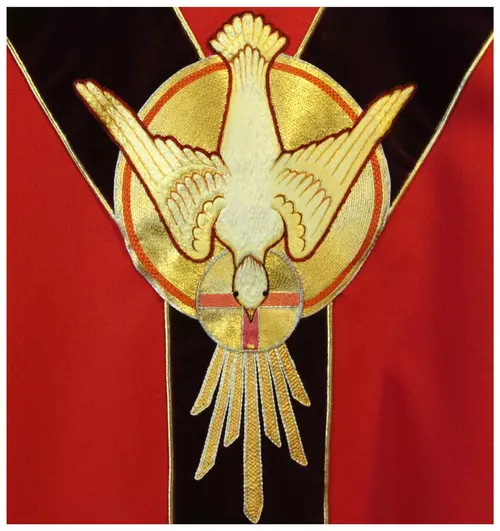 The Fusion of Hand and Machine Embroidery
This beautiful Dove design is stitched using a combination of hand and machine embroidery techniques.  The machine embroidery is done using several machines, including a chain stitch machine.  The embroidery threads appear to be silk threads, as well as gold threads which are couched in place.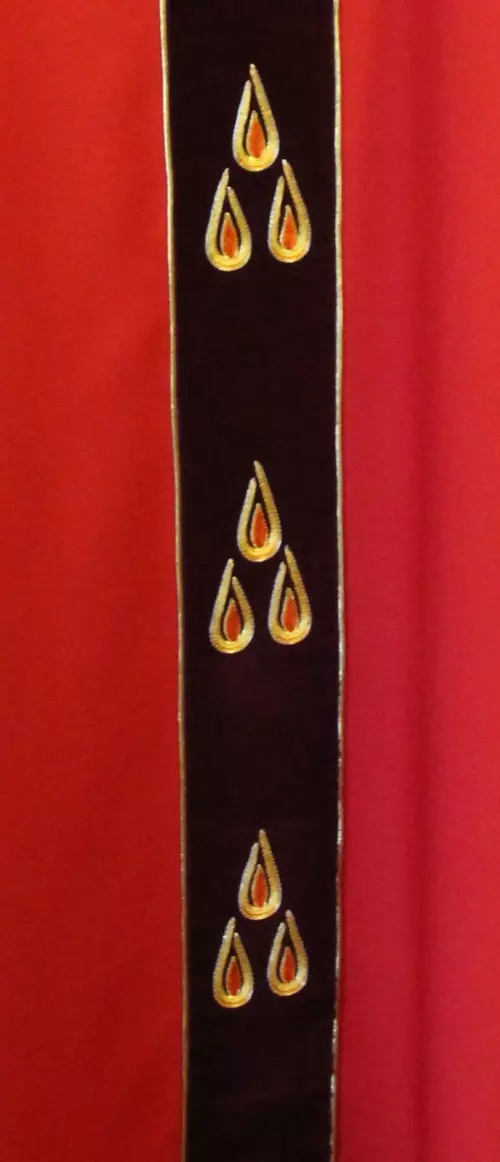 There are many more photos to share from the delightful day I spent with Sister Cecile and Sister Viola at the Sisters of the Most Precious Blood Monastery in O'Fallon, Missouri. Rest assured. They will find their way into upcoming posts over the summer months. For those who might be interested in viewing the vestment collection at the Monastery, it is advisable to phone ahead to make arrangements. There is much to be seen and enjoyed at the O'Fallon Monastery. Thank you, Sister Cecile, and Sister Viola, for your most gracious hospitality!
Wishing all a most Blessed Pentecost Celebration this day.
Soli Deo Gloria
Quick Sewing Tip: Add Goldwork Dove Appliques to Red Stoles for Pentecost