Virgin and Child Goldwork Embroidery Design
Vestment making is a joy  – at least for me. I can no longer imagine life without making church vestments. Starting and running a small business like Ecclesiastical Sewing is hard work. There are demands to be met daily and hourly and yet in the middle of the storm of life, this profession and calling can become the most rewarding and tranquil work imaginable. That work comes about when the outside world is tuned out for a time and the focus is on creating artistry.
Each vestment begins with an idea. Ideas can come from clients, or sometimes they come out of what seems to be thin air or maybe even Divine Inspiration. Often times I can not rightfully take the credit for the ideas because they just flow and that is where the joy takes over!
This is a goldwork applique piece that was recently on my work table. The idea came from a client. There were lots of ideas floating around and we talked about all of them! And then the work began. The goal was to incorporate this lovelyMadonna and Child applique design into a chasuble.
As the work progressed, many ideas on how to apply this piece of embroidery rolled through the brain. After looking at the options and leaving the design and threads set on the work table for a few days, the ideas all came together with a sense of peace and the work could proceed.
The Madonna and Child Goldwork Emblem is to be used on the back of a white Gothic chasuble. The chasuble is designed using our classic Gothic Chasuble Pattern cut with "Y" orphrey bands. The Virgin and Child design use goldwork embroidery and colored thread embroidery embellishments on a hand-painted design. This Embroidery Design has a great deal of detailed work and requires care when applying it to a church vestment.
To accomplish this, I used an embroidery frame that was prepared with muslin (calico). The chasuble back, which by now has the "Y" orphrey design sewn in place, was pinned to the muslin frame, creating a solid and stable work area. The hand painted Virgin Emblem was then carefully positioned, making certain it is centered and square. It is now ready to be couched in place with goldwork threads.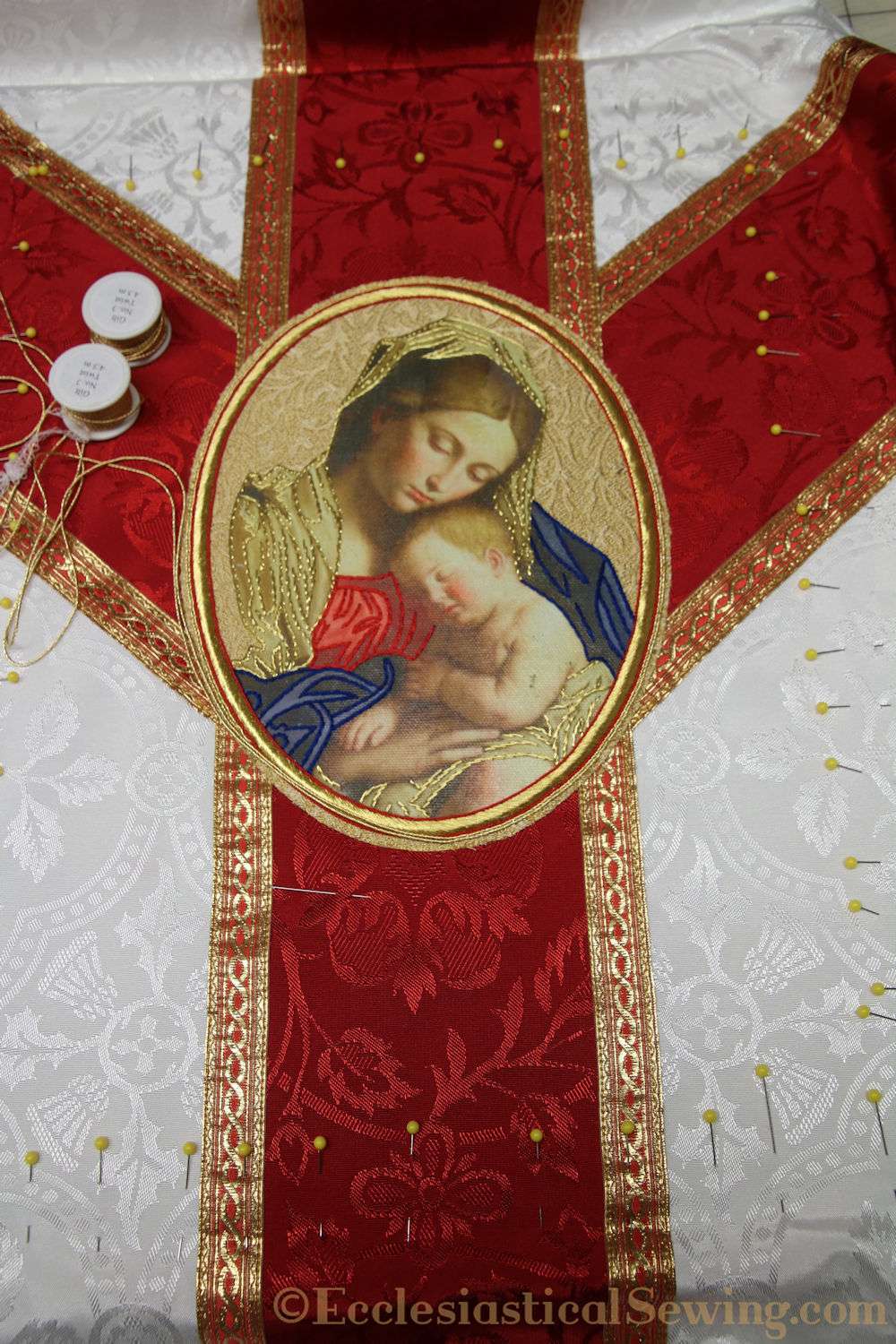 Many types of goldwork threads were considered, tried, and rejected. Gold Twist in #3 Gilt was finally selected as the best option for hand couching this special goldwork emblem in place. Hand and goldwork embroidery require concentration and quiet. I find it is best done when the business of the day is over. That usually means working into the late evening and early morning hours. It is a time of peace and quiet for thinking or not, depending on the day. It is also a time for prayer: prayer for the hands that make the vestments and for those who will be using the vestments now and in years to come, and for those being served in the presence of the priests and clergy who wear the vestments.
It may not seem like there would be much work in applying a simple oval shape to a church vestment, but there are hundreds of tiny stitches, each requiring an exact placement to hold the gold threads and the Virgin and Child Goldwork Embroidery design in position. I use a fine #10 crewel needle. John James is one of my favorite brands of hand sewing and hand embroidery needles. The needle must have a fine eye to easily go through tight spaces, yet be strong enough to pierce the canvas backing on the Goldwork Embroidery design.
The work is slow. There is no hurrying possible when it comes to hand embroidery and goldwork embroidery, even if it is only simple couching used to hold an emblem in place.
At last, the final rows of gold twist have been applied and finished. The thread tails are all plunged and the remainder of the Christmas Rose Chasuble is ready for completion – almost.
The Christmas season is past for 2017. But yesterday, we marked the Celebration of the Purification of Mary and felt this would be a wonderful time to share something special with you, our readers. We hope you enjoy the Christmas Rose Chasuble's Madonna and Child Goldwork embroidery design.
I most especially wish to thank SM for the joy and honor of being able to create this special vestment.
Soli Deo Gloria
Please visit our website at www.ecclesiasticalsewing.com to see our complete line of liturgical fabrics, embroidery emblems, embroidery designs, altar linens and church vestments. You may also contact us through the online webpage to inquire about custom orders or vestments.