Square Yoke Surplice Pattern in Multiple Sizes
Square Yoke Surplice Pattern in Multiple Sizes
You ask and we try our best. We decided years ago when we first launched Ecclesiastical Sewing that a focus on our business would be to provide sewing patterns and instructions for use by those interested in creating their own church vestments. This has been a bit of a lost art form for many years and we hope to be a resource for those who are once again interested in helping cloth members of our clergy. There was not much available when we first started out, and so, little by little, Ecclesiastical Sewing has created a line of Church Vestment Sewing Patterns. The patterns include an assortment of 7 or 8 styles of pastor or clergy stole patterns, several chasuble patterns, cope patterns, deacon stole patterns, amice patterns, and many more.
And now, because of the requests from our customers, we are pleased to expand our pattern offerings by including multiple sizes for our Roman Square Yoke Surplice pattern.
Square Yoke Suplice Pattern
We have had many customers write and thank us for offering our square yoke surplice pattern. It has been a good pattern that has worked well for their needs. The original pattern was created as a size medium to fit a 40 to 42″ chest size. That has served well for many adult wearers. But with the return of more traditional church services where younger participants are serving as acolytes or in other capacities, smaller sizes of the pattern were needed. There were also requests for larger sizes of the pattern.
Since part of our mission at Ecclesiastical Sewing is to aid churches in being able to create their own vestments, we have done our best to be of service by providing an expanded size range in the square yoke surplice pattern.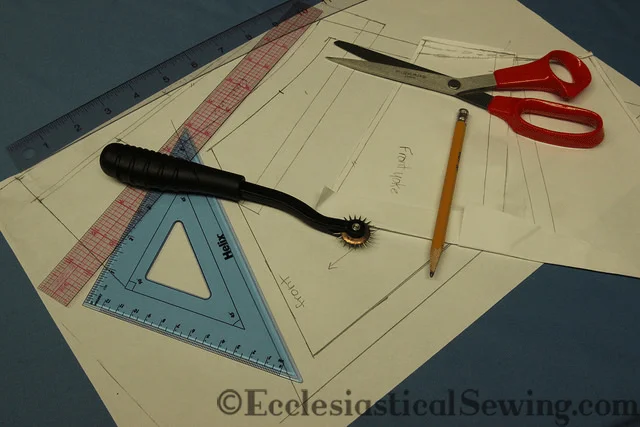 We work with a professional pattern maker and she does a great job for us! She created several multi-sized patterns in the square yoke surplice design. Churches had expressed the need for small sizes for youth servers so there is a Youth Small and a Youth Medium pattern.
There was also a need for a smaller adult size as well as larger sizes. To meet those needs, the adult patterns have been grouped by sizes: small, medium, and large in one pattern, and X-Large, XXL, and XXXL in another pattern. The size chart below provides a guide to aid in selecting the correct pattern.
Pattern Sizes
 Size
Youth S
Youth M
  S
  M
   L
 XL
 XXL
XXXL
Chest
     28″
   32″
 35″
 40″
 45″
 50″
 55″
  60″
Waist
   24.5″
  26.5″
 29″
 34″
 39″
 44″
 49″
 54″
Hip
    30″
  34″
36″
 41″
 46″
 41″
 55″
 59″
Height
    54″
  61″
70″
When selecting or ordering fabric, it is helpful to keep in mind that the pattern is full and wide with the four pleats in both front and back. We find that 60″ wide fabric works well. Narrower fabrics would also work, but they would require piecing under the pleats.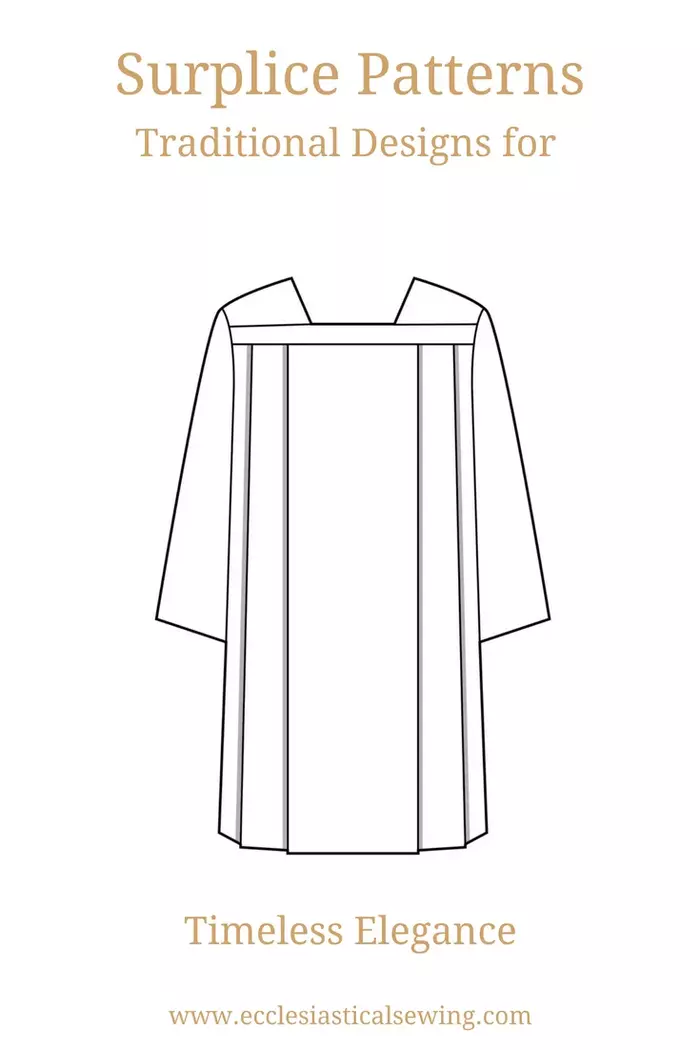 As time and circumstances permit, we hope to continue to expand our offerings of church vestment patterns* for those interested in serving the church by creating beautiful vestments for our pastors, priests, and clergy members.
Soli Deo Gloria
*Church Vestment Patterns are intended for private use by individuals for creating vestments for their own use or for use in their church. The patterns are not intended for use in mass production or commercial use. They are not intended to be used by other vestment makers for use in the sale of garments made using these patterns.