Pattern Making and Testing Samples
Pattern Making and Testing Samples
Pattern Making and Testing Samples: I recently spent a week with a friend working on what else, but everything related to the topic of Ecclesiastical Embroidery, vestment making, and Altar Linens. The trip was non-stop busy from early morning to late hours at night.
While visiting, I completed the square yoke or Roman-style surplice pattern. The instructions are also now written, and the sample garment for photography is nearing completion.
Surplice
A surplice is a choir garment worn by clergy. There are many styles of surplices worn by clergy. The most common styles are a round neck surplice and a square neck surplice which is often referred to as a Roman Surplice.  A surplice may be worn for processions when administering the sacraments when giving blessings, and the like.  (Be sure to check the rubrics for the proper use of the surplice within your church body).  The surplice may have ornamentation such as lace insertions, and embroidery. Due to the style lines of the square yoke surplice with the pleated front and back skirt, adding inserts of lace is an easy task. When made in a linen fabric, details such as drawn threads work well on this style of garment.  On occasion, one may also see the use of colored embroidery on a square yoke surplice.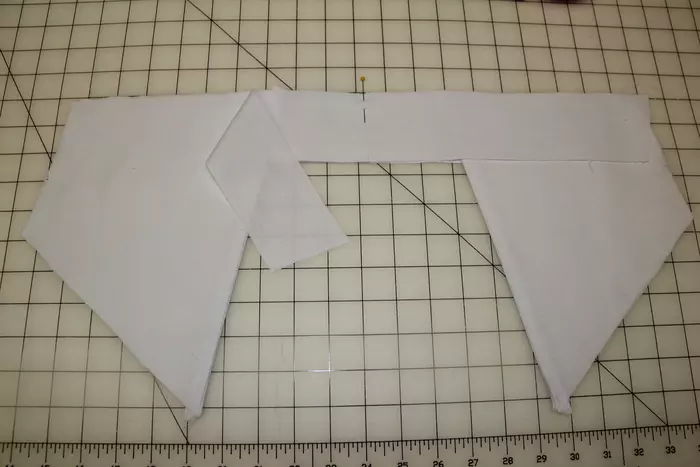 Square Yoke Surplice Pattern
Currently, the square yoke surplice pattern is sized in a Medium/Large size, with plans to grade the pattern for additional sizes.  The design of the square yoke surplice pattern features a two-piece yoke, a skirt with a flat center panel for embroidery that has two pleats on either side of center front and back panels, and a full sleeve. Yardage requirements are 3 1/2 yards of 60″ wide fabric. The square yoke surplice would work well in a variety of fabrics including a polyester fabric (which may be a challenge to press pleats), linen blend, or linen fabric. Cotton fabrics are too lightweight and would not be suitable for this square yoke surplice pattern because of the pleats.
The square yoke surplice pattern will be available for purchase soon.  The Ecclesiastical Sewing store should be operational in the summer of 2016. The church vestment patterns are being completed and sample garments are being sewn. The list of vestment patterns in the works is rather long, and it will take a while to complete the patterns, but as new Ecclesiastical Sewing and vestment patterns become available, the announcements will be made here.  So keep an eye open for future projects!
Solo Dei Gloria
Be sure to visit our online store front Ecclesiastical Sewing where you may shop for Liturgical Fabrics, altar linen fabrics, church vestment-making patterns, liturgical machine embroidery designs,  church vestment trims, notions and so much more. You may also find us on  Ecclesiastical Sewing on Facebook, Twitter, and Pinterest. Sign up for our mailing list at the bottom of the page on our online store front and receive a free copy of our Small Linens Booklet as our way of saying thank you for following along.
Carlisle Fabric in White for Roman Square Yoke Surplice Patterns