Carlisle Fabric in White for Roman Square Yoke Surplice Patterns
Carlisle Fabric in White for Roman Square Yoke Surplice Patterns
Last week at Ecclesiastical Sewing, we updated everyone with the exciting news that our Carlisle fabric in white for the Roman Square Yoke Surplice Pattern is now available in an expanded size range. That is something we hope will be great news for many within the church community.
Yet, where there is a victory in one area, challenges often arrive in other areas.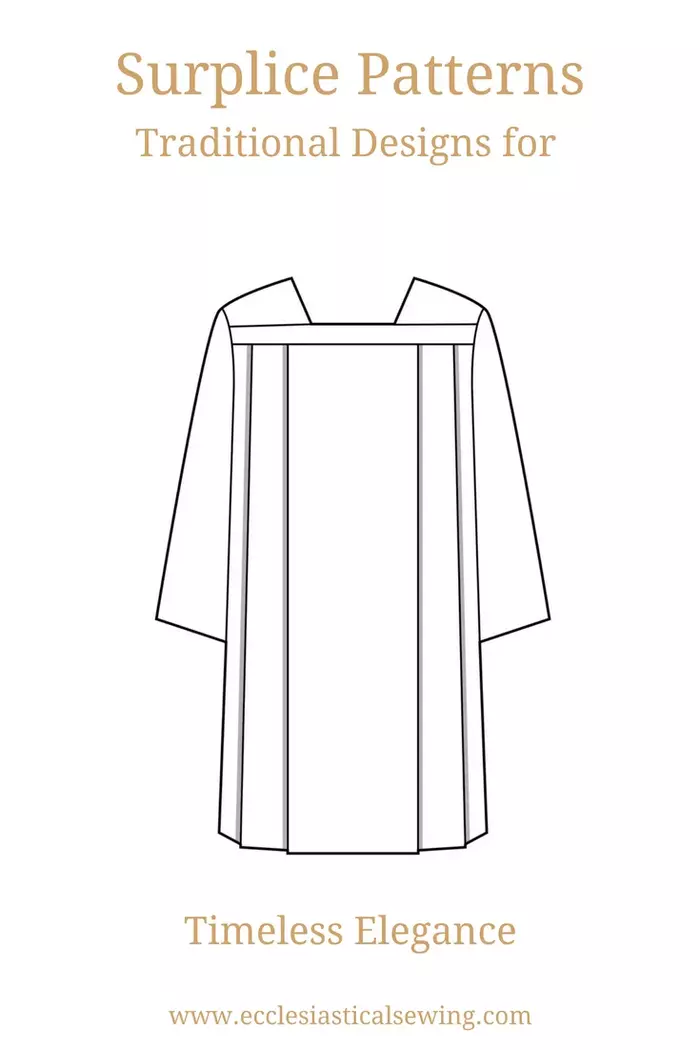 Fabric Challenges in Church Vestment Creation
It is great to have a pattern available in a wide range of sizes, but it does little good if one does not have suitable fabric available to create the pattern with. That is often the struggle with creating church vestments. We win one small victory only to have other obstacles arise.  This is nothing new to the church. The church has had issues like this throughout the ages.
When it comes to locating fabrics to use for vestment making, we are at the mercy of the mills which are now located overseas. When production of many fabrics moved overseas, the minimum requirements for weaving special fabrics  – or fabrics that might sell at a slower pace increased tremendously. Today, mills often require hundreds or even thousands of yards of a single fabric and color before it can be woven.
Introducing Carlisle Fabric
The large vestment houses can create fabrics exactly as they wish and meet the large minimums that are often required by the mills overseas. For many small manufacturers, or for Bespoke Vestment makers such as Ecclesiastical Sewing, those minimum yardage requirements are beyond our reach.
Yet that doesn't mean we are left with nothing. We are blessed to have a variety of good suppliers who feel it is important to continue to weave and stock fabrics for use by small vestment makers. There is a fabric that one of our suppliers makes that I have liked for a long time. The fabric has many things that make it favorable to add as a new fabric to our line. It is named Carlisle, after a Cathedral in the UK. Carlisle is an affordable fabric priced at under $25 per yard. It is a wide fabric – in fact, it is 60″ wide – which makes it easy to work with. The fiber content is 100% polyester which makes it washable under certain circumstances. Sounds great, right? Yes, it is. You have seen a few items created using Carlisle, too.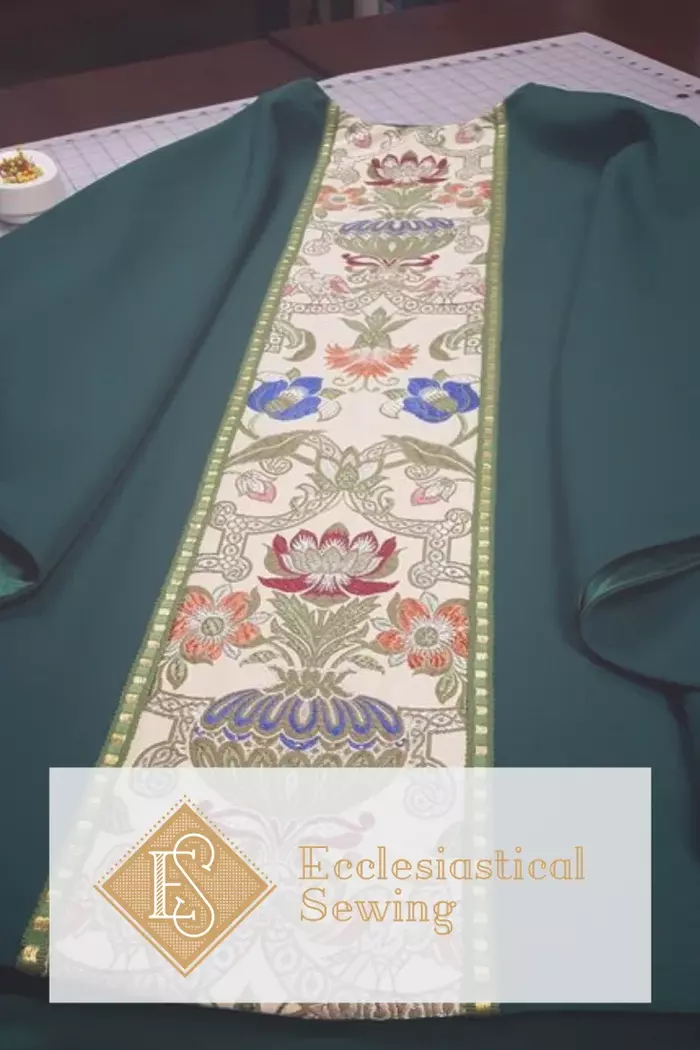 Hunter Green Carlisle
The Hunter Green Carlisle has been used to create this lined chasuble with the tapestry orphrey band. It worked up beautifully and created an affordable vestment. Just don't throw this chasuble in the wash. "Wash-ability" is dependent on all fabrics used in a vestment. And it is never recommended to wash tapestry fabrics. So this fabric combination is best sent off for dry cleaning when the need arises.
But switch things around. If the Carlisle is used entirely for a vestment without additional trims, the washable story changes. The white Carlisle is perfect for use in creating the Roman Square Yoke Surplice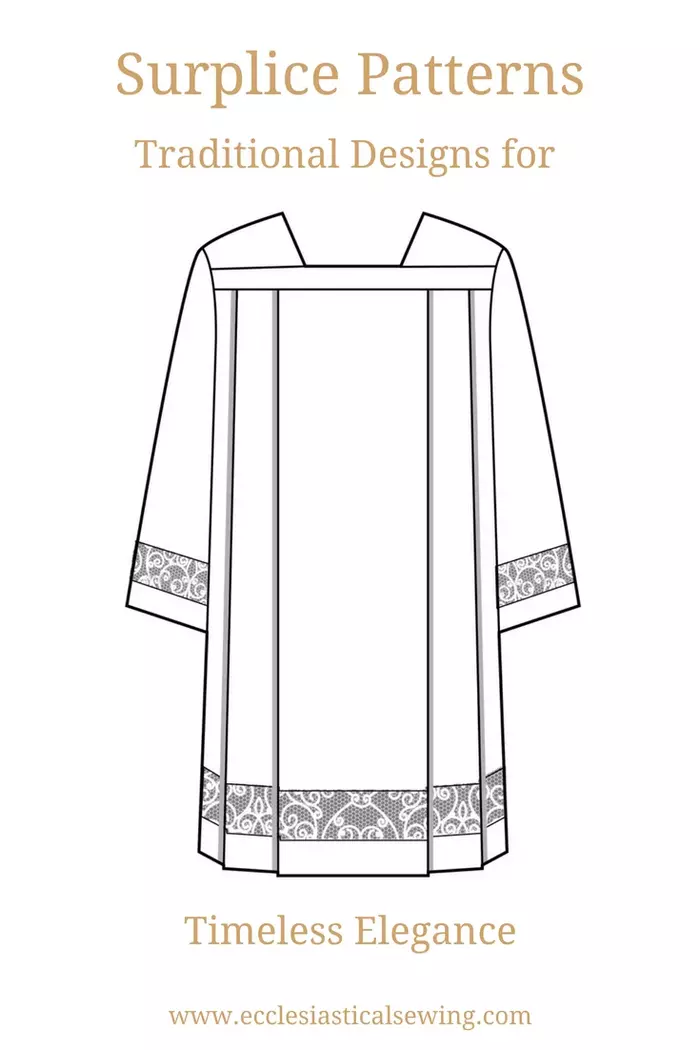 or the Lace Insert Roman Surplice from the line of patterns by Ecclesiastical Sewing.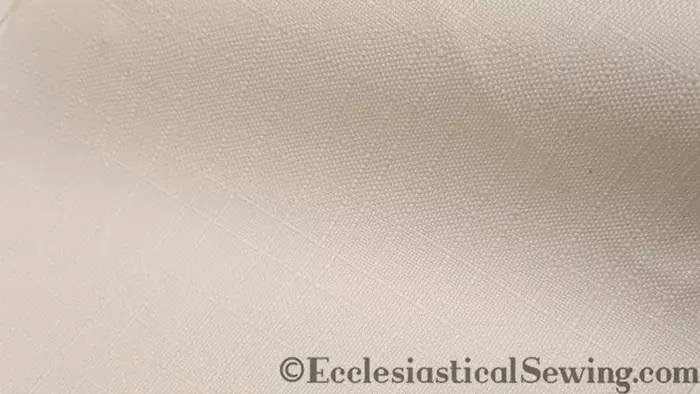 Practical Care and Benefits of Carlisle Fabric
Serving garments such as albs and surplices often see heavy use. They are placed on and off over street clothes and are worn by multiple people. They may or may not be hung up carefully. They may be hung back in a closet, but not checked for stains or soil, and thus stay in a closet for months on end in that condition. Yet all is usually not lost with this fabric. Serving garments that are made using Carlisle should be washable under most circumstances. It is like many other polyester fabrics. One can treat the stains and toss them in the washer. I always err on the side of using a gentle cycle and NEVER under any circumstances mix church vestment garments with anything else when washing. The vestments can be removed from the washer and left to hand dry. It is fine to toss them in the dryer, but with most modern washers these days, the garments come out almost dry anyway, so if they are placed on a hanger, they are often dry in a matter of a few hours. If wrinkles are a concern, they can be tossed in the dryer for a few minutes to fluff out wrinkles.
When making church vestments, especially if budgets are a concern, Carlisle is a great place to begin the vestment-making process. As skills and confidence grow, it becomes easier to move into up the line to more expensive fabrics.
We have a few projects in the works in the coming weeks with Carlisle – there is a chasuble and several sets of Advent altar hangings. There is also a large frontal project in the works. Stay tuned to see photos from the Ecclesiastical Sewing Studios in the coming weeks!
Soli Deo Gloria