How to Make the Outside for Vestments Look Great
 How to Make the Outside for Vestments Look Great
Questions come in almost daily asking about the making of all things church vestment-related. Today we will give you a quick rundown on How to make the Outside for Vestments look great – and it all begins on the inside!
Let's begin with pastor or priest stoles. At one time in history, some stoles were made with two layers of fabric: the face fabric and the lining fabric. This wasn't true for all historic stoles, but I am surprised to see vintage stoles come through the studio that have nothing on the inside. Today, we use several products for the stole interfacing. The decision on what to use often depends on the stole itself.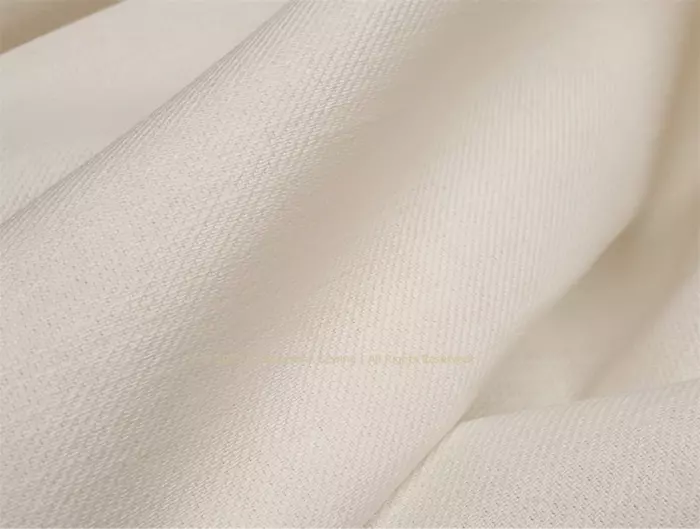 Liturgical Dowlas Linen
Dowlas linen is a traditional linen fabric that is often referred to in historic vestment-making books for use in stoles. Dowlas has been our wishlist for years to try and locate a source and we are pleased to announce that we now stock dowlas in our studios! Dowlas is coarse weave linen that is utilitarian. Historically, this linen would have been used for things like aprons, pockets, and gaiters. So for those of you into historical costuming, you may wish to check this fabric out.
Dowlas will provide a soft finish to stoles and altar hangings. Be certain to keep things flat and smooth when pinning. Dowlas may also be suitable for some Roman-style chasubles where a soft structure is desired. When using dowlas for stole interfacing, be certain to purchase enough yardage to allow for possible shrinkage. It is always recommended that dowlas be preshrunk before use.
Fabric Vestment with French Micro Twill and Silk Organza
Next up is a favorite – French Micro Twill. The French Micro Twill is a soft drape-able cotton that adds body to fabrics such as silk damasks. We use the micro twill as an underlining on occasion to add additional body and drape to chasubles. The caveat here is that this works well for chasubles that are not in warmer climates. The Frend Micro Twill will also work in some cases as underlining to block the shadows of colored linings.
Silk Organza – This is a dream fabric that adds just the right amount of support for chasubles made with silk dupioni. It again changes the hand of the fabrics to the chasubles drape better.
Choices for Liturgical Vestment
Next up is a medium-weight white cotton canvas that has pre-shrunk. This provides a nice drape for stoles that have a soft hand and finish. While it states preshrunk, it is recommended that you test the fabric for shrinkage first before use.
When it comes to creating altar frontals, our go-to fabrics include Dowlas and assorted weights of cotton canvas. The weight you select will provide different finish looks. The general rule is the heavier the canvas, the more board flat the frontal will hang.
Lining fabrics used for vestments include Silk Dupioni, Satin Lining, and Cotton Sateen. Our favorite lining is a nice quality dress-weight satin fabric. Silk Dupioni works well as both face fabric and lining fabric for stoles and chasubles. The Cotton Sateen is a traditional fabric that was used on many vintage vestments. It comes in a wide range of colors and works especially well for Roman-style chasubles. Consider cotton sateen as a great lining choice for stoles – especially if the goal is to minimize the normal slipping that happens with stoles.
This is a fast reference list of products to consider for use on the inside and backside of your next beautiful project such as our 4 1/2″ Pastor of Priest Stole!
Slate Frames – How to Determine Size
Slate Frames for Hand Embroidery
Carlisle Fabric for Church Vestments
Historical Use of Chasubles and History of Vestment