4 1/2 Inch Wide Pastoral Stole Pattern
4 1/2 Inch Wide Pastoral Stole Pattern
4 1/2 Inch Wide Pastoral Stole Pattern: Making a pastoral or priest stole is a fun and challenging project. It begins with the solid foundation of a well-designed pattern. Stole-making incorporates basic sewing skills along with techniques used in tailoring and couture sewing. That may sound a bit scary at first, but it is really quite a simple process, once one learns a few little tricks and techniques along the way.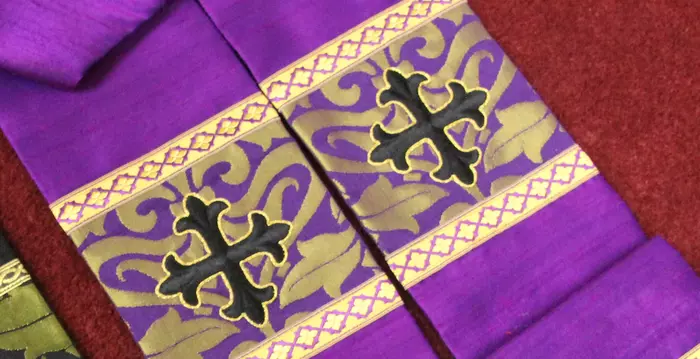 Choosing the Size for Your 4 1/2-Inch Pastoral Stole
The 4 1/2″ pastoral or priest stole BUY IT NOW is designed to accommodate a variety of heights. It has cutting lines for a 51″, 53″, and 55″ finished length. The length can easily be changed to allow for a hem that is plain with no trim or a hem trimmed with fringe or tassels. While I find the 53″ stole works well for a wide variety of needs, with or without a fringe or tassel lower edge BUY IT NOW, I felt it was important to offer the option of a pastoral stole pattern with different lengths to more readily accommodate those who need a longer or shorter stole. In addition, the stole pattern also has a lengthened and shortened line to allow for further customization.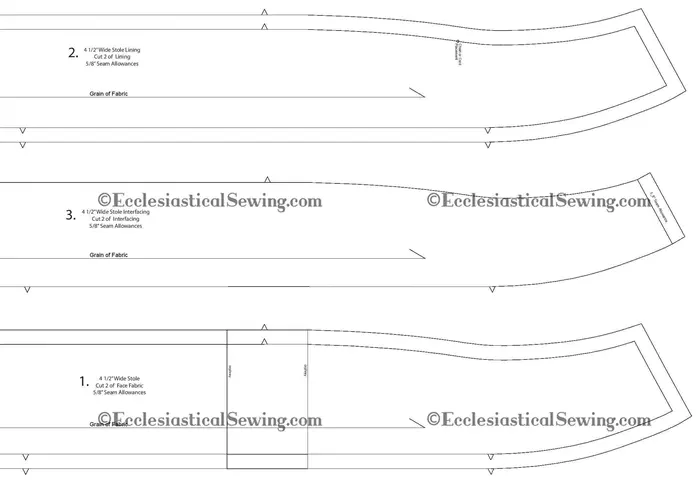 The stole pattern has notches on all of the pieces to aid with matching long straight seam lines. There is also a pattern marking on the stole lining for the placement of a cord or chain which helps lift the stole back a slight amount from the wearer's neck. The stole pattern has guideline markings for orphrey band placements. These are intended to provide an initial placement, and from there, the number, and width of orphreys may vary.
Creating Pastoral Stole with the 4 1/2-Inch Pattern
Other features of the 4 1/2″ wide pastoral or priest stole include separate lining and interfacing pieces cut to specific sizes, based on formal tailoring techniques and pattern-making for custom high-end garments. This feature gives the finished stole a distinct finish, that looks professional and well made, imitating a finely tailored garment. The instructions and construction style make this stole a nice project for beginners and professionals alike.
Suggested fabrics: Silk dupioni, brocade fabrics, silk damasks, metallic brocade fabrics, tapestry fabrics, wool gaberdines. Not suitable designs for stretch fabrics or fabrics containing Lycra.  Suggested interfacing fabrics: 100% cotton canvas. Suggested lining fabrics: cotton broadcloth, satin, cotton sateen.
You may also consider purchasing one of our pre-cut stole fabric kits which include a face fabric, cotton canvas interfacing, and satin lining fabric. BUY IT NOW
Yardage requirements: Stole Face Fabric yardage: 1 3/4 yards of 45″, 54″ or 60″ fabric.  Additional fabric may be needed to match pattern repeats. Interfacing yardage: 1/3/4 yards 60″ cotton canvas Lining fabric yardage: 1 3/4 yards 45″ or 60″ fabric Finished stole size: 4 1/2″ wide by 51 inches, 53 inches, or 55 inches in length
Pattern: Paper with black line image Also included: written instructions with colored photos * Pastoral/priest stole pattern contains a paper pattern and written instructions only. Fabrics, interfacing, lining, embellishments (trims), fringe, tassels, and chain or cord are sold separately.
Stoles are a nice introduction to making church vestments. Once you start making stoles, it may be hard to stop!
Soli Deo Gloria
Be sure to visit our online store front Ecclesiastical Sewing where you may shop for Liturgical Fabrics, altar linen fabrics, church vestment-making patterns, liturgical machine embroidery designs,  church vestment trims, notions and so much more. You may also find us on  Ecclesiastical Sewing on Facebook, Twitter, and Pinterest. Sing up for our mailing list at the bottom of the page on our online store front and receive a free copy of our Small Linens Booklet as our way of saying thank you for following along.
Save
Save
Save
Save
Save