Pastoral and Priest Clergy Stole Patterns
Pastoral and Priest Clergy Stole Patterns
I love patterns. I collect patterns. Old vestment patterns, new stole patterns, vintage patterns: I love them all. I pull them out and dream about the lovely things that can be made with a pattern. Yes, patterns are one of those items that can fuel the imagination, and make the mind wander and dream….and dreaming is good. It is the playground where the imagination can flourish, where sparks can turn to flames, bringing an idea to life.
The purpose of stole pattern
And patterns can serve another purpose. They can provide a shape and structure to the items we envision. They provide the width and length, the fullness, the hang, the curve, the edges, and the list can go on from here. Knowing how much I enjoy working with patterns, here at Ecclesiastical Sewing, we thought of you, our faithful readers, too. When  Ecclesiastical Sewing started to create our first line of clergy stole patterns, we decided that one stole pattern simply would not do. One vestment pattern could not fill every need imaginable when it comes to the world of clergy stoles. So instead of stopping after we created our first stole pattern, we decided to continue and make 4 types of pastoral or priest stoles for clergy.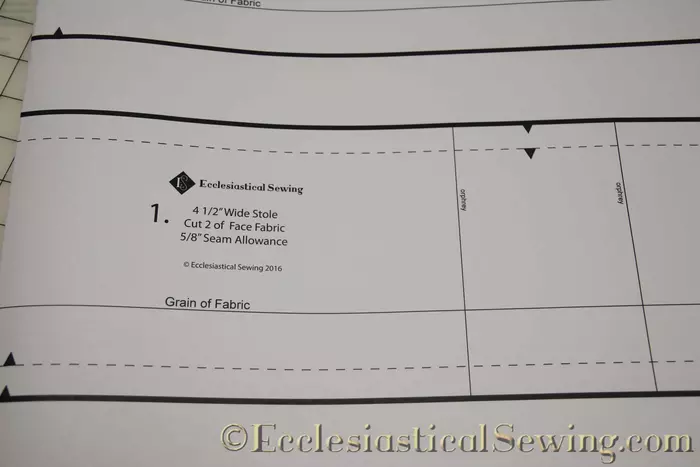 Clergy Stole Pattern
For tonight we will focus on one of my all-time favorite vestment patterns: the 4 1/2″ wide pastoral or priest stole pattern. This is my all-time favorite clergy stole pattern (at least for tonight. Tomorrow it is sure to be one of the other stole patterns and styles, and so it goes………….it gets hard to select just one style to be a favorite). What do I love about this 4 1/2″ wide clergy stole pattern? Well, having made it many times over, and refining the pattern several times along the way, the pattern had become "refined" with age. When it is worn by one person, if I notice it rides up the back of the neck, or the stole pattern is a bit too wide at the neckline, the neckline seam is adjusted, often by a very small amount of an eighth to a quarter of an inch. It took years to get to this point, and finally, the time had come to seek the services of a professional pattern maker.
 The Pattern Maker
I was very thankful to meet Kimberly, a professional pattern maker. She has done a wonderful job taking my stole pattern designs, digitizing them, truing the seams, adjusting a bit here and there, and helping add the little things we often take for granted that make a pattern "useful."  Oh sure, I could have drawn and traced the pattern out with a black marker, but long ago in our pattern-making courses at design school, our instructor was demanding. She instilled the importance and a love for creating the best possible pattern because starting with a good pattern can be an aid in obtaining a pleasing finished garment. Today, the best possible pattern is one that has been created and refined by a professional pattern maker.
Our available pattern
All of the traditional pattern markings are found on our Ecclesiastical Sewing Stole patterns: simple things like a grain line marking, or marking for length adjustments are part of the pattern. You will find the pattern name (to help keep the correct parts lined up). There are marks for notches to line up the fabric layers correctly.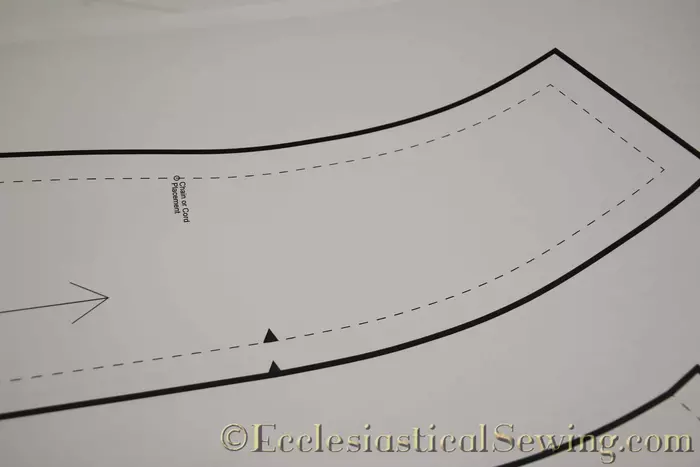 There is a marking for a chain or satin cord at the back of the neckline.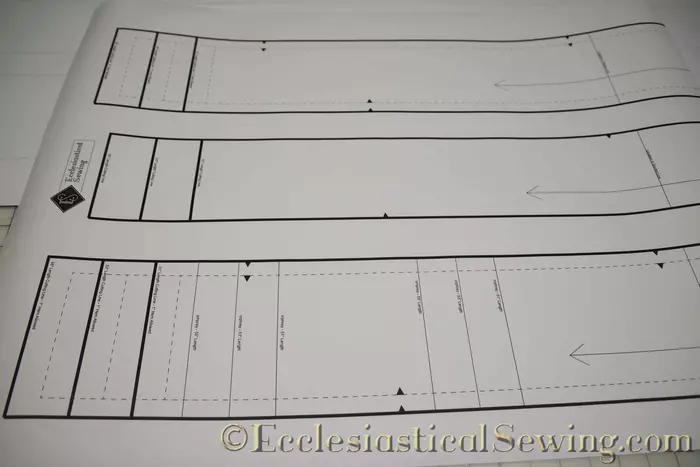 The lower edge of the stole has markings for different hem lengths, along with trim placement guidelines for orphrey bands. We say guidelines because these lines get orphrey bands in the correct general area. The actual orphrey placement may vary based on a host of factors, including fabric design, the height of the wearer, placement on brocade base fabric combined use with embroidery designs, and so much more.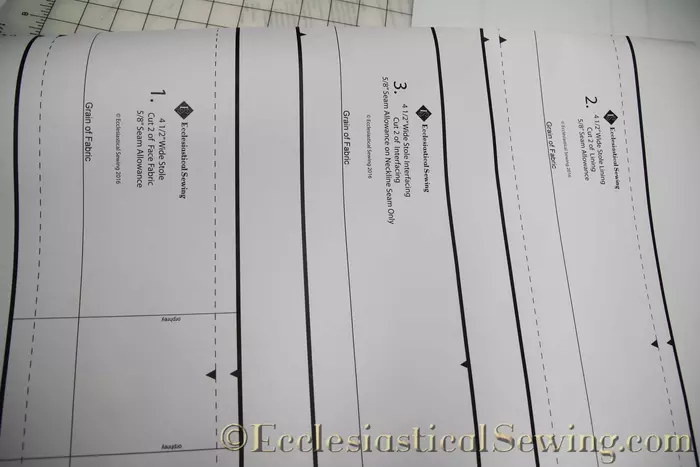 So there you see the three pieces that make up the Ecclesiastical Sewing 4 1/2″ wide pastoral and priest stole. The pattern does come with a detailed stole-making instruction booklet, too. And the best part?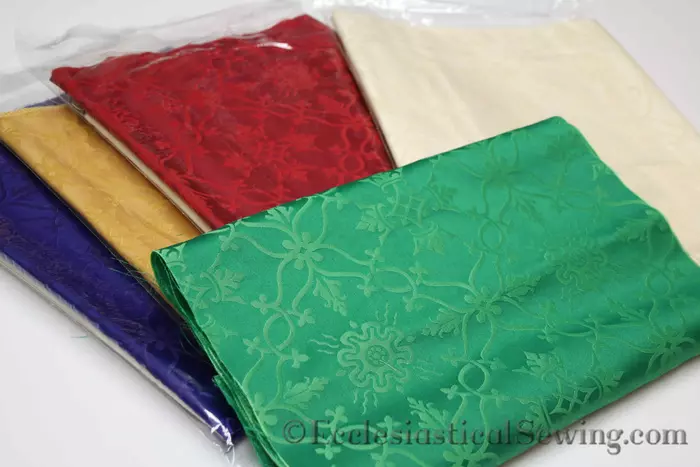 Between now and the end of the year, as part of our Grand Opening Special, place an order for a fabric stole kit and receive a free copy of our 4 1/2-inch pastoral stole pattern free. Get your free pattern today before December 31st, 2016. The stole pattern will not show up in the cart.  Simply type you want the free pattern in the "Special instructions for the seller" section on the cart page, and it will be shipped with the order. We hope you enjoy our gift to you.
Soli Deo Gloria
Be sure to visit our online store front Ecclesiastical Sewing where you may shop for Liturgical Fabrics, altar linen fabrics, church vestment-making patterns, liturgical machine embroidery designs,  church vestment trims, notions and so much more. You may also find us on  Ecclesiastical Sewing on Facebook, Twitter, and Pinterest.
Save
Save
Save