Small Altar Linens and a Gift for You
Small Altar Linens and a Gift for You
Small Altar Linens and a Gift for You:  Linens are an item used every day or every week in the life of most churches.  Linens are used for the most sacred and important part of a church service during the service of Holy Communion or the Eucharist. The small church linens or altar linens used in the Divine Service are the Fairlinen which is placed directly on the altar, the corporal, the lavabo towel, and the purificator. Some churches use a small side table that is covered by a Credence cloth. A chalice veil is used to cover the items used before the service and after the service.
Is Linen Really That Hard to Iron?
Many churches end up purchasing their Church Linen or altar linen items where the thought is to use some small linens made from cotton fabric, thinking that the cotton is much easier to care for than linen. After all, linen is known for being difficult to get wrinkles out. But is linen really difficult to get the wrinkles out?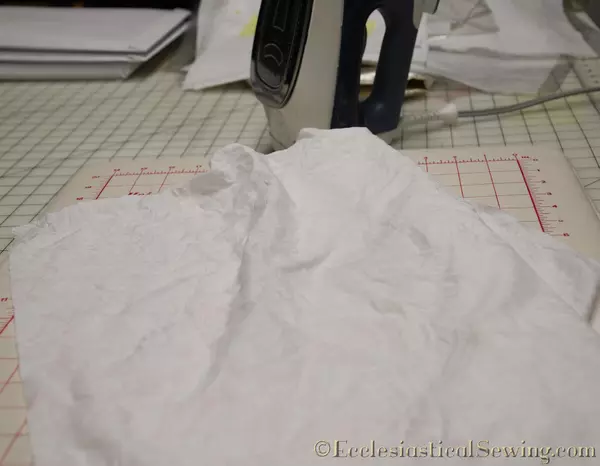 I too was wondering about this and feared using 100% linen myself many years ago. After all, linen usually looks something like the pile of white fabric in the above photo once it has gone through the wash. It comes out looking like …………….hm………what would be a good word? A crumpled mess, or something hopelessly impossible to ever set right. Yes, looking at that billowy white fluff looks like it would take a great deal of work to set it right again. It looks like it will take more time and effort than one could imagine.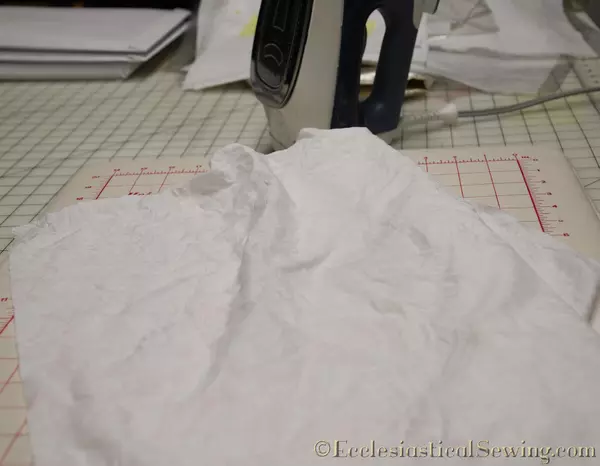 Pressing linen…………… I thought back to my college days, and the professor who taught textiles. There was a dim memory there in a dusty recess that needed shaking out. I recall her talking about her love of linen, how she loved pressing the linen, and how she dealt with the issue of wrinkles. As my mind cleared the years of cobwebs away to recall the lecture that day in class so many years ago, the most important thing she said was to press linen when it is evenly damp. She would take a piece of linen and sprinkle it with water. Yes, sprinkle it.  This was in the days before spray bottles and steam irons. One would have a small bowl of cool water, lay a garment or fabric out on a table or ironing board, dip the fingertips in the bowl of water, and shake the hand over the clothing. The process would be repeated several times until there was enough water "sprinkled" over the surface of the garment so it was a bit damp. The garment would be rolled up, and placed under a dishcloth or towel to keep it from drying out. Then the next item would be sprinkled. Our instructor went on to say in the case of linen, she would place it in the refrigerator for an hour or so to let the water absorb evenly.  Then she would pull the linen item out and press it. The sprinkled water would be evenly dispersed and the pressing would be much easier. She instilled in us to NEVER press a dry piece of linen……
The Secret to Perfectly Pressed Linens
That lesson from Textiles Class stuck in my mind all of that year, and now fast forward to today and working with Altar Linens and Church Linens. The same concept holds true. Pressing a damp, not soaking wet, piece of linen aids the pressing process immensely. So damped away! Once my linen was damp, I rolled it up and left it for a little while. Then, it was time: to let the pressing commence!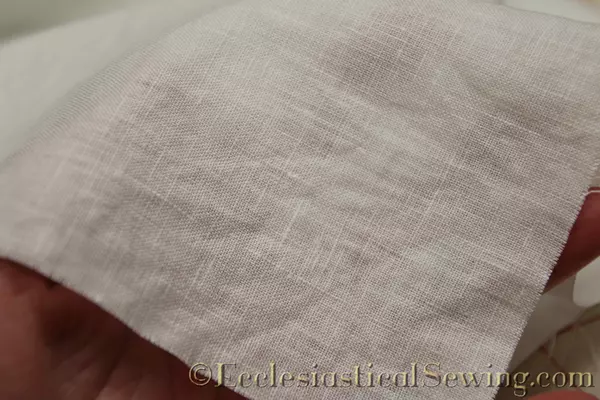 This is the linen after the first pass with the iron, and while it is better, there are still a few minor wrinkles that have not yet come out. The linen is still not pressed completely dry. It has been passed over once or twice and looks better. At this stage, one must use care to not allow the iron to sit in one place for too long of a time. Linen can withstand a great deal of heat, but it can also scorch quickly if the iron is left in one spot for too long of a time.  Once the church linen gets to this stage, I use a little helper. The help comes from those wonderful people who do the quilting.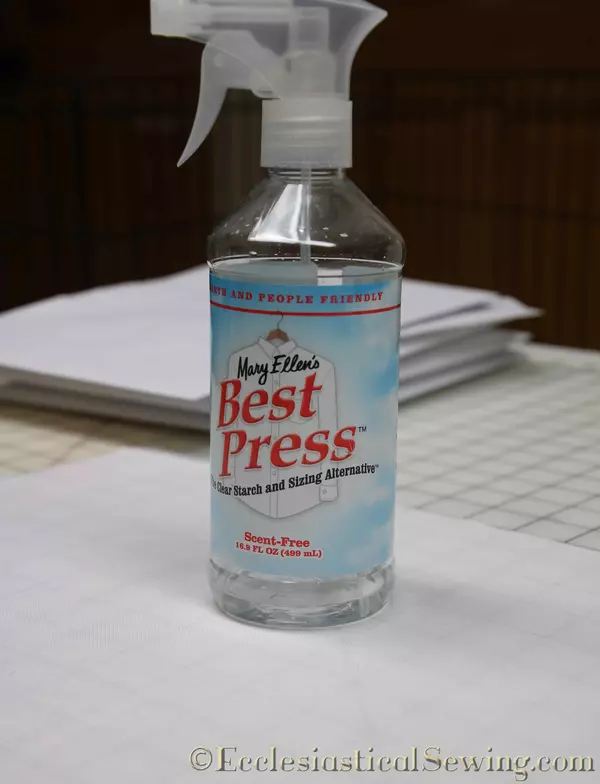 Recommended product for altar linens
The help is this product which is a sizing. The recommendations for altar linens are that the corporal may be starched heavily, but other altar linens are not to be starched.  The sizing removes any final wrinkles and provides a crisp clean even wrinkle-free surface without adding the extra body of spray starch.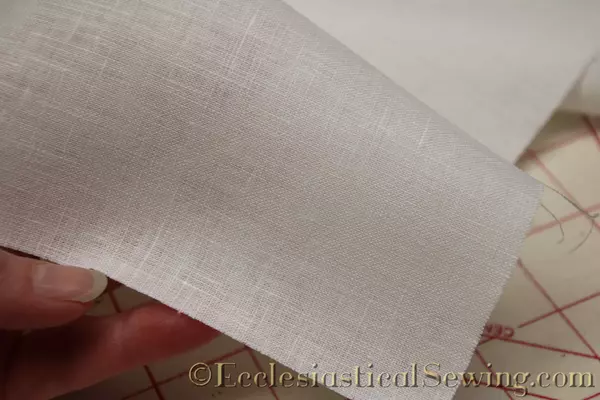 Linen fabric when properly pressed looks so lovely. There is nothing else that will look the same, or work the same as a fine Irish Linen Fabric. The cotton altar linens lack the absorbancy that linen has and smear things around rather than wiping or cleaning items.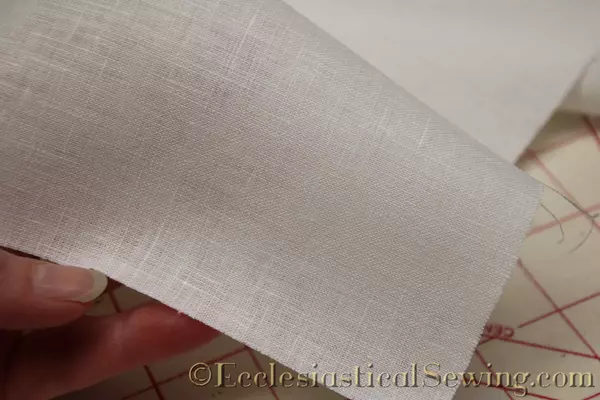 The Renaissance Linen
The texture and hand of this linen make it a pleasure to work with. This is the Renaissance Linen which is available through our Ecclesiastical Sewing Store Front. It is a favorite for many reasons. The price is reasonable. It comes in a generous 60″ width, it works well for those interested in hemstitching linens, and the more it is used, the nicer it becomes. This linen reminds me of the quality that is seen in many vintage altar linens. It is neither too heavy nor too lightweight. It is also fairly easy to pull a thread with this linen.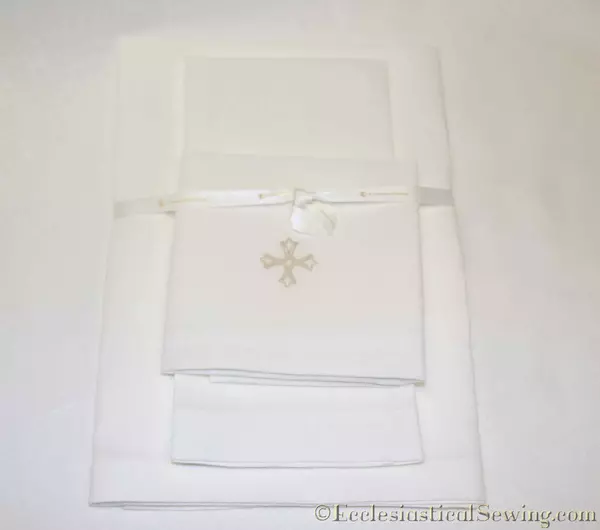 And here you see the final result of the Renaissance Linen after it has been hemmed and hand embroidered. Stunning, right? This is our hand-embroidered three-piece small altar linen set which will soon be available here on Ecclesiastical Sewing.
For those interested in making their own small altar linens, we offer pre-cut altar linen pieces and sets for corporals, lavabo towels, and purificators. We take care of the tricky part so all you have to do is hem and embroider the linens.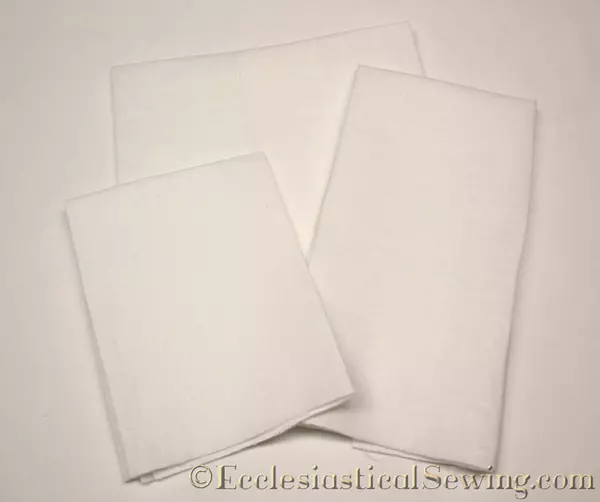 To learn more about making and hemming small altar linens, sign up today for the Ecclesiastical Sewing Email list.
When you sign up for our email list, you will receive a copy of our Ecclesiastical Sewing Small Altar Linen Hems and Hand Embroidery Designs as a thank you. This booklet is only available to our email subscribers. It includes several pages of unique and vintage hand embroidery designs for your personal use. When you sign up to receive our emails, you will receive emails every month which will keep you up to date on new products being offered with a special discount which is only available through email.  We promise not to bombard you with lots of emails. On average, it will be 3 to 4 emails per month.
Sharing information is what we love to do at Ecclesiastical Sewing. We hope you enjoy this free Small Altar Linen Hems and Hand Embroidery Designs resource as our way of saying thank you to our faithful readers.
Soli Deo Gloria
Be sure to visit our online store front Ecclesiastical Sewing where you may shop for Liturgical Fabrics, altar linen fabrics, church vestment-making patterns, liturgical machine embroidery designs,  church vestment trims, notions and so much more. You may also find us on  Ecclesiastical Sewing    Facebook, Twitter, and Pinterest. Sign up for our mailing list at the bottom of the page on our online store front and receive a free copy of our Small Linens Booklet as our way of saying thank you for following along.
The ecclesiastical Sewing Email List is located at the bottom of the page.
Save
Save
Save