Altar Linen Fabric Selection
Altar Linen Fabric Selection
Which linen is the best for use in making altar linens or for sewing church linens? That question comes up frequently from our clients at Ecclesiastical Sewing who are interested in creating their own altar linens or interested in purchasing ready-made altar linens and fair linens.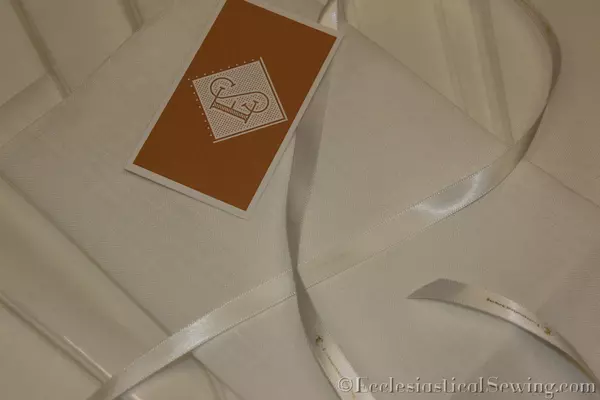 The fact is – there is no right or wrong answer to which is the best linen to select. And yes – that does not help with decision-making!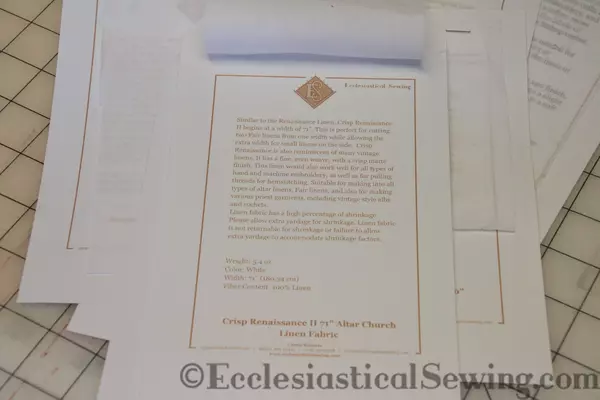 Our mission is to be of assistance to those who wish to either create their own church vestments or purchase church vestments. So, let's try to break things down a bit. When selecting linen for use in making small altar linens or a fair linen the first question one might ask is, "What is the purpose of this linen? Is it to be made into small altar linens that are used on a daily or weekly basis? Will the linens receive frequent use and laundering?" Or, "Will this be fair linen for a special purpose or event? Will the linen be used on festival occasions such as Easter, Christmas, or other high church festivals?" And not to be forgotten. " What is my budget for church linens?"
 Selection and Skill-building in Altar Linen Creation
The answers to these questions make a great starting point for selecting a linen fabric. If the answers to the first set of questions require linen that is to be used daily and laundered frequently, my go-to linen of choice is Renaissance  Linen. Renaissance Linen is a lovely white Irish linen that is 60 inches wide. It has threads that can be pulled if one would like to hemstitch. This linen is a lovely weight for hand and machine embroidery. I call it my "work-horse" linen. Now, don't let this deceive you. Renaissance is lovely enough to use for both everyday linen as well as for linen set aside or dedicated for use on festival occasions. It suits both occasions equally well. And a big advantage is price. Renaissance is an affordable linen. At 60 inches wide, one can easily get most fair linens out of a length and have plenty of linen remaining for use as small altar linens.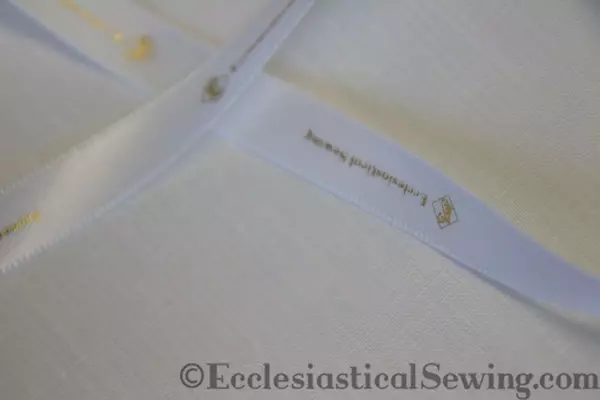 If one is just starting by making altar linens for the first time, select Renaissance Linen.  After you feel comfortable with cutting, turning, hemming, and working with linens, then jump to the more expensive linens.
Now, if I plan on making something very special, and want a fine linen with a fine weave and thread count, I would select Angelius (120 inches wide) or Alabastrine (60 inches wide). Both of these linens are lovely. They are sheerer than Renaissance Linen. The threads are finer. These linens beg to be hand embroidered! The biggest difference between these two lines is the width. With regards to hand, weight, and thread count, they are very similar. Festival fair linens are a joy to make with both of these linens. I often think of these as festival linens because they are made using fine threads, a beautiful weave, weight, and of course, price. Knowing that many churches have tight budgets to work within, Angelius and Alabastrine are relegated to "special" because of the price. Most churches feel they can not afford these linens. Yet if one thinks about the job linens serve daily, high-quality altar linens become an investment that with proper care can last for years.
Both of these linens – Alabastrine and Angelius would make great everyday linens. They launder well when properly cared for. And they look more beautiful with time.
There are a few additional linens available on our website and we will save a discussion about those for another day.
Making altar linens is a process. It takes time and effort to understand how to cut, fold, and sew hems in small linens as well as fair linens. For those new to our Ecclesiastical Sewing blog, please be sure to sign up for our mailing list to receive a free handout on making small altar linens. There are tips for hemming small linens and designs for those interested in hand embroidering altar linens.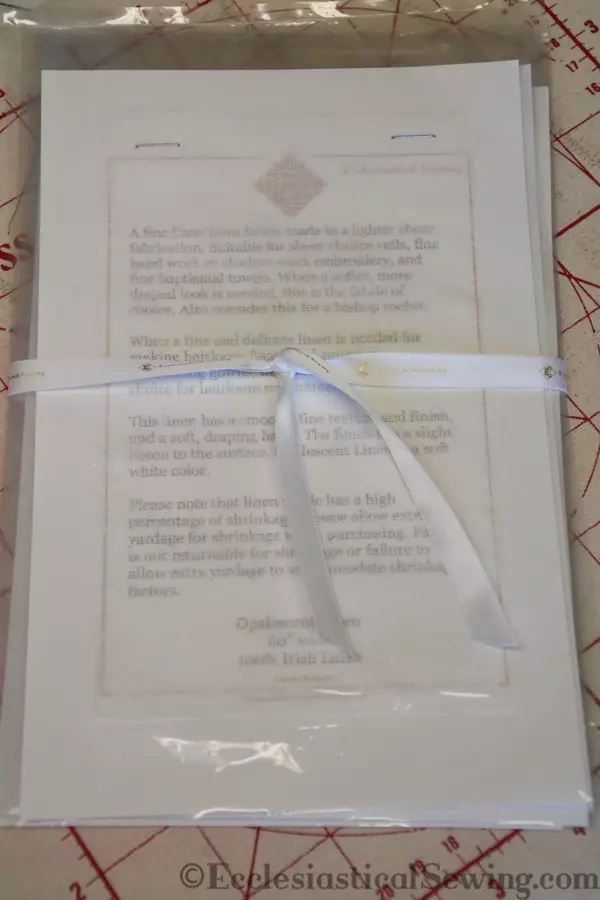 Still uncertain which linen to select? Many people are visual and need to see and feel fabrics before making a selection. Altar Linen swatches are available at our website Ecclesiastical Sewing so please take a test drive before making your decision on the perfect linen for making small altar linens and fair linens.
Custom fair linens, ready-made linens, and hand-hem-stitched and hand-embroidered linens are available through Ecclesiastical Sewing, although not everything is live yet on our website. We have two talented seamstresses – Jan and Nancy –  who have been trained in the fine art of creating beautiful altar linens.
We know you have questions when it comes to sewing church linens, so please feel free to ask questions here or contact us through the Ecclesiastical Sewing Online Store.
Soli Deo Gloria