Hand Embroidery Design for Altar Linens
Hand Embroidery Design for Altar Linens
Are you ready to put your creativity to work? Here is a little something to enjoy. Today at Ecclesiastical Sewing, we have a lovely vintage hand embroidery design for altar linens to share with you.  It is perfect for use on altar linens such as purificators, corporals, labavos, fair linens, amice apparel, and vintage alb apparel too.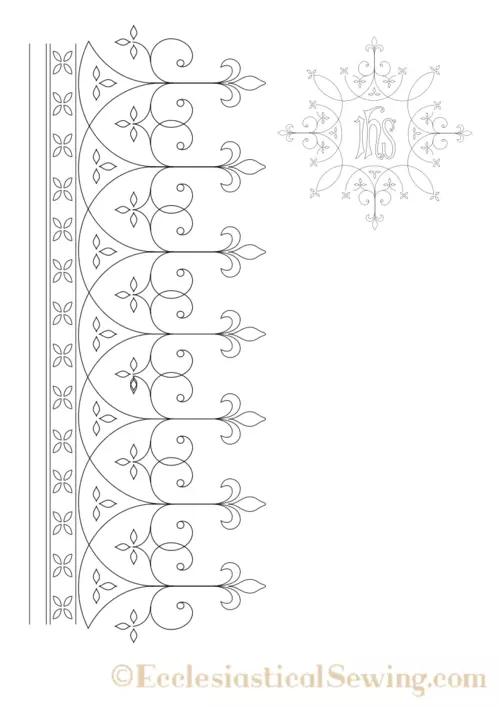 The design consists of a border pattern and a scrollwork cross embroidery pattern. The border pattern comes from my collection of vintage embroidery designs. These vintage designs come in all kinds of shapes, sizes, and conditions. They must be cleaned up and turned into a line drawing to be used as an embroidery pattern today. The cross pattern is a new design created from components of the border pattern. The border may be used on the end of a fair linen, or the pattern could be placed together multiple times to be embroidered along the edge of a linen that overhangs the front edge of an altar similar to the image below.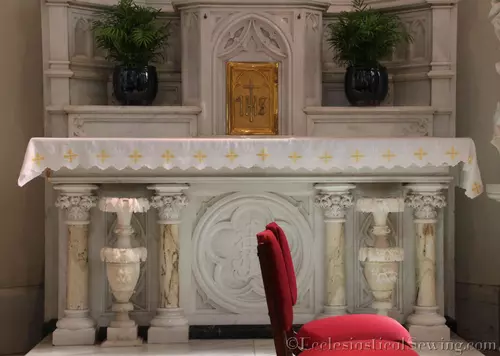 Embroidery Pattern
To use patterns such as these for hand embroidery, we often change the ink color to a soft blue or grey. Then the pattern can be used from the printed page or if your copier will print on tracing paper or vellum, that works, too. The paper is positioned on the linen, and the design is thread-traced to the linen by using back stitches.
One can also use a lightbox or window and lightly trace the design to the linen. If you select this method of design transfer, it is a good idea to test out your pencil first to make sure that it will not discolor the embroidery floss.
There are lots of great embroidery books that have additional details on embroidery design transfer. A good reference would be the Royal School of Needlework's Whitework Book.
These scrollwork embroidery designs are perfect for use with many hand embroidery line stitches. I might consider using a combination of stem stitch and running back stitch. A lazy daisy stitch or satin stitch would be nice on all of the small petal details. If the design were enlarged, a chain stitch would also be nice on some of the scalloped lines. To create a little interest and to have a bit of variety, you may wish to consider blending the embroidery thread colors by using shades of ivory or ecru, taupes, and whites, or light blues and greys.
The matching scroll cross pattern would be lovely stitched onto corporals, purificators, palls, and lavabos. This would be a design that would stitch fairly easily by following along with all of the scrollwork.
The  Scroll Cross Border B11 pattern is available as a free download for you to enjoy!
Soli Deo Gloria