Gothic Chasuble Sewing Pattern Fabric Options
Gothic Chasuble Sewing Pattern Fabric Options
What is a Chasuble? It may be a word you have heard once in a great while but you wonder, what is a chasuble? Priest chasubles are liturgical vestments worn by priests or pastors during Mass or the celebration of Holy Communion. Our Gothic Chasuble Sewing Pattern is shown below. There are many other Chasuble styles as part of the complete line of Church Vestment Sewing Patterns available at Ecclesiastical Sewing, including many Traditional Latin Mass Vestments and chasubles
Chasubles are typically made of a lightweight, flowing fabric that features a large orphrey (decorative band) around the neck and down the front. There are a variety of fabric options that may be used for making chasubles, each with its own unique characteristics and benefits. Let's take a few moments to explore some of the fabrics that might be used to create our Gothic Chasuble Sewing Pattern.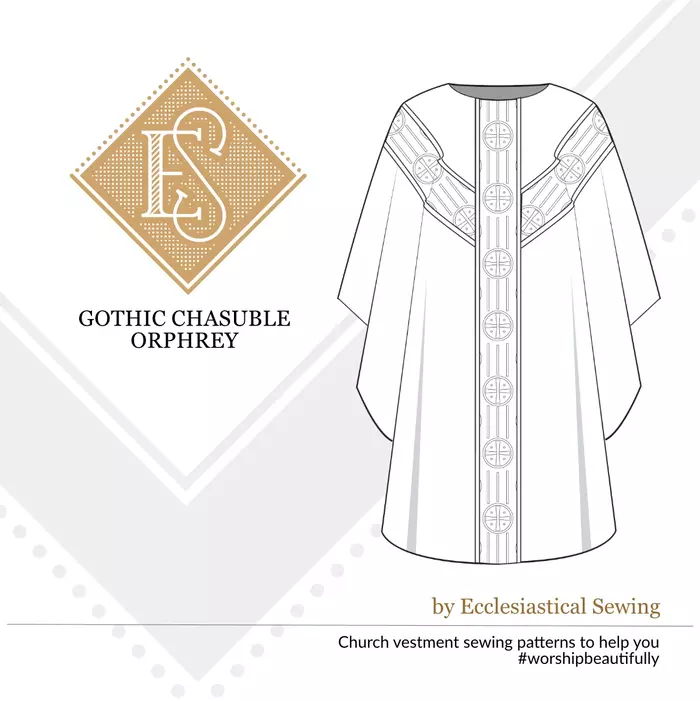 Using Wool
One popular choice for creating a chasuble using our Gothic Chasuble Sewing Pattern is wool. Wool is known for its durability and resistance to wrinkling. Wool chasubles tend to be more formal and are often used for more traditional liturgies. They are also good at insulating heat, making them a good option for colder climates. And there are tropical wool fabrics that might work well in warmer climates. It is always helpful to look for wool with a smooth finish such as fine-suiting wool, wool crepe, wool sateen, or even wool gabardine. These types of suiting wools will give a nice drape and hand when using our Gothic Chasuble Sewing Pattern, without adding needless bulk. Remember, the goal is something light and flowing for chasubles!
Using Silk Fabrics
Another option is silk, which is known for its luxurious feel and shimmering appearance. Silk chasubles are often used for more formal occasions and are considered a symbol of wealth and status. They are also more delicate than wool and require special care when cleaning and storing. Many types of silk fabrics might be used in making chasubles. Some of my personal favorites include Silk Dupioni and Silk Damask. Silk dupioni has a wonderful hand and luster! It creates elegant chasubles, and the price point is moderate, which is a plus! And the best part about silk dupioni is the color range! The colors are almost limitless. Our website shows a small fraction of the available colors. And the colors do change over time, depending on what is available in the county where the silk is woven. Silk dupioni is a personal favorite!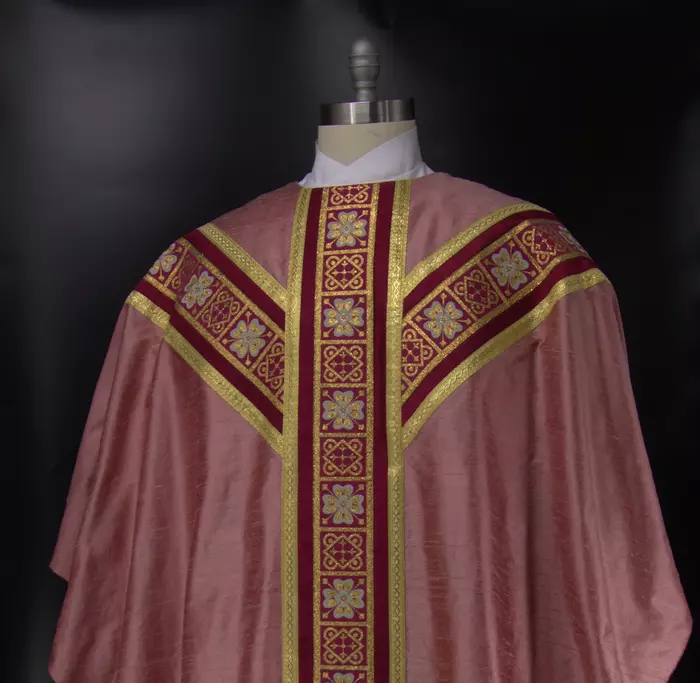 Looking for something a bit more dramatic? Silk damask would be the fabric of choice. Silk damask fabrics are also used for creating chasubles as well as many of the other items from our line of Church Vestment Sewing Patterns. The fabric often has a large pattern or design and a luster and richness that mere words can not describe. The fabric hangs so beautifully, and when the light hits the fabric just so, the look evades words. The damask weave creates high and low design elements that reflect the light in various ways. If one's budget can extend to the silk damask fabrics, these indeed are pieces created to last a lifetime  (with proper care).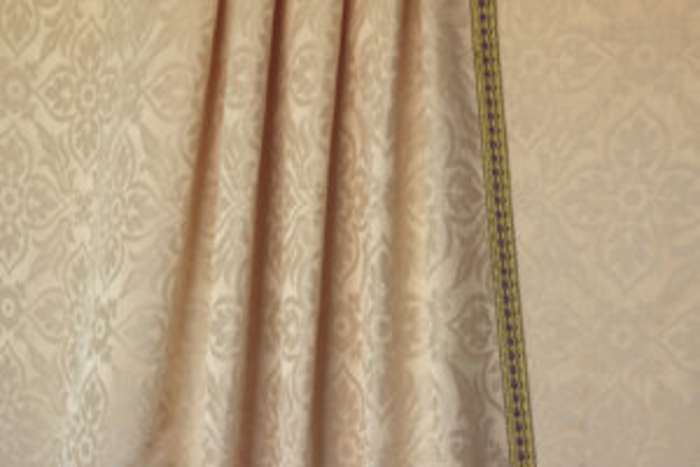 Using Polyester Fabrics
At the opposite end of silk fabrics is polyester. Polyester is a synthetic fabric that is popular for chasubles due to its wrinkle-resistant properties and low maintenance. It is also a more affordable option compared to silk or wool. And like all fabrics, polyester does have its issues.  It is not as breathable as natural fibers and may not be as comfortable to wear in warmer climates. If your parish is small, or if your budget is limited, a bit of creativity can turn polyester fabrics into a beautiful chasuble with the Gothic Chasuble Sewing Pattern all the while managing a budget.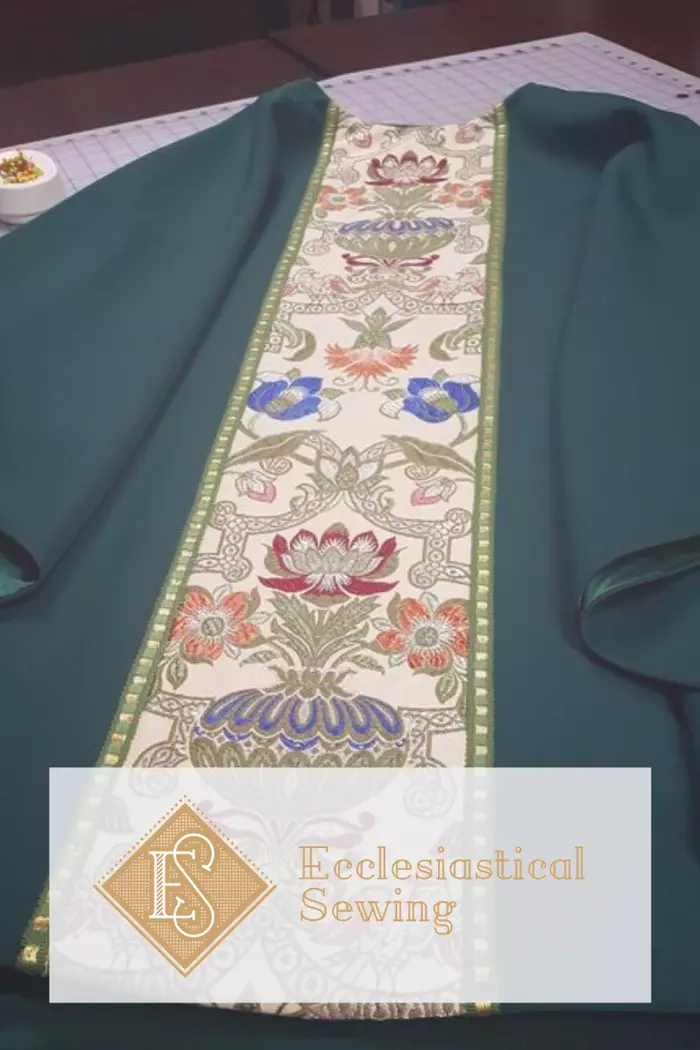 Using Linen Fabrics
Linen is a natural fabric made from flax fibers and is known for its durability and breathability. We seldom use linen for our chasubles, as the current colors are difficult to find. The style is often used for more casual liturgies. many find that linen is a good choice for hot, humid climates.  The downside to linen is that it does tend to wrinkle easily, however, and requires more maintenance than synthetic fabrics.
Using Brocade Fabrics
In addition to these main fabrics, chasubles may also be made of blends such as wool/polyester silk/polyester, or Cotton/Viscose.  Our brocades are cotton/viscose blends. Our weaver is located in the UK and they create a wide range of fabric patterns and colors. Brocades are made using a special weaving process that gives a rich finished result.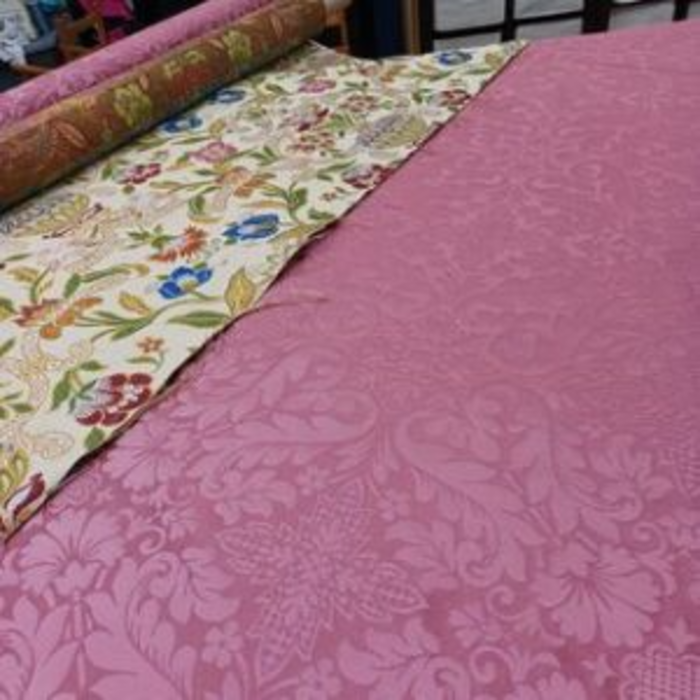 Ultimately, the choice of fabric for a priest chasuble comes down to personal preference and the needs of the wearer. Some priests may prefer the traditional brocade fabrics, while others may appreciate the low maintenance and affordability of polyester. Whatever the choice, it's important to choose a fabric that is comfortable, durable, and fits the style of the liturgy.
When you are ready to begin your journey into making chasubles sure to select our Gothic Chasuble Sewing Pattern for your special project! And be sure to visit our website to see our complete line of Church Vestment Sewing Patterns.
To learn more about making chasubles, you may also enjoy several additional posts such as A Discussion about Chasubles or Historical Use of Chasubles and History of Vestments.
Soli Deo Gloria
Latin Mass Chasuble Sewing Pattern: Introducing our New Shaped Cross Design