Ecclesiastical Vestment Fabric Cost
Ecclesiastical Vestment Fabric Cost
Ecclesiastical Vestment Fabric Cost: It is great fun to research Ecclesiastical Sewing projects and  Church Vestments with books, catalogs, and on the internet. There are many options available when it comes to fabric selection and trying to determine which fabric to use for an Ecclesiastical  Sewing Project.
When beginning a new project, there are several questions that I always try to keep in mind:
What is the intended season of the church year and how often is the set going to be used?
What is the intended life of the set – Is it a one-time use, or is it intended to serve for years?
What is the available budget and how will that impact design ideas?
Is the intended use for a special occasion to mark an important event such as an installation, ordination, dedication of a new or remodeled sanctuary, anniversary, church festival, or the like?
What is the timeline for the project?
What is the available budget?
Materials for Ecclesiastical Sewing Projects
Once I have the basic outline of these questions answered, there is always a consultation with the Pastor (or Priest) to get his input on the project, especially if it involves Vestments that he will be wearing.  Then it is time to start looking through catalogs and online for fabrics.  While some of you may have a nice fabric store in your area, I only have a retail chain store, and what they have to offer is usually not what I would select for use in Ecclesiastical Sewing projects.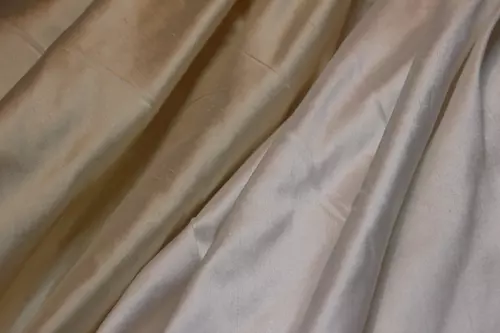 The rare exception is when a bolt of Silk Dupioni is discovered on the clearance table.  The above photos show two different colors of silk dupioni that were purchased at a reduced sale price. The Silk Dupioni works very well for copes and chasubles. With proper interfacing, it works for stoles, altar frontals, and other vestment pieces. We will save the discussion of the inner workings of vestment pieces for a later time.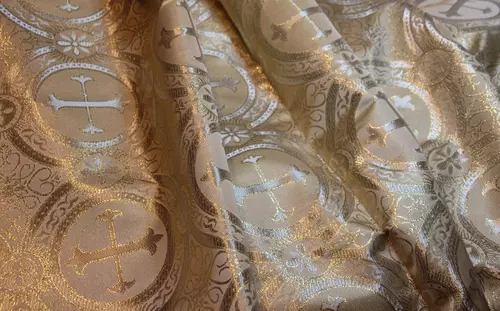 This fabric was also purchased in the local chain fabric store. It has an Ecclesiastical Design motif of a cross within a circle.  The fabric retailed for around $20 per yard, and with a coupon, it was half off.  So, for about $10 per yard of fabric, it is not too bad. Now, that being said, this fabric is much different from an Ecclesiastical Brocatelle that comes from an Ecclesiastical Fabric Company.  This fabric is on the lighter-weight side, is very shiny, and has a somewhat stiff hand.  But for the price, it will be worth experimenting with before using fabrics that are much more costly.  The design is such that it would cut nicely around the motifs.  The fabric also came in a white/silver combination.
The fabrics used on this piece are Fairford in solid Black and Wakefield in Black/Gold. These are true Ecclesiastical Fabrics. They are made with the correct type of yarns to have the correct weight and body for use in Ecclesiastical Sewing. True Ecclesiastical fabrics range in price from $40 or 50 per yard to up to over $200 per yard.  The Fairford was under $100 per yard, and the Wakefield was around $150 per yard.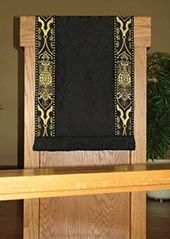 The Value of Ecclesiastical Fabrics
While some may consider true Ecclesiastical Fabric "expensive," let's put it in perspective. The item being made is an Ecclesiastical Item, and so the service life of the item should be considered: Is this a one-time-only item, or will it be used over several or many years? Is it used one or two times a year, or during a long season of the church year? Will it get light, moderate, or heavy wear?  While cost is certainly a consideration, and the fabric cost might be around $100 per yard, give or take a little, consider the life expectancy of an item made from Ecclesiastical Fabric of this quality.  If a chasuble is made requiring 3 to 5 yards of fabric, and that Vestment is used over 10 years, the cost per year becomes very low.  If the Ecclesiastical Vestment lasts 15 to 20 years or even 25 years, the cost becomes almost nothing.
One other item to consider is beauty. True Ecclesiastical Fabrics are Beautiful. There is no other way to describe them. They are made to make vestments for use within the Church.  Not all fabric from vestment makers, however, is of the same quality. When considering making Ecclesiastical Vestments, request samples, and take the time to compare the weight, drape, hand, and hang of fabrics.  If there is any doubt, order enough to make a small item such as a stole. It is better to spend a small amount of money to determine which fabric you do not like than to end up with an entire project that did not turn out well.
The topic of Ecclesiastical Fabric could continue, but I must be off for now. We will revisit the topic again, as various projects and fabrics are constructed on Ecclesiastical Sewing.
Solo Dei Gloria
Be sure to visit our online store front Ecclesiastical Sewing where you may shop for Liturgical Fabrics, altar linen fabrics, church vestment-making patterns, liturgical machine embroidery designs,  church vestment trims and notions and so much more. You may also find us on  Ecclesiastical Sewing on Facebook, Twitter, and Pinterest. Sign up for our mailing list at the bottom of the page on our online store front and receive a free copy of our Small Linens Booklet as our way of saying thank you for following along.