Top 10 materials for DIY Stole Making
Top 10 Materials for DIY Stole Making
Here at Ecclesiastical Sewing, we're always happy to make stoles for our customers. After all, these are arguably the most important vestments for pastors and priests. They're worn with preaching robes and albs, with chasubles or without. No matter how they're worn, however, one thing's for sure: the right stole can reflect the personality, style, and values of your pastor or priest in a way no other vestment can. For that reason, many people choose to make their own stoles. To help them out, we are going to review the Top 10 materials for DIY Stole Making.
Not only do we know how special a handmade gift can be, but we make it SUPER easy for you to make one! All you need are some basic sewing skills and a machine; everything else we have for your stole-making projects!
Without further ado, here are the top 10 materials for DIY stole-making sold at Ecclesiastical Sewing.
1. Lining fabric
It stands to reason that even the most beautiful facing fabric can't stand on its own in a stole. This fabric is often very expensive, and just making an ugly seam around the edges simply wouldn't do. You probably wouldn't want to make a stole with two layers of this fabric, either. That would make a very thick and awkward-looking seam. Instead, there needs to be a different type of fabric, preferably fairly thin, to line your stole. At Ecclesiastical Sewing, we typically use lining-weight polyester satin. This fabric has a nice drape to it and helps define your stole without making it too heavy. We carry all the colors you might need to make your stole.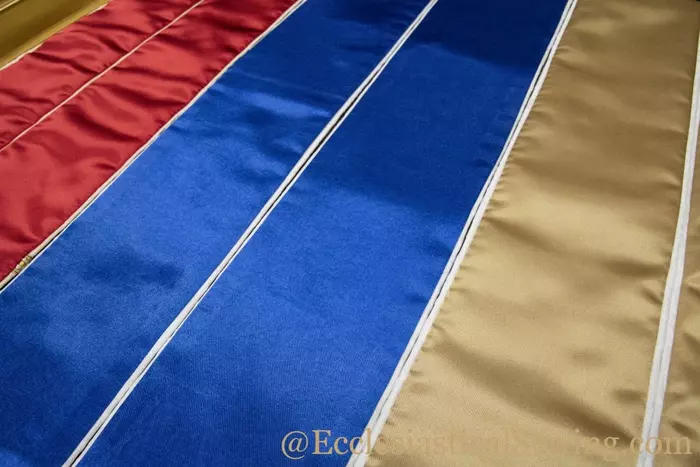 2. Stole chains
Admittedly, this is probably the item we as seamstresses would think about the least. However, there are two very practical uses for stole chains. One of them is to protect the stole from the oils in its wearer's skin. Oil does very bad things to fine brocade and other fabrics. As typical of fine textiles, frequent cleaning is hard on the fabric. There's also the rubbing that can happen between the wearer's neck and some vestments. This chafes the fabric and can cause wear spots. One easy way to prevent this is by sewing a small chain into the back of the stole.
Another use of a stole chain is to accommodate the wearing of a priest stole by a deacon. Indeed, there are two types of stoles, so some are made especially for deacons. But if your deacon intends to become a priest, these purpose-made stoles are expensive for something that won't be worn long. Stole chains can be placed in such a way as to draw the stole together at the wearer's waist or hip. Then, when the wearer becomes a priest the chain can be removed. Just make sure that if this is your intention, you attach the chain in a way that it can be removed without tearing the fabrics.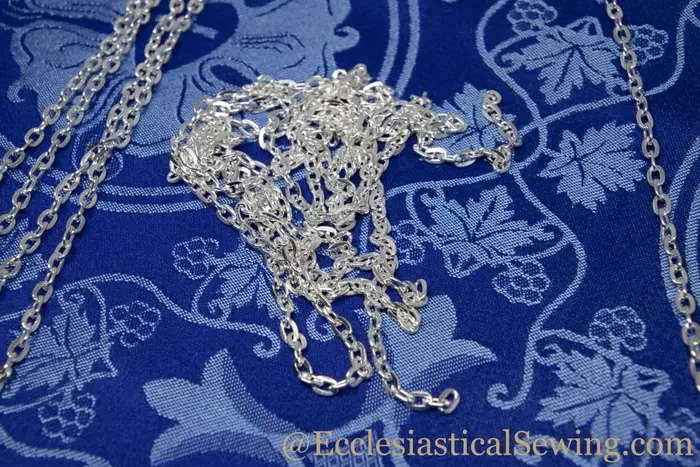 3. Canvas interfacing
When sewing ordinary garments most of us use Pellon or lightweight cotton fabric for interfacing. These fabrics are inexpensive and often made to be attached by the heat of an iron. However, we've found over time that these options don't work very well for stoles. The fabric they're made of is simply too heavy, and stoles should be made to withstand many years of use. So, we recommend using medium-weight cotton canvas as interfacing. It requires hand sewing it into place, which is extra work, but very much worth it.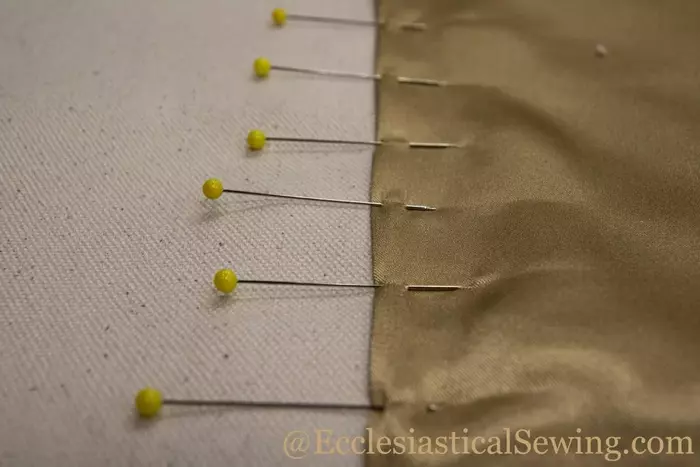 4. Silk Dupioni
One of the great things about silk dupioni is its versatility. This is a commonly used fabric for weddings and special education dresses, but it's also very popular for use in stoles. There are two ways we use dupioni for stoles: as a facing (outside) of the stole, or as a lining. The use of this material as a lining makes for a very special garment, and it's more durable than satin because its wear patterns are somewhat less obvious. As a face, you'd want to use the appropriate liturgical color. For linings, gold is an appropriate color, along with white or matching the facing. For stoles, use 45" wide fabric. It's also available in a 54" width for larger vestments.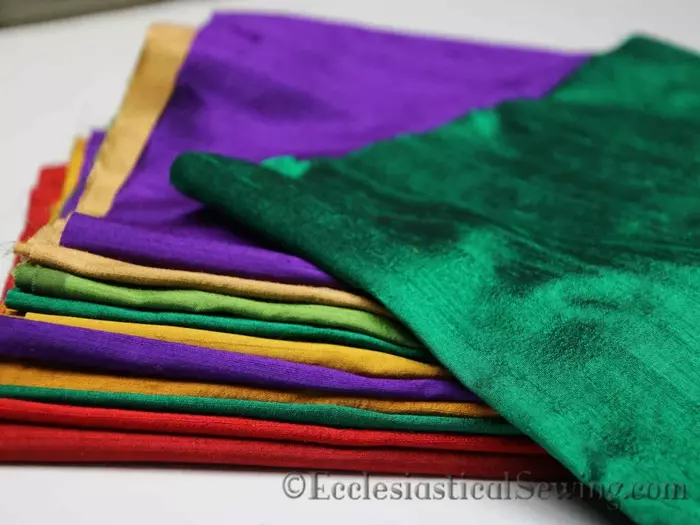 5. Carlisle fabric
Want a plain, low-cost stole-facing? Carlisle is a heavyweight plain-weave polyester-facing fabric. It's machine washable, so long as the rest of the materials chosen for your stole also fit that definition. Of course, that also makes it easy to care in other ways as well. Spot cleanings are relatively easy. If the intended wearer of the stole travels a lot, this is an excellent facing choice. It's also a good choice for hospitals or military chaplains due to its durability.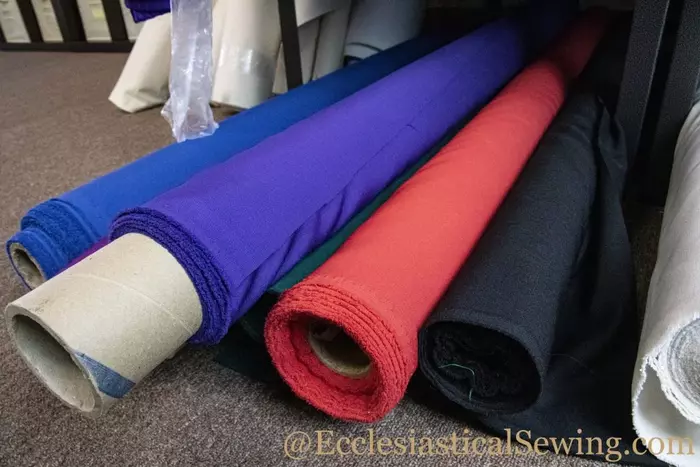 6. Tassels
Want a nice way to finish your stole on the bottom? Tassels are extremely popular among DIY stole makers. In particular, we sell a lot of 3-inch tassels. These really dress up a beautiful stole and are fairly easy to work with. Also, they add a nice weight to the bottom of the stole, which helps it stay in place. Consider using the same color as your stole face, or add gold and silver tassels. Alternating between either gold or silver and the face color also adds a nice touch. Don't want to use tassels? There are several other options on our website, including fringes. If appropriate, consider the design of the sanctuary falls and frontals when choosing your finish.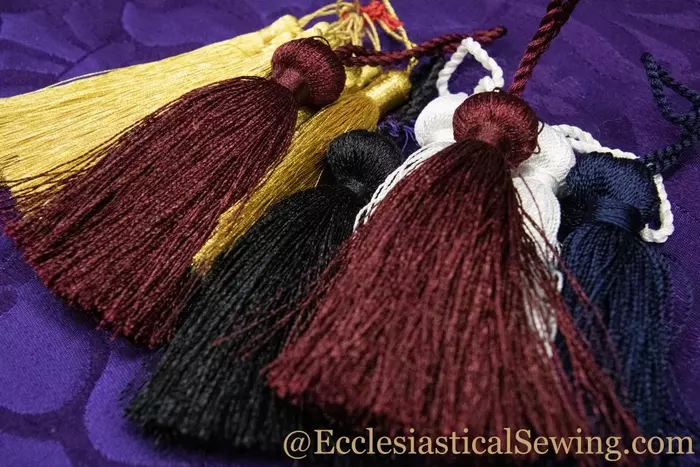 7. Brocade
When most of us think about vestments, rich brocades come to mind first. They're nice, thick, and beautifully patterned fabrics that don't need much "dressing up" to look elegant. Here at Ecclesiastical Sewing, we find that the Florence pattern is extremely popular. This yarn-dyed brocade is made of a sturdy cotton-viscose blend, which allows the fabric to "breathe" a bit. Many other patterns of brocade are available from us as well.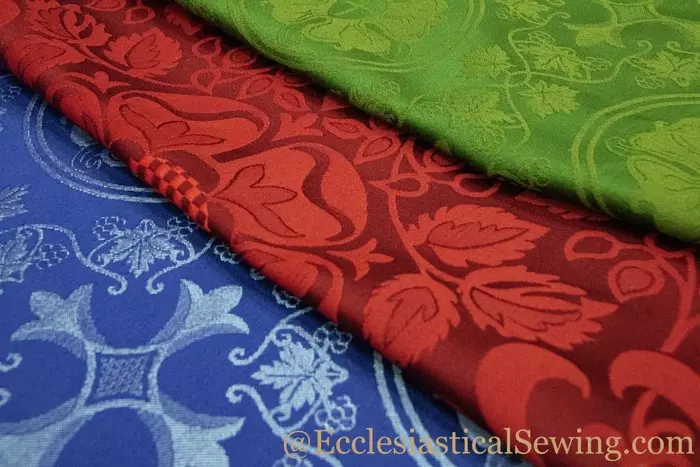 8. Three-inch orphrey trims
Unless you're making a very plain stole, the chances are you're going to put orphrey bands a short distance up from the hem. It's an elegant way to make your brocade-facing fabric pop or add a rich accent to a plain Carlisle or Dupioni silk stole. Our most popular design is the St. Dominic 3-inch orphrey braid. It's really nice, because of the elegant circles and scrolls that make up this design. Consider a monochromatic look, or add gold-colored trim onto and stole. Like the brocade, the orphrey trim comes in a variety of colors and designs to suit your project.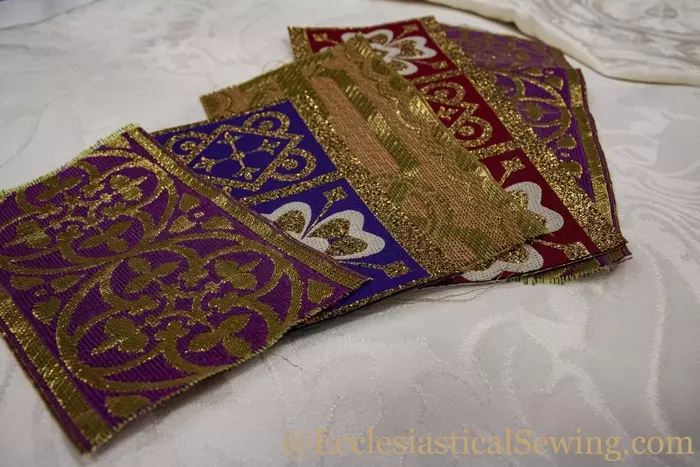 9. Applique crosses
In some ecclesiastical traditions, clergy touch a cross sewn at the back of the neck before donning the stole. We sell several different styles of applique crosses, and they come in several styles. While this is a personal preference, if you're putting the applique at the neck you probably want one that's 2 inches or less in any direction. Larger ones can be used in place of orphreys for simple elegance. We sell these and other appliques in several different styles and colors, which you can view here.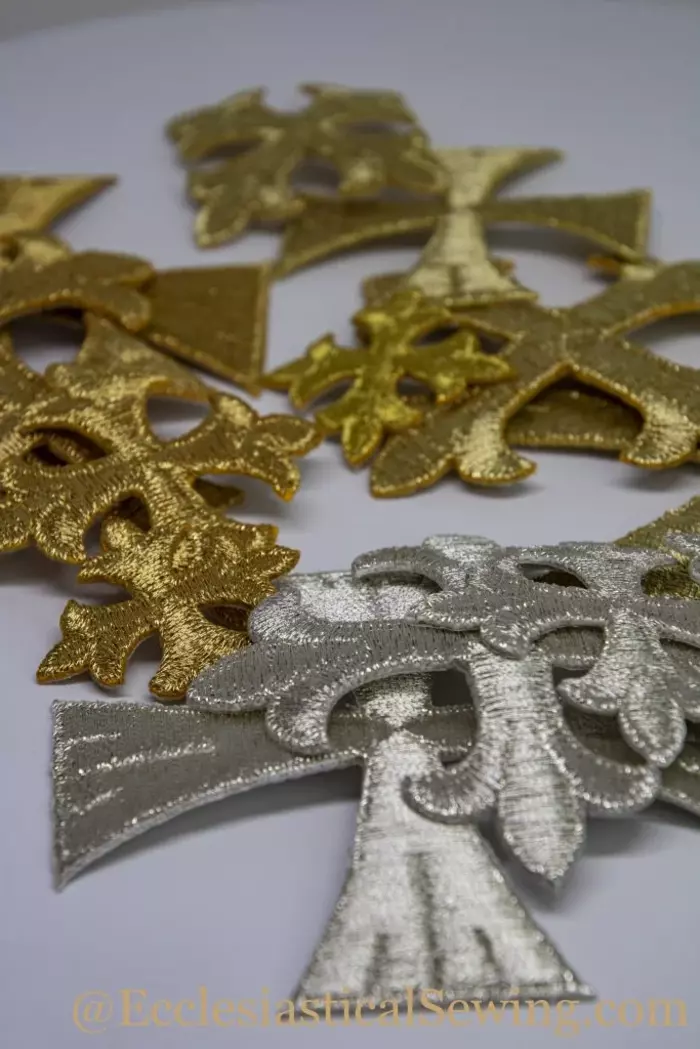 10. Gold oak leaf braid
Gold braid can be used for a variety of applications and investment making. For stoles, gold braid makes an excellent trimming for your orphrey border. One way to use it is if you're using a plain fabric like dupioni for the main facing, but have velvet or brocade for the orphrey. You can then place a braid on top of the seam to make it look neater. Our favorite is the oak leaf braid design, which comes in several widths. Other variations are available as well.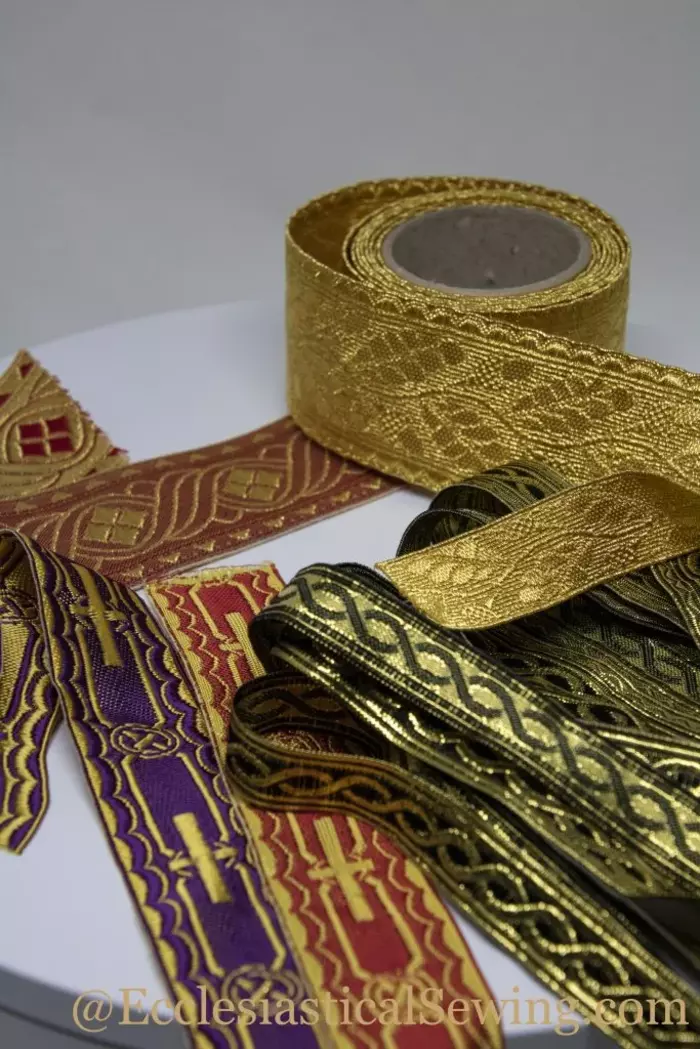 Of course, there are many other variations for making your own stole. The creativity is limitless! In addition to these materials, we have patterns and a plethora of other supplies. But the point of this discussion was to make sure the popular stole materials were laid out for you. If you have any questions, give us a call and we'll help you make appropriate selections.
A DIY stole can be a truly special gift. We hope to help you make a stole that will serve your pastor, priest, or deacon for many years to come!
Soli Deo Gloria!
https://blog.ecclesiasticalsewing.com/2015/08/31/church-vestment-fringe-is-there-a-difference/