New  Embroidery Frames Mean New Projects
New  Embroidery Frames Mean New Projects
New frames finally arrived on Monday, and so that means it is time to start a new Ecclesiastical Embroidery project! New  Embroidery Frames Mean New Projects!  I ordered the Millennium Frame in several sizes from Needle Needs in early April.  It took quite a while for them to arrive. So now it is time to give them a try!  I have the perfect Ecclesiastical Embroidery Design just waiting to try it out on the new frames.
Selection of Color Floss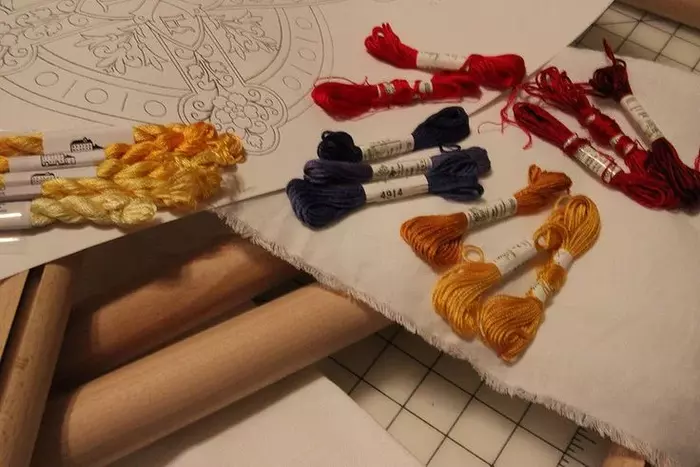 The project is part of the Easter Vestment Set that I first told you about in The Tale of Two Lambs.  This particular design is for the pulpit fall.  The design is a treasure from an old book that I was able to locate through an inter-library loan.  The book, which dates to about 1902, is written completely in German.  A few changes were made to simplify the design, and more may be needed.  Time will tell once the stitching begins.
There are a few details to work out such as linen selection and the final colors of floss.  The linens being considered are Alba Maxima, Alabaster Angel, and  Ecclesiastical Linen. All three are from Hedgehog Handworks.  Alba Maxima is at the top of the list because that is the linen being used on both of the Angus Dei pieces from The Tale of Two Lambs as part of this same set.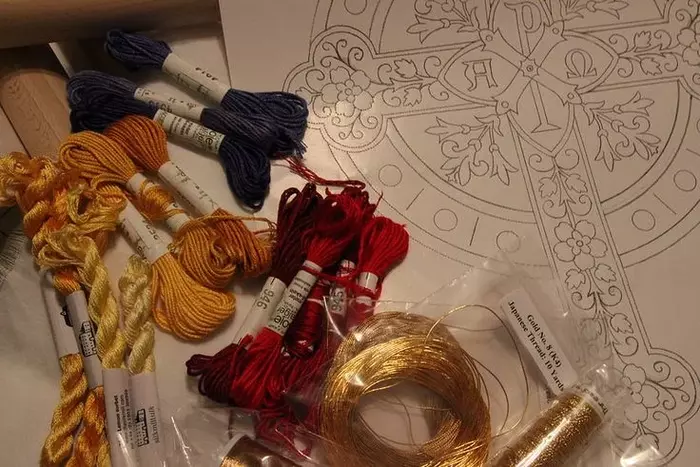 It is also time to pull out a few threads and start thinking about color selections.  Because this is a piece to be used on one of the highest festival days in the Church year, silk floss and goldwork embroidery threads are the preferred choice at the moment.  As far as the colors go, I want the piece to be bright, vivid, and radiant.  The blue is not photographing well at the moment.  Before I go too far with color selection, I most likely will stitch up a sampler and take it to church to see how the colors may work there.
Tomorrow's project – pre-shrinking linen and perhaps framing up!  Thanks for reading.
Solo Dei Gloria
Be sure to visit our online store front Ecclesiastical Sewing where you may shop for Liturgical Fabrics, altar linen fabrics, church vestment-making patterns, liturgical machine embroidery designs,  church vestment trims and notions and so much more. You may also find us on  Ecclesiastical Sewing on Facebook, Twitter, and Pinterest. Sign up for our mailing list at the bottom of the page on our online store front and receive a free copy of our Small Linens Booklet as our way of saying thank you for following along.