The Tale of Two Lambs
The Tale of Two Lambs
The Tale of Two Lambs: After creating my first Easter altar frontal and pulpit fall set, and being disappointed with the results, it was time to devote serious study and research to the field of vestment making.  Somewhere, in the vast world, there had to be information on how to construct these items for use in the church (I hoped).  It took a great deal of trial and error, but eventually, I found a few things.  Then, as time went on, I searched countless sources for possible book titles.  Luckily, there are some great titles available on Google Books and other various internet archive sites.  It was a start. With that small bit of knowledge, several more projects were launched, with better results.  It was time to begin a huge project, a new and improved Easter Altar Frontal, Pulpit fall, and of course, eventually a chalice veil, maniple, burse, and chasuble.
Angus Dei Design
Well, remember the Angus Dei design from this post last week?  It was still a favorite design idea. And when I began these, there still was not much available as alternative design ideas for Ecclesiastical Embroidery. And so begins The Tale of Two Lambs. The Angus Dei was a design that had a nice body shape. I was assisted in the lamb's creation with the help of a talented artist in the family.  However, rather than having the lamb look directly back at the person, it was decided in consultation with the Pastor, that the lamb should be looking straight ahead, with a "noble" and "victorious" look about him. It took many tries to get the facial features and proportions to look correct.
Making Ecclesiastical Set
One lamb for this project would be quite enough.  But, still failing to come up with other suitable design options, the only thing for it was to have Two Lambs of differing sizes.  The smaller Lamb is intended for the back of a chasuble for the Easter Set.  The larger Lamb is intended for the center of an Altar Frontal.
The following is a photo of the current stage of the project. In the next few weeks, I will take you through the project's beginnings.  As in any major project in silk and goldwork embroidering, there is always much to learn on the journey.  There are a few things that I would change if I were to start the Angus Dei designs again, but at this stage, they need to be finished.
So, without any further delay, here is a current photo in the saga of The Tale of Two Lambs.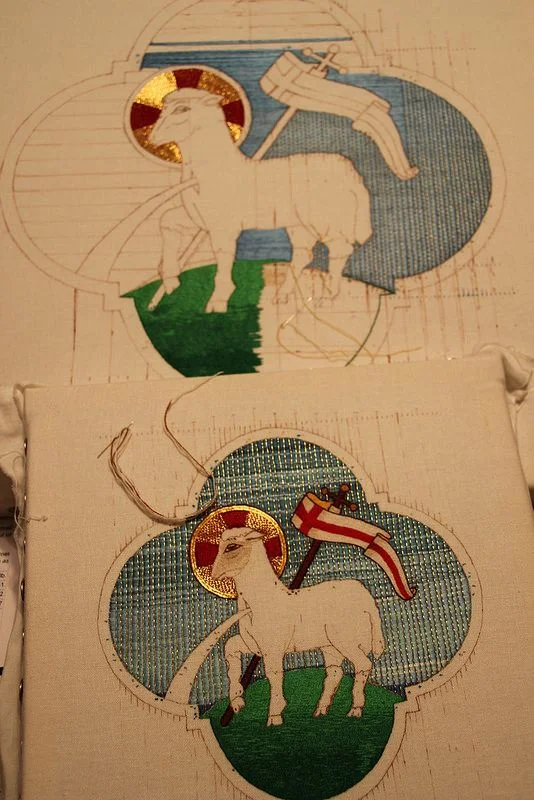 Thanks for reading. Be sure to check us out at Ecclesiastical Sewing.
Soli Deo Gloria
Be sure to visit our online store front Ecclesiastical Sewing where you may shop for Liturgical Fabrics, altar linen fabrics, church vestment-making patterns, liturgical machine embroidery designs,  church vestment trims and notions and so much more. You may also find us on  Ecclesiastical Sewing on Facebook, Twitter, and Pinterest. Sign up for our mailing list at the bottom of the page on our online store front and receive a free copy of our Small Linens Booklet as our way of saying thank you for following along.
Save
Save
Save
Save