The Littlest Lamb in The Tale of Two Lambs
The Littlest Lamb in The Tale of Two Lambs
The Littlest Lamb in The Tale of Two Lambs: Little lambs are wonderful!  And it has been so much fun creating these little lambs.  This one is the smaller of the two Angus Dei Ecclesiastical Embroidery projects. If it seems like he has been in the works for a long time, that is because he has.  Life has a way of changing well-made plans.  When this little lamb was first begun, I was not working full-time.  That has since changed, which has delayed getting this little guy to the final stages.
Well, let's talk for a few moments about some of the materials used to get him up and running.  The lamb design has been worked on a lovely linen called Alba Maxima which came from Hedgehog Handworks. http://www.hedgehoghandworks.com/catalog/FAB10500.php  Many of the flosses used on this Ecclesiastical Embroidery Design are also from Hedgehog Handworks.  I really prefer the linen background for embroidery. Alba Maxima holds up great for the gold work.  It has a suitable weave that is neither too fine nor too coarse to work with a variety of stitches and threads. It even handled a fair amount of un-stitching and floss removal without even the slightest hiccup.
The project is stretched on an Evertite Frame.  I have these in several sizes now, and they are my favorite embroidery frame.  They are not unreasonably priced, and I purchase mine from a local needlework store which is about two hours from my home.  These bars come in a wide range of sizes. And they are so simple to assemble and get a project framed and ready to go.
Stitching on this Littlest of Lambs takes on a variety of hand embroidery techniques.  There is long and short stitch shading, satin stitch, laid work, goldwork couching, split stitch, and stem stitch outlining.  Here is the Littlest Lamb up close.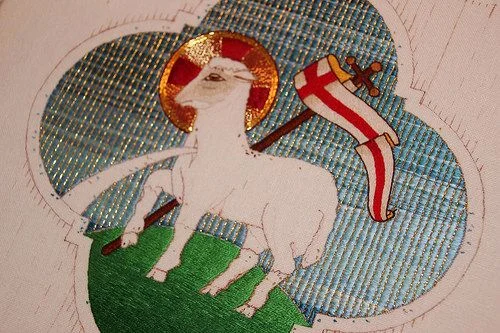 He is on hold at the moment waiting for the bigger lamb to catch up to this same point.  When I start the shading on the face, my plan is that it might be easier to maintain consistency if the Lambs are both stitched together.
Next time I will explain some of the stitches and the various flosses that were used.  Until then, happy stitching!
Soli Deo Gloria
Be sure to visit our online store front Ecclesiastical Sewing where you may shop for Liturgical Fabrics, altar linen fabrics, church vestment-making patterns, liturgical machine embroidery designs,  church vestment trims and notions and so much more. You may also find us on  Ecclesiastical Sewing on Facebook, Twitter, and Pinterest. Sign up for our mailing list at the bottom of the page on our online store front and receive a free copy of our Small Linens Booklet as our way of saying thank you for following along.
The Second Lamb in The Tale of Two Lambs
From the Beginning in The Tale of Two Lambs
The Tale of Two Lambs
Liturgical Embroidery Design
The Nativity of John the Baptist June 24th
Save