Old Books Make Great Reads
Old Books Make Great Reads
It was exciting to come across a book that had some illustrations of Altar Frontals,  along with Ecclesiastical Embroidery design ideas.   These books are rich in history, describing details of Opus Anglicanum or "English Work" and why it was so highly praised. In the Church Vestment book, the author also discusses the origins of vestments such as the chasuble and alb, and how they have changed over the centuries. After going through the books several times on the computer, I finally decided they were valuable enough to justify printing a hard copy for placing in a 3-ring binder.  Since then, I have also ordered a copy of the reprinted books.
Since then, Collecting books on the topics of Ecclesiastical Sewing, Ecclesiastical Embroidery, Church Vestments, and Hand Embroidery has become an entertaining challenge and a satisfying hobby.  When I first started to learn about vestment-making years ago,  I was limited to selecting and reading those books that were available for free through online sources.  Many have become dear friends over the years.  Some of the first books I discovered on the subject are by Anastasia Dolby. I stumbled across them completely by accident!  I was hunting for ideas to embroider and came across an Altar Frontal in one of her books that had an Angus Dei Design as the main design motif. Ah, what bliss! It was like finding buried treasure!  As an added bonus, there was not one book, but rather two books available online by the author covering the topics of Church Embroidery and Church Vestments.
Church Embroidery and Church Vestments.
And what is the best part about the Church Embroidery book?  The Angus Dei in a quatrefoil (a decorative framework consisting of a symmetrical shape that forms the outline of four partially overlapping circles of the same diameter) border.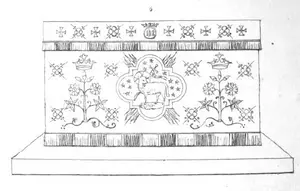 This is where the design ideas for a major project,  The Tale of Two Lambs really started to take off. I could take the Angus Dei design from that very first Easter Pulpit Fall and place it in the quatrefoil border.  The addition of rays extending from the square corners of the design is an added touch that I really like.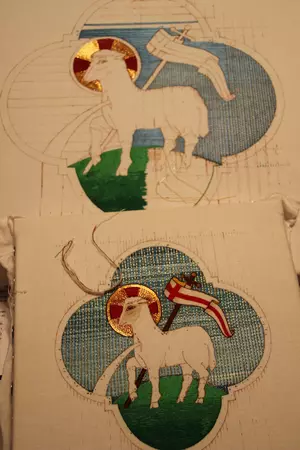 The design is being embroidered on Alba Maxima linen in an Evertite frame described in the post here: The Tale of Two Lambs.  When the design is finished and ready to attach to the Ecclesiastical Fabric, the rays will help bridge the gap between the design and brocade to make the Altar Frontal appear more as one piece.   Well, at least that is the plan for the Altar Frontal as of now, and it is always great to have a plan, even if it has to change in the future.  Plans change, right?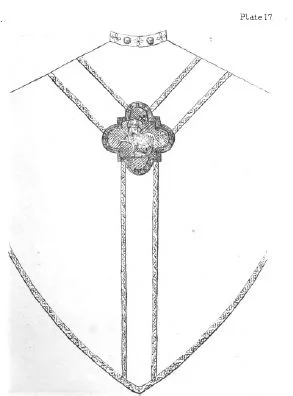 Anastaisa Dolby's Church Vestments book had a chasuble with an Angus Dei design covering the intersection of the "Y" Orphreys on the back.  With these ideas as starting points in mind, the project could begin.
The books, written in the 1860s, had a goal in mind. The author states:
The beautiful art of Church Embroidery is so mysterious and perplexing to the novice, and too simple and fascinating when understood, that I desire nothing more earnestly than that every reader of these instructions, may become proficient, if only for the lasting delight of the knowledge will assuredly confer…That "all this will be restored as it was," we are as much bound to believe as any other portion of the Sacred Word; therefore are we justified in upholding that not only should the Art of Church Embroidery be pursued with love, but held in respect.
Reading Anastasia Dolby's books was a starting point for lifting the veil on the mysteries surrounding Ecclesiastical Sewing and Ecclesiastical Embroidery.  For those interested in beginning to understand Church Vestments and Church Embroidery, the two books by Anastasia Dolby are a nice starting point to reveal what has been lost and hidden for a generation. Here are the titles for the books in case you would like to check them out for yourself: Church Embroidery Ancient and Modern Practically Illustrated by Anastasia Dolby and Church Vestments: Their Origin, Use, and Ornament by Anastasia Dolby.
Both books can be found on  Google Books.
Solo Dei Gloria
Be sure to visit our online store front Ecclesiastical Sewing where you may shop for Liturgical Fabrics, altar linen fabrics, church vestment-making patterns, liturgical machine embroidery designs,  church vestment trims and notions and so much more. You may also find us on  Ecclesiastical Sewing on Facebook, Twitter, and Pinterest. Sign up for our mailing list at the bottom of the page on our online store front and receive a free copy of our Small Linens Booklet as our way of saying thank you for following along.
Save