What To Do in 20 Minutes
What To Do in 20 Minutes
The New Year has gotten off to a SLOW start with Vestment projects.  With long hours at work and year-end bookkeeping, there was only a tiny window to work on the Ash Wednesday projects this week. Sometimes when life becomes a little chaotic, it's far too easy to skip working on a project when only a few minutes are available.  And this was about to be the fate of one particular evening this past week.  But, my fingers were aching for a few moments to handle the fabric and floss. If nothing else, it is sometimes as much fun to pull things out and look and play with fabric and floss, waiting for that AH HA moment.  So what to do in 20 minutes, the deadline is looming…..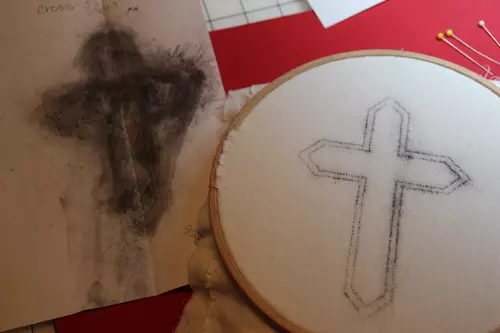 Prick and Pounce Embroidery Transfer Passion Cross Design Time to get busy, even for a few minutes. Let's see what can be done. The clock is ticking!
Creating the Chalice Veil Passion Cross Design
The Design for the Chalice Veil Passion Cross is small. There was a tiny scrap of linen, washed and pressed, and just the right size, along with a piece of Kona Cotton to use as a backing. This was the perfect project for a small round hoop. The linen is Alba Maxima from Hedgehog Handworks. The cross was pinned in place, centering the design, and making sure it would be on-grain.  The pounce is a charcoal powder made from sticks of drawing charcoal that has been crushed. (A ziplock bag and a rolling pin work great).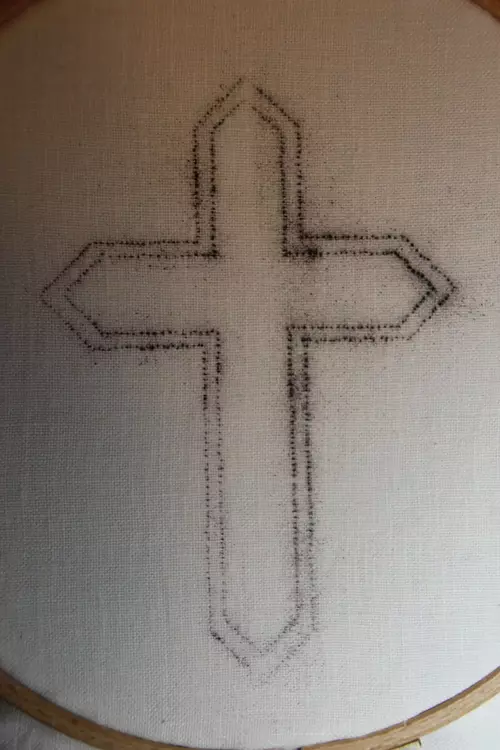 The most challenging part is finding something small enough to fit inside the back of the hoop for support.  I usually prefer something solid, such as a book, when the embroidery frame is larger. For this project, folded pieces of fabric were used. They worked but did not provide the firm surface I usually like for transferring an embroidery design.
The tiny dots did transfer, are visible, and are easily connected with a fine-tipped micro pen. My favorite is a .3 or .5 micro tip pen in a Sepia-colored pigment ink which is archival safe.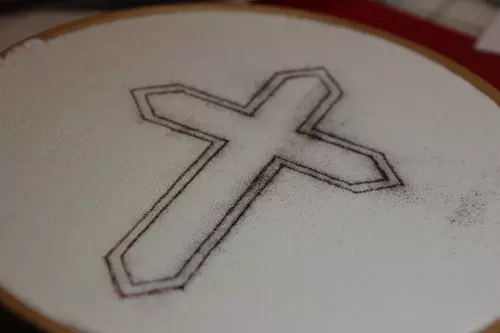 Tracing the design through the pounce powder takes a steady hand, and gets better with practice. After the tracing is finished, the design still looks a bit messy until the charcoal is removed. Sometimes all that is needed is a "flick" with the fingers on the back side to remove the powder. Sometimes a bit more persuasion is needed. Then it's ready to go.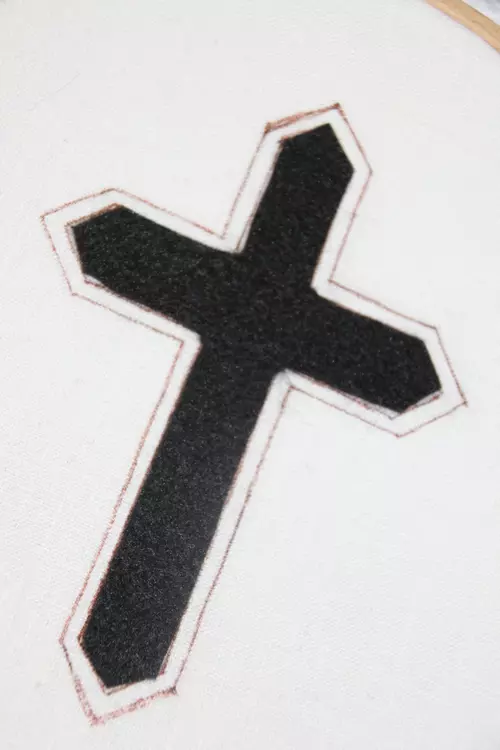 Felt padding might be an option for the Passion Cross to add a bit of relief.  But time will tell.  And for this evening, time is up. It wasn't much, but a bit was accomplished. Now it's time to sort through thread options and see what is available that might work for the Passion Cross. I'm glad I spent the few moments available and have the design ready for stitching.  Little bits of progress can add up!
Until next time.
Solo Dei Gloria
Be sure to visit our online store front Ecclesiastical Sewing where you may shop for Liturgical Fabrics, altar linen fabrics, church vestment-making patterns, liturgical machine embroidery designs,  church vestment trims and notions and so much more. You may also find us on  Ecclesiastical Sewing on Facebook, Twitter, and Pinterest. Sign up for our mailing list at the bottom of the page on our online store front and receive a free copy of our Small Linens Booklet as our way of saying thank you for following along.