Evangelist Stole for Easter Quick Ship
Evangelist Stole for Easter Quick Ship
Last week, we introduced our Quick Ship vestments. These are items where customers have requested that we have certain styles available for those last-minute needs. These are also items that make great gift ideas. We also try to have seasonal styles available for immediate purchase.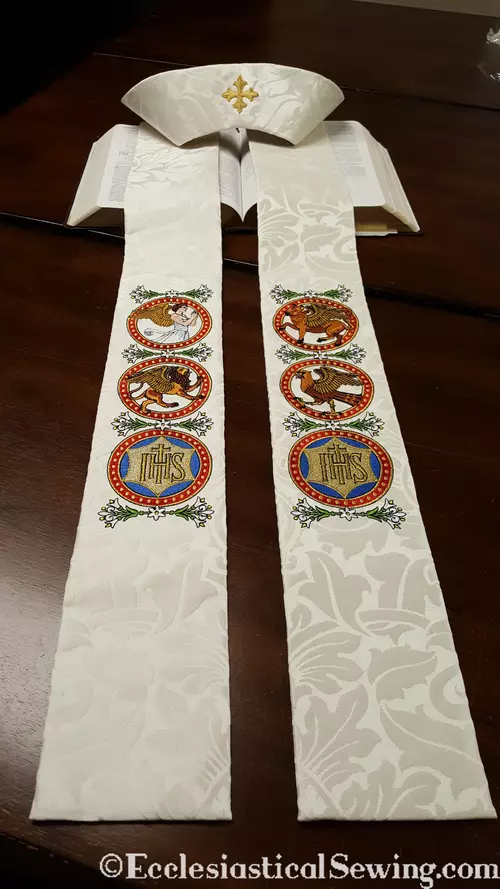 One of the current styles available for immediate shipping is the Evangelist stole. It is currently available on the Fairford Brocade as shown above. Fairford is a lovely liturgical brocade fabric. When it is used for a stole, it has a lovely vine design that extends the length of the stole.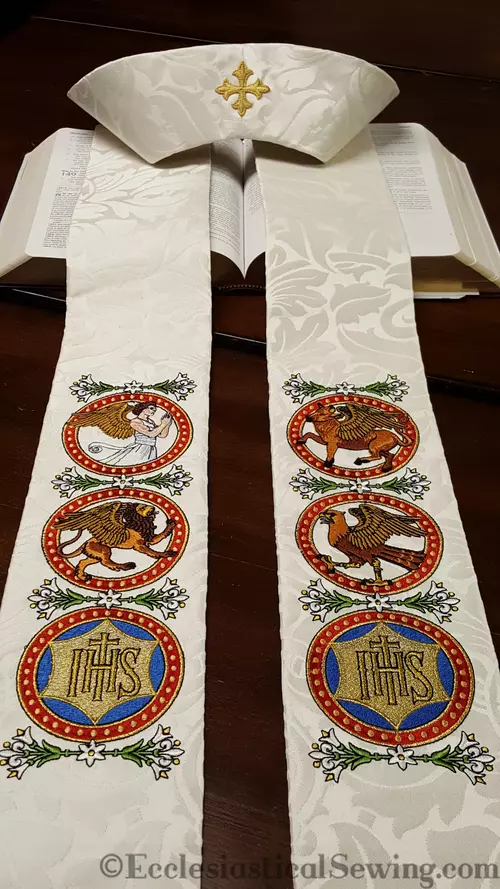 Brocade Pattern
The brocade pattern is an excellent complement to a great number of embroidery designs. The embroidery designs in the Evangelist stole have a bit of history. Several of the images are taken from a vintage book in my personal library. Two of the designs were missing and had to be recreated. Yet all four images blend perfectly and fit well together, creating a look that is as fresh today as it was over 100 years ago.
The Evangelist stoles have been termed by some as a "teaching stole." Pastors and Priests have used the stole symbols as a way to teach about the four Evangelists – St. Matthew, St. Mark, St. Luke, and St. John. These symbols for the Evangelists date back centuries in their use to teach the faith.
The Evangelist stole is also available as a Quick Ship item in the Luther Rose Brocade.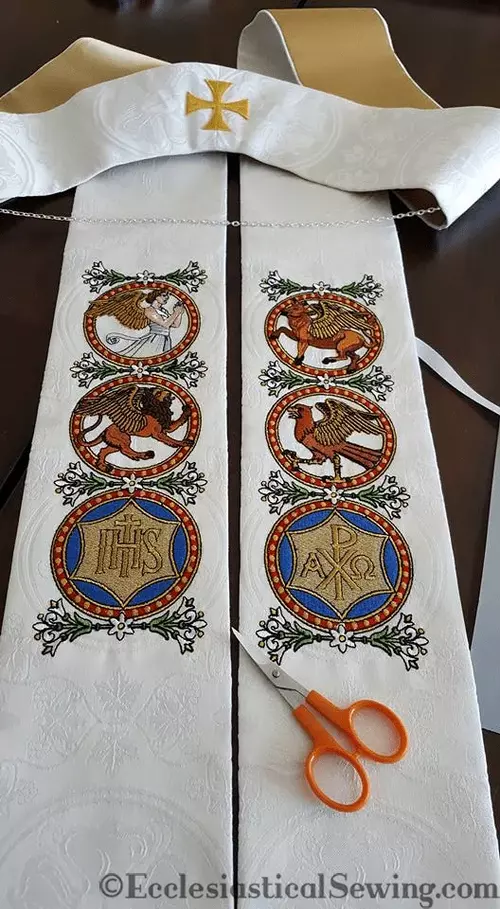 The Luther Rose Brocade features the Luther Rose Emblem, a scrolling vine, and the Patonce Cross motif.
We thought you might enjoy seeing the stole as it looks on a few fabric options. I am not quite sure which is my favorite. They are both lovely.
There are two stoles in each in the Fairford Brocade and the Luther Rose Brocade. These styles are still available for Easter Shipping, but please act quickly.
Easter orders for quick shipping should be placed no later than April 12th. Please also consider expedited shipping.
Soli Deo Gloria