The Pallium & The Ontological Argument
Good-morning! So do you know whose feast day it is today? Have you ever heard of the Ontological Argument? The saint, who we celebrate today, is given the honor of being the first author of this argument. Well if you vaguely remember–or are actually an avid student of Philosophy–, then it is the right time to pull out your introduction to Philosophy books and read through St. Anselm of Canterbury's Ontological Argument sometime this weekend. I majored in Philosophy and this was always one of my favorite pieces to read, bring up in arguments, and refer to in papers. It is a simple little argument that people have poked holes in over the years and tried to mend the holes or completely add onto the argument. For a concise and well-done summary of Anselm's arguments, I have included a link to the Stanford Encyclopedia of Philosophy's page on St. Anselm and to the same source's page on this specific argument. Both are EXCELLENT and I cannot recommend a more thorough summary unless one is willing to read some nice thick books on the subject.
What I want to write about today is Anselm's biography. I have spent enough classroom time with his works–although when my books come out of the boxes in the garage and into my own house (sometime in June, yay!) I really would like to start reading a select few of my philosophy books again.
St. Anselm was born around 1033 A.D. in what is today northern Italy, but before it was Italian, a thousand years ago, it was part of the Kingdom of Burgundy. After traveling in his early 20's, Anselm journeyed into Normandy in 1059 where he had heard of the Abbey of Bec and its prior Lafranc of Pavia, also from Burgundy. Lafranc, interestingly enough, followed William the Conqueror to England and was instated as the Archbishop of Cant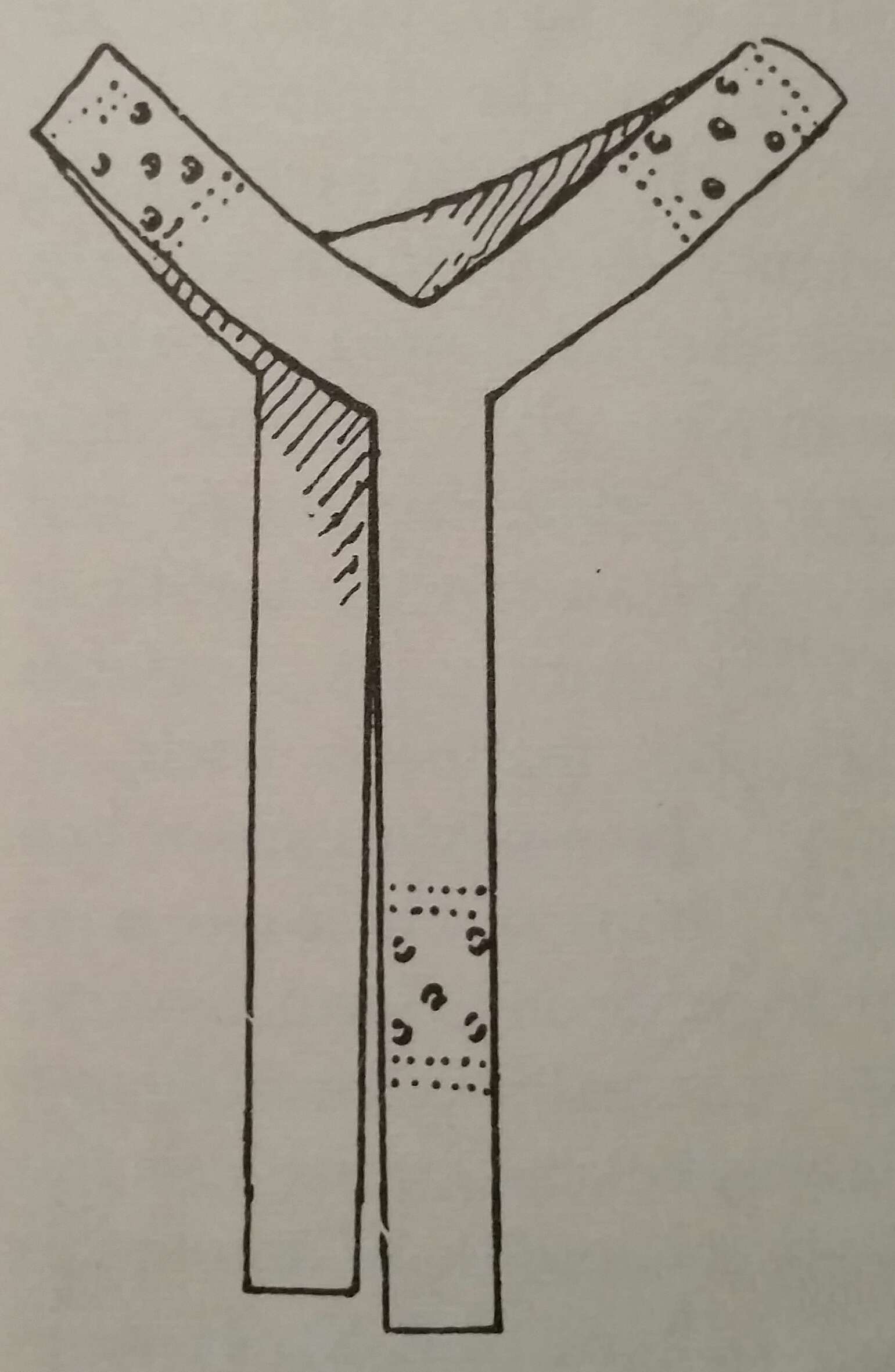 erbury. The Abbot of Bec–who was in fact the founder of the Abbey–died and Anselm was quickly elected the abbot in 1078 A.D. Because of his well-rounded skills, Anselm was able to administrate, influence the Abbey to be a center of learning, council nobility in Europe, and think and write extensively on the topics of Philosophy and Theology. By 1093, Anselm succeeded Lafranc as the Archbishop of Canterbury.
Here is where Anselm's history takes a turn towards the topic of ecclesiastical sewing. The Pallium was an official sign of appointment as an archbishop. This special vestment needed to be given to Anselm by the Pope.
1
---
1 Roulin, Dom. Fig. 223 Roman Pallium on the Palliotto of Milan IXth century. 1950. Vestments and Vesture: A Manual of Liturgical Art. Westminster, Maryland: The Newman Press, 1950.
---
However, if you remember your history, at this time about 1095 A.D. there were two popes. Pope Urban II had been recognized and this is who Anselm defended. King William II of England would not let Anselm receive the Pallium from either pope until he, William, decided who to favor as the actual pope. Later emissaries were sent to Rome, they acknowledged Urban as Pope on behalf of William and brought the Pallium back to England. William, while trying to dispose of Anselm, also held the Pallium over his head attempting to make it a tool of submission. Anselm refused to give in and eventually William placed it on the altar of Canterbury where Anselm picked it up without any obligation to the king. Anselm had more difficulties with William II and his successor, Henry I, but these did not deter the good archbishop from remaining steadfast in his path and beliefs.
As an academic man, Anselm was a great scholar and writer–this evidence is seen in his works. As a man of God, he used his political influence for the good of the Church. While having the ability to be someone who was capable of doing battle with kings, he was also capable of turning the Abbey of Bec into one of the foremost places of learning of that age. Anselm continued to support academics and learning; and he produced many of his own works. It was truly a pleasure to read these brief biographies about this blessed Saint. I hope this tidbit inspires y'all to go read Anselm's writings and more details about his incredible life.
~Nihil Sine Deo~
Bibliography
Kent, William. "St. Anselm." New Advent: The Catholic Encyclopedia. 1907. http://www.newadvent.org/cathen/01546a.htm
Weedon, William. Celebrating The Saints. St. Louis Missouri: Concordia Publishing House, 2016.
Williams, Thomas. "Saint Anselm." The Stanford Encyclopedia of Philosophy. Spring 2016 Edition. https://plato.stanford.edu/entries/anselm/
P.S. Carrie wanted me to attach a small freebie to this blog post. In honor of St. Anselm, here is a free design to use for hand embroidery! (below should be the downloadable pdf)
This is the emblem of St. Anselm: a cross Patée placed between 12 gouttes. Gouttes are a droplet-shaped symbol from heraldry. The name is derived from the Old French "droplet." She hopes you will enjoy it. Thank you, everyone for following along!
Save
Save