Church Vestment Stole Patterns for Pastors and Priests by Ecclesiastical Sewing
Church Vestment Stole Sewing Patterns for Pastor or Priest Stoles
Creating beautiful and easy church vestment sewing patterns is something that we are passionate about at Ecclesiastical Sewing. Years ago when Carrie first started creating church vestments, there was nothing easy or readily available for church vestment sewing patterns. Fortunately, with her background as a fashion designer and pattern maker, Carrie was able to create her first priest stole sewing pattern. That original stole pattern created nearly 40 years ago was taken from an existing church vestment. Although the results were far from perfect, the job got done.
Years later, Carrie recalled that first stole that was made all of those years ago. Her church needed altar hangings for their new building. Although there was still nothing much available in the marketplace when it came to patterns or instructions for making vestments, the seeds that had been planted years earlier were beginning to take root.
When Ecclesiastical Sewing came into being, Carrie was determined to somehow find good vestment patterns. Subsequently, several years were spent researching patterns, historical resources, and vestments, and by trial and error, the design concepts and patterns slowly came into being.
Professional Sewing Patterns Created by Pattern Makers
Initially, our sewing patterns were created by a professional pattern maker who at one time was the lead pattern maker for the Quick Sew Pattern Company. For years, we were able to offer patterns with limited instructions.
Today, we are blessed to have our own in-house pattern maker. And finally, the rest of Carrie's dream is coming true! Our pattern maker is also trained as a technical writer and illustrator. At last, we can create technical drawings and illustrations for our sewing patterns. It's certainly going to be a work in progress, but we are pleased that many of our church vestment patterns, and especially the pastor and priest stole sewing patterns now have written instructions with illustrations. We know from our customers what a blessing this has been. We hope that you too will be blessed by these patterns.
Below is a collection of some of our stole patterns used for creating pastor and priest stoles.
The stole pattern lineup begins with the 3 1/2″, 4 1/2″, and 5″ stole widths that will be shown below.
3 1/2 inch Pastor Stole Church Vestment Sewing Pattern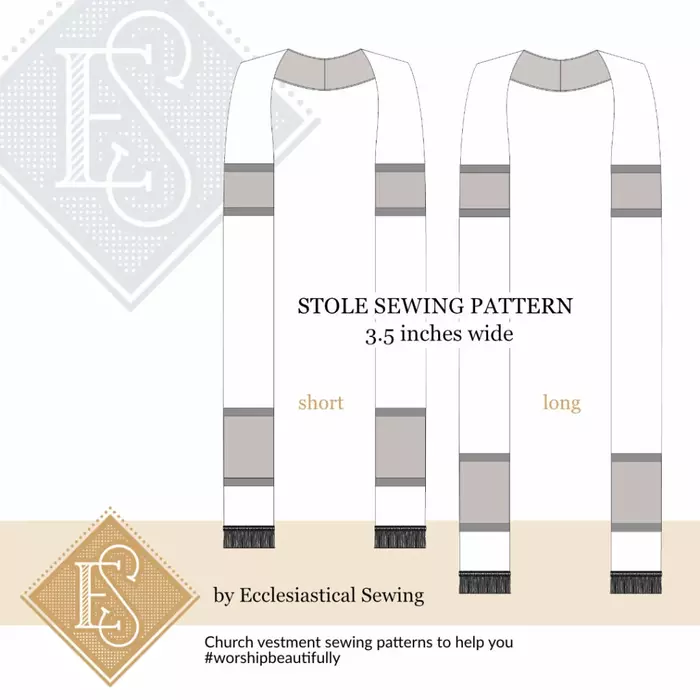 The 3 1/2″ stole pattern is available in a short 46″ length and a 55″ length. This style is great for petite frames, or for athletic builds.
4 1/2 inch Pastor Stole Church Vestment Sewing Pattern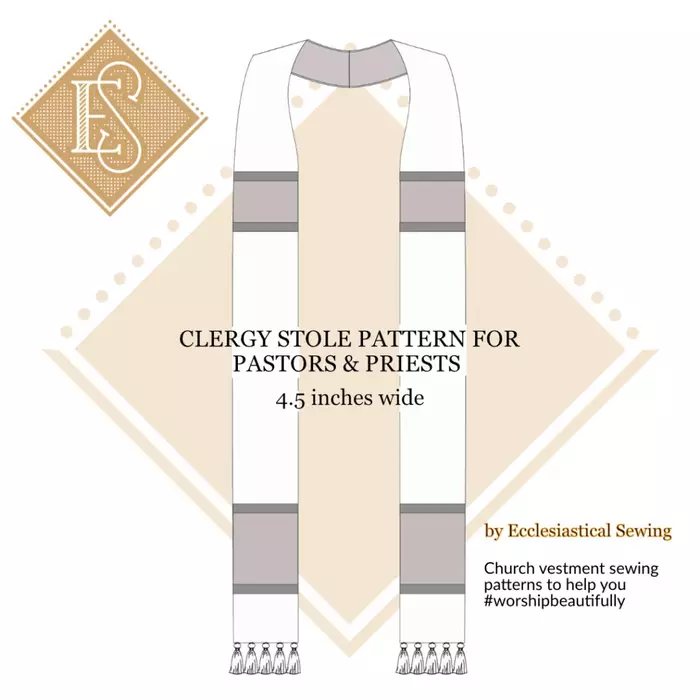 The 4 1/2″ wide stole is the style that we use in our studio almost every day. We find it is the perfect width for our machine embroidery designs. Our pastors and priests love the look and hang of this style.
5-inch Priest Stole Church Vestment Sewing Pattern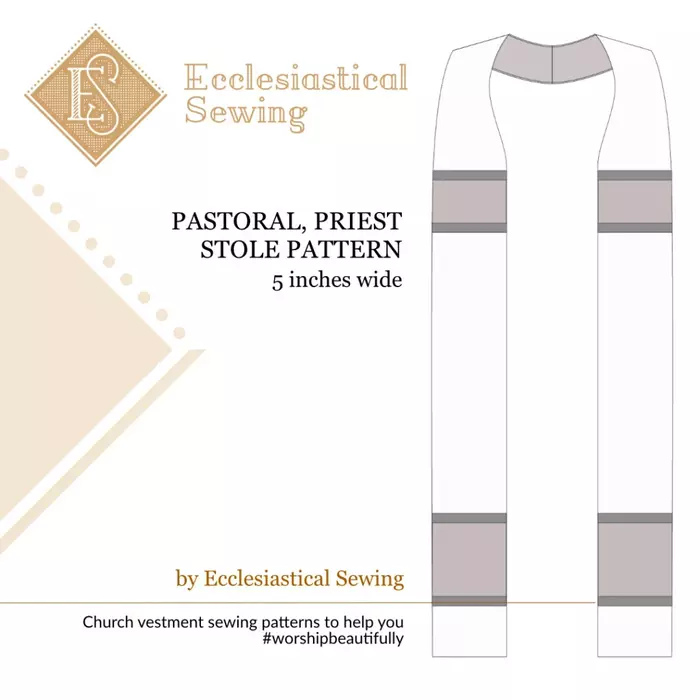 The 5″ wide stole is for those who prefer more of a broad stole look. You may be asking why 3 different stole patterns have widths that are so close in size. Each stole pattern serves a unique style feature when it comes to creating church vestments. We hope to describe each pattern in more detail in future blog posts. For now, it may help to know that the 3 1/2-inch stole looks great on many different body types. The 4 1/2-inch stole pattern is the style we use 99% of the time in our studio. The 5-inch stole pattern is great for use when one might have a slightly larger or more details design element that needs a bit more space. The necklines on all 3 stole styles all fit well and work perfectly under our Gothic and Monastic Chasubles.
Tapered Stole Church Vestment Sewing Pattern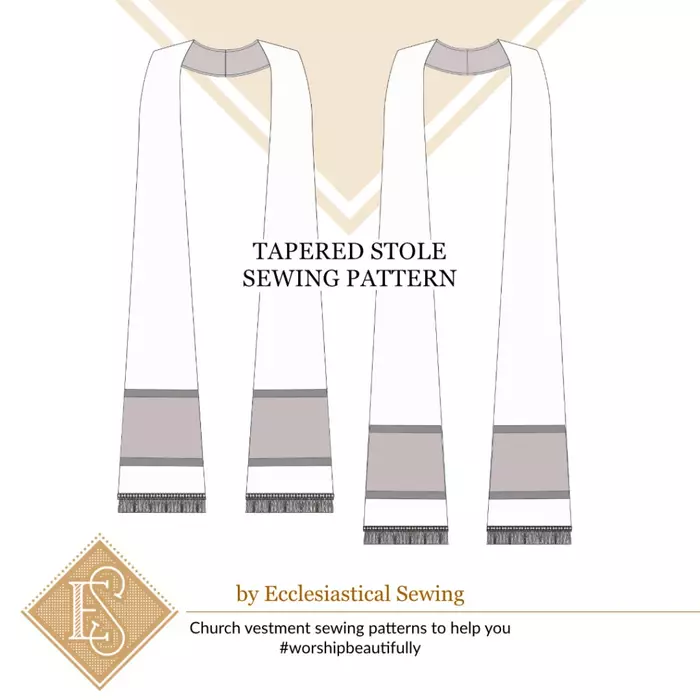 Liturgical Sewing Pattern
Next is the Tapered stole which is available in a short 43 1/2″ or 52″ length. This is a perfect style stole to be worn with a cassock and round yoke surplice.
V-Neck Stole Church Vestment Sewing Pattern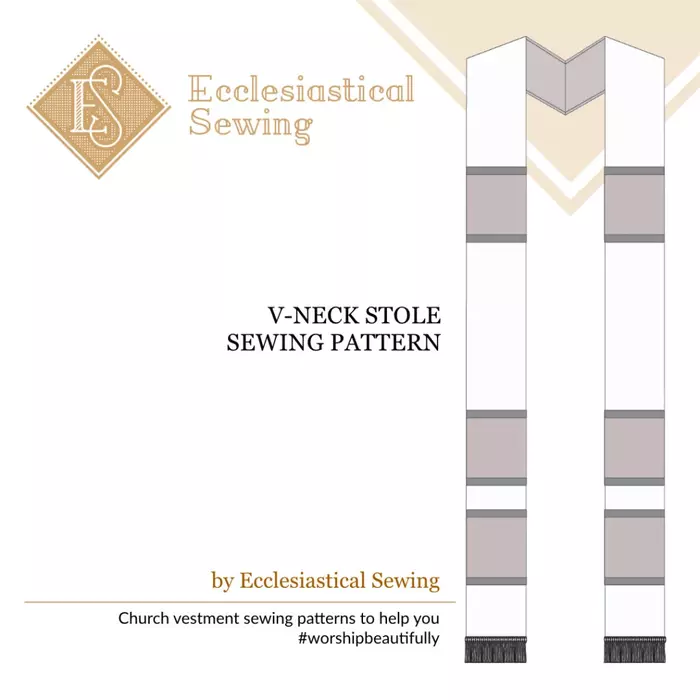 Pastors and priests love wearing the V-Neck stole sewing pattern over an alb when a chasuble is not worn. Certainly consider the V-neck stole pattern for concelebration stoles, too. Many people love the additional space that the V-shape creates at the center back neckline that allows for adding a machine embroidery design such as a cross or other item.
The next pattern styles are designs for the wonderful deacons who serve in our churches.
Transitional Deacon and Priest Stole Church Vestment Sewing Pattern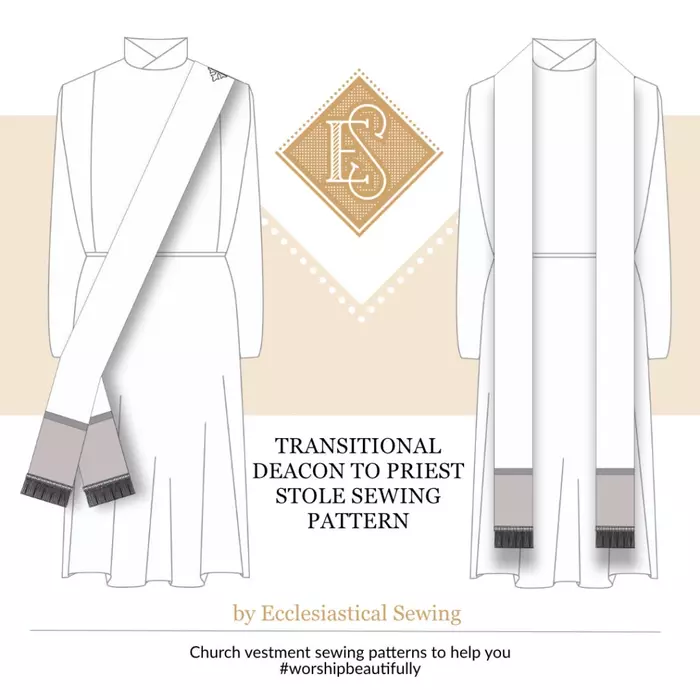 Because there were many requests over the years for a stole that could be worn by a deacon and then at a later time, used as a priest's stole, we worked with our pattern maker to create a pattern to fill that need. The answer to that often requested style is the Transitional Deacon to priest stole sewing pattern. It is a simple style that can be worn crossed at the hip while serving as a deacon. After being ordained as a priest, the stole can be worn straight. This style works well so that one stole can serve both positions.
Deacon Stole Church Vestment Sewing Pattern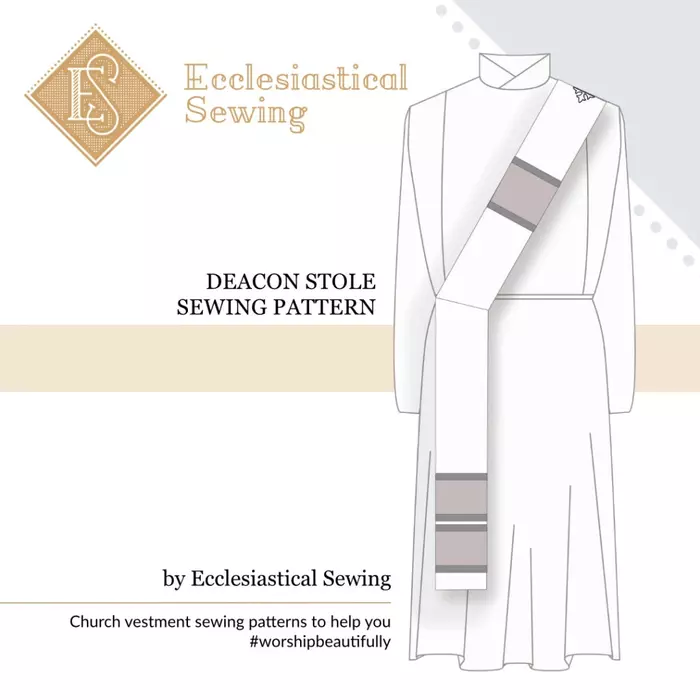 For those who are permanent deacons, the mitered deacon stole sewing pattern is a lovely style. Many of our clients have shared their photos of this item and the pattern has certainly been a favorite for creating custom deacon stoles.
The above patterns represent the core pastor and priest stole sewing patterns that are seen in many churches. As time permits, we will provide more information about each stole pattern and the rest of our stole sewing patterns including styles like the Warham Guild Stole pattern, along with stole patterns and maniples designed from historical sources for use with traditional Roman Catholic Vestments.
Whether you are new to the world of sewing church vestments, or a seasoned seamstress, starting with a good sewing pattern can make all the difference to a finished project. The stole sewing patterns are available for sale on our website by selecting the links below, or by clicking on the photos. We invite you to order your stole sewing pattern today to begin creating your own special pastor or priest stole. While you are on the stole pattern page, be sure to check out our complete line of Church Vestment Sewing Patterns. There are many new styles available – and more to come!
Soli Deo Gloria
Related blog posts regarding church vestment sewing patterns: