Cathedral Basilica of Saint Louis: A Taste of Europe in the New World
Cathedral Basilica of Saint Louis: A Taste of Europe in the New World
Have you ever seen pictures of the great cathedrals of Europe and wondered, "Why aren't there such magnificent structures in the US?" If so, you might find the Cathedral Basilica of St. Louis, located in Missouri, an interesting answer to your question. We sure did this past fall when we visited! The seat of the Diocese of St. Louis, this magnificent cathedral is dedicated to St. Louis, King of France. Louis IX is the only French king to be canonized, and the reign of Louis IX was known for having a close association between Church teaching and civil society. He initiated the presumption of innocence in criminal procedure and instituted other legal reforms.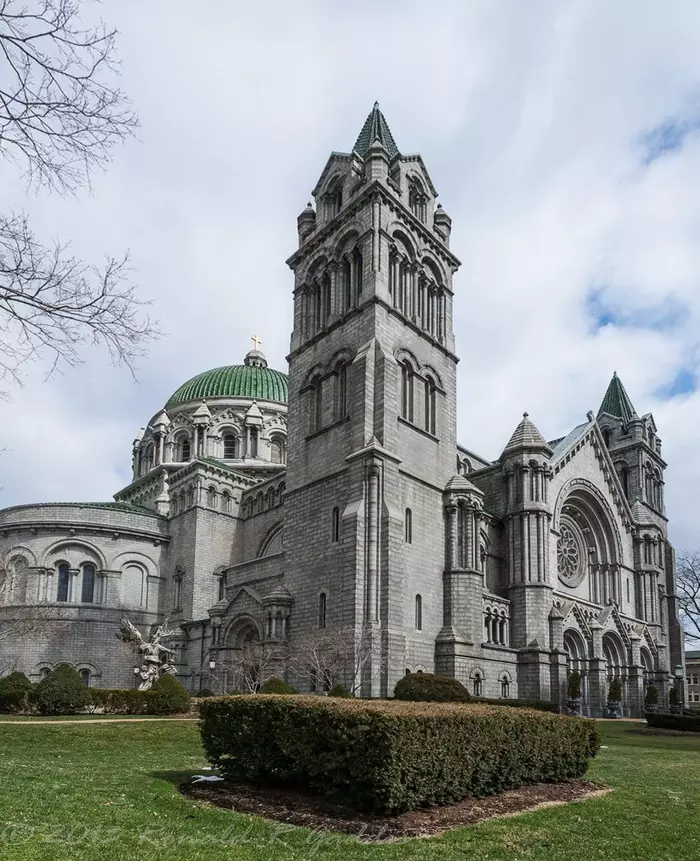 As important as St. Louis is, let's get back to the cathedral. It isn't the only cathedral that St. Louis has, and in fact, the "old cathedral" is the oldest building in the entire city. As the Diocese of St. Louis grew, however, officials began to plan for a new building. Architectural drawings were originally drawn up at the turn of the 20th century by George Barnett. In 1907, construction of the building began, and the basic structure was completed in 1914. Construction of certain parts of the interior continued until 1988.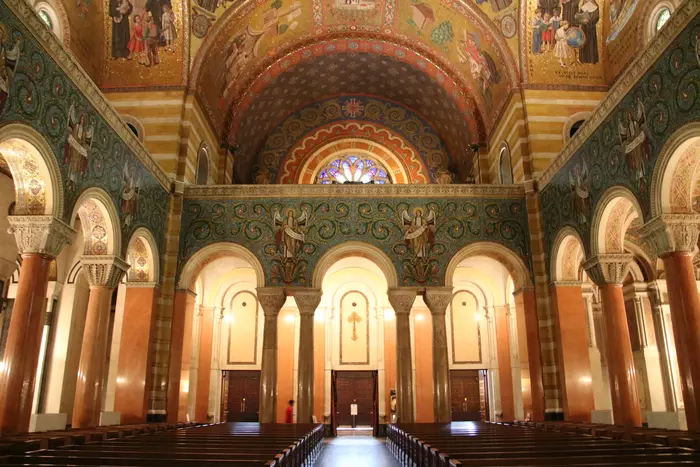 Originally, the building was to be a Gothic church, but plans changed early on and most architecture is Byzantine. The differences are stark: Gothic churches have pointed arches, irregular architectural features, and ornate stonework. Think Notre Dame in Paris, for example. By contrast, Byzantine architecture features rounded arches and high domes with windows in them. If you look at the US Capitol building, this is more representative of that type of architecture. It is fair to say that the original conception of the St. Louis Cathedral and its final form is very different. However, interestingly there are a few gothic features on the outside of the church: The entrance is classic Gothic styling, and there is a rose window above the organ at the back.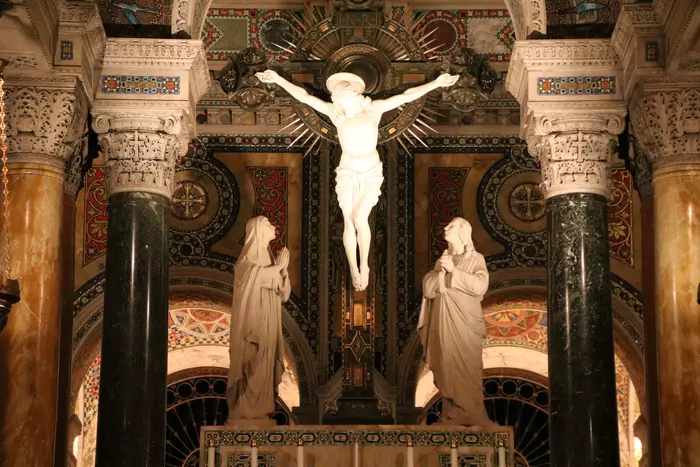 Without a doubt, however, the most beautiful part of the cathedral is its mosaics, which cover most of the high-up surfaces of the cathedral walls. In fact, this is one of the largest collections of mosaics outside of Europe. Mosaics cover a wide variety of topics, including the history of St. Louis, MO, saints, and scenes from the Bible. Like many other cathedrals, the Basilica has magnificent side chapels and an altar at the center of the church. Similarly to St. Peter's in Rome, the altar is surrounded by four columns and a domed canopy. In the transept is an incredible mosaic of Pentecost. No wonder this place has been deemed one of the most beautiful in America!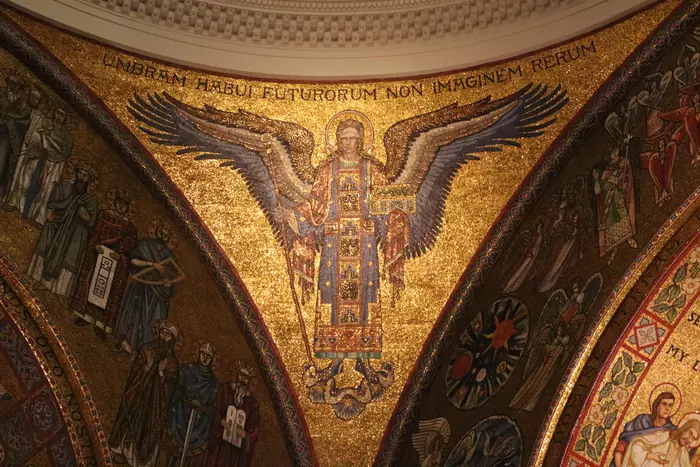 It's also worth mentioning the importance of this building being a basilica. The term means "royal house" in Greek, and refers to a church that the Pope has deemed to be especially significant. For example, it can have distinctive architecture (like this one), or a high historical value. Basilicas are signified by a "conopaeum" or red and yellow silk canopy, a "tintinnabulum" or bell, and crossed Papal keys in its seal. Cathedrals are so designated because they have a "cathedra," or Bishop's throne. Traditionally, they are the headquarters of their diocese.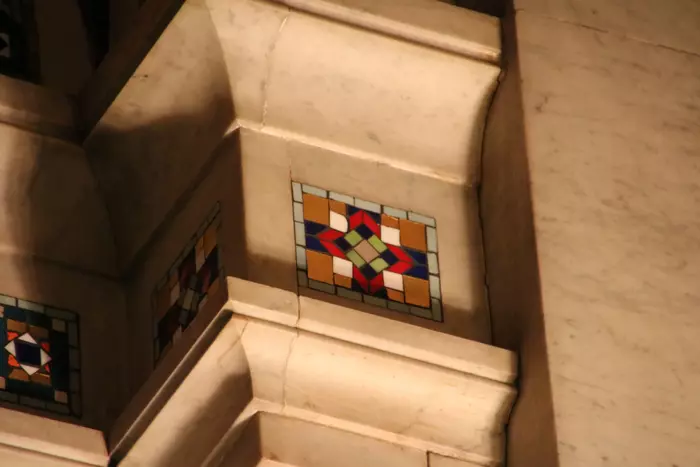 When Pope John Paul II visited St. Louis in 1999, he celebrated Mass at the Cathedral. Partly because of its value as an architectural treasure, there is a museum in the basement. This museum has the chair where the Pope sat on his visit and an exhibit on mosaic making. It also includes antique vestments and liturgical items and explains the importance of the bishops interred in the crypt. And so, this magnificent cathedral basilica is every bit as beautiful as the old European structures. The difference is its age, location, and to some extent, style.
If you are ever in the area, I would highly recommend a visit to this beautiful place!
~Soli Deo Gloria~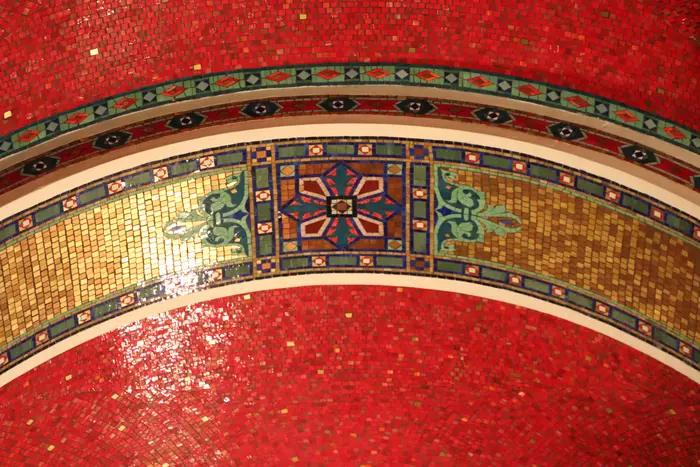 Sources:
Almos, Dori. "Cathedral Basilica Named One of the Most Beautiful Places in America." KSDK. KSDK NBC, November 4, 2018. https://www.ksdk.com/article/features/cathedral-basilica-named-one-of-the-most-beautiful-places-in-america/63-611136401.
Erickson, Lori. "Cathedral Basilica of St. Louis." Spiritual Travels. Accessed December 31, 2019. https://www.spiritualtravels.info/spiritual-sites-around-the-world/north-america/st-louis-churches/basilica/.
Heerlein, Nicole. "Enjoy the Mosaics at the Cathedral Basilica of St. Louis." Journal. KSDK, April 5, 2015. https://www.courier-journal.com/story/news/local/2015/02/18/mosaics-cathedral-basilica-st-louis-bernhard/22108381/.
History of the Cathedral Basilica – Cathedral Basilica of Saint Louis. Accessed December 31, 2019. http://cathedralstl.org/parish/parish-history/history-of-the-cathedral-basilica-2/.
Papal Visit 1999 – Cathedral Basilica of Saint Louis. Accessed December 31, 2019. http://cathedralstl.org/parish/parish-history/papal-visit-1999/.
Runge, Sherrie. "There's No Chapel In The World Like This One In St. Louis." OnlyInYourState, July 16, 2017. https://www.onlyinyourstate.com/missouri/st-louis/cathedral-basilica-in-st-louis/.
What Makes a Church a Basilica? What Does it Mean for a Church to be a Basilica? Diocese of Chattanooga, Tennessee. Accessed December 31, 2019. https://www.stspeterandpaulbasilica.com/what-makes-a-basilica.
Copenhagen Churches: St. Alban
Altar Linens: Using Color
Liturgical Fabrics: Ely Crown
White Liturgical Religious Fabrics for Making Church Vestments
April 25th & The Secrets of Venice
Matthias Church Budapest: A Journey Through History
Altar Linens: Using Color
Altare Dei–The Altar of God
Cathedral of St. Helena: in Search of Vestments